Amidst an expansive lagoon of turquoise hues surrounded by a long uninterrupted stretch of pristine white sandy beaches; Atmosphere Kanifushi opened its doors to the world on 15th December 2013. Offering guests genuine value together with a 5-star Maldivian resort experience.
Dining


RESTAURANTS, OUTLETS & ACTIVITIES
At Atmosphere Kanifushi Maldives, guests' emotions are our core focus. The resort boasts a number of outlets and public areas, each with its individual vibe and atmosphere – from chilling at the pool bar, trying out a selection of scrumptious offers at the restaurant, playing a doubles game of tennis or spending the afternoon being pampered at Akiri Spa. 'Art of balance' being the essence of the brand Atmosphere, embarks the discerning guest on a rejuvenating journey, during their stay!
---
THE SPICE
Our Main restaurant, serves a wide variety of quality cuisine, buffet style including action stations & a grill. The restaurant will serve all wines, spirits, beer as per the Platinum Plus plan, in addition to the cuisine.
THE SPICE is open for
Breakfast: 07:00hrs – 10:30hrs
Lunch: 12:00hrs – 14:30hrs
Dinner: 19:00hrs – 22:00hrs
---
THE LIQUID
Our Main bar, serves an array of exotic cocktails, premium alcohol, a wide selection of wines from world-over. Probably, the most favored location on the island, to unwind, absorb & embrace the stress-free Maldivian environment!
Day-Time Pool Hours: 09:00hrs – 01:00hrs
---
THE SUNSET
Boasts stunning lagoon views from our second pool during the day with our Specialty Restaurant in the evenings, featuring fine dining experiences; serving specialty fusion cooking, showcasing the best of Asian & Mediterranean cuisine with a touch of exotic grilled meats
Day-Time Pool Hours: 09:00hrs – 19:00hrs
Speciality Dining: 19:00hrs – 22:30hrs
---
JUST VEG
A pure Vegetarian restaurant, a FIRST in the Maldives, serving delightful vegetarian cuisine from the Mediterranean, Arabic, Indian regions along with a special menu specifically for Jain Cuisine.
JUST VEG redefines contemporary non-meat cuisine by experimenting with original flavor combinations. It aims to elevate 100% meat- free cookery to a new high, which will delight the discerning palates of all tastes, whether a devout vegetarian or a committed carnivore!
Dinner: 19:00hrs – 22:30hrs
---
TEPPANYAKI GRILL
An authentic Teppanyaki experience! Guests share a table surrounding a large hot plate, where a theatrical chef whirl, twirl, juggle, flip & flame raw ingredients into a delecta-ble dinner! Although not included as part of the Platinum Plus; set menus offer outstanding value, where diners can choose from a range of fresh meat or seafood along with soup, rice and vegetables. In addition to the Exotic Wine List – chilled or hot sake is a must on the side!
Dinner – 2 SITTINGS OF 2 HOURS EACH: 18:30hrs – 20:30hrs & 20:30hrs-22:30hrs
Spa


AKIRI SPA by MANDARA
The Akiri Spa by Mandara boasts of a spacious relaxation lounge and a spa complex of 06 treatment rooms – all amidst lush landscaped gardens and views of the eastern coast of the island. Offering a choice of luxurious health and beauty treatments including Ayurveda therapy, with professional consultation to balance body and mind. Indulge yourself in this holistic experience. The Spa also has a sauna, steam room, jacuzzi. Akiri spa also includes a special hair & beauty salon within the spa complex
Activities


DIVE & SAIL
The resort's PADI licensed Dive Centre is run by a multilingual team of professionals. The full allure of Kanifushi exists both under and upon its waters – the sea and air are alive with adventure and the key to appreciating these elements of nature lies in the expansive diving & Water Sports centre by DIVE & SAIL
There are several popular dive sites within close proximity including The Shipyard, Anemone Thila, Fushivaru Thila and Alihaa Giri. There are also a number of uncharted areas that the Dive Team are continuously exploring the Water Sports centre includes a variety of motorized and non-motorized activities for guests to choose from!
---
ACTIVITIES & RECREATION
DAILY ACTIVITIES
Guests have a wide selection of daily and weekly organized activities specially made for Adults and Young Adults at THE CLUBHOUSE – our Sports & Recreation centre. From fitness to adventure, from social activities to competitive sports, available to all guests as part of their Platinum Plus holiday plan!
---
EXCURSIONS & ADVENTURE
There are a selection of 6 options of adventure and cultural excursions that take place throughout the week. Including a picnic on uninhabited island, and several visits to local community islands to learn of the local people and their history
---
DAILY SNORKELING TRIPS
As with every atoll in the Maldives, Lhaviyani Atoll has its own unique variety of marine inhabitants and reef formations. As part of our Platinum Plus holiday plan Atmosphere Kanifushi has put together a selection 7 options alternated throughout the week to provide daily snorkeling excursions with shuttles at 09:30hrs and 14:30hrs showcasing some of the best spots in the region!
---
THE KIDS CLUB
Atmosphere Kanifushi offers a daily activity schedule even for our youngest guests! Our team at THE KIDS CLUB offers fun and adventurous activities and learning experiences for children to enjoy! Babysitting services are available at a charge for children BELOW 4 years.
Accommodation
Atmosphere Kanifushi Maldives offers 150 'Sunset View' detached villas and suites separated by a few meters of tropical vegetation for guest privacy. All villas have direct access to the pristine white beach and the beautiful turquoise lagoon beyond, whilst being surrounded by some of the tallest coconut trees in the region and lush tropical vegetation. All villas are built with natural materials, timber, granite & stone.
The entire resort has been designed & built with a fusion of traditional and modern architecture, offering an overall contemporary feel with a maldivian touch – offering privacy, comfort & a well deserved holiday slumber
SUNSET BEACH VILLAS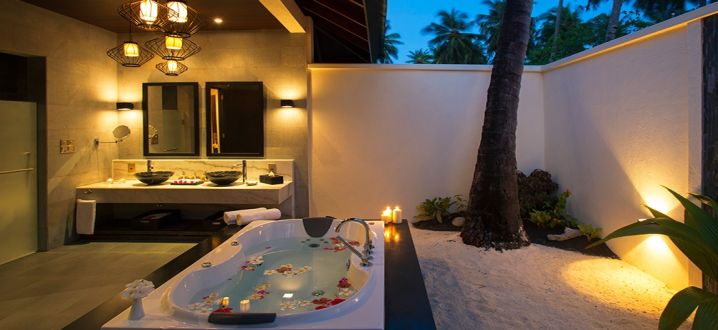 Some of the largest entry level beach-front villas in the Maldives. Elegantly designed with guest comfort in mind; high ceilings & open air bathrooms. The sunset beach villas are nestled along the long stretch of beach with each individual villa having direct beach access just few meters in front of their large open air veranda. Ideal for honeymoon couples.

MAIN FEATURES
Queen sized bed
Over-sized day bed
Direct beach access
Whirlpool bathtub
Built with natural materials
Private outdoor areas
Bathroom amenities
Air conditioner
Ceiling fan
Tea & Coffee Facilities
Safety box
WiFi Access
DVD player
32″ Flat screen TV
Satellite TV & surround sound sysytem
iPod doc
SUNSET FAMILY VILLAS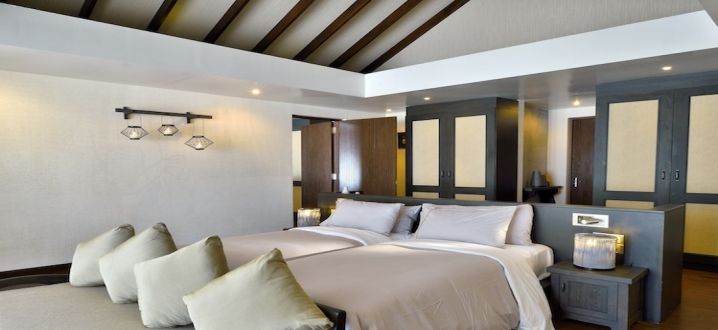 Classed as some of the largest Beach Family Villas in the Maldives, these 18-sets of interconnecting Beach Villas provide with separate outdoor access prove ideal for guests holidaying with families The sunset family villas boast a larger combination of indoor & outdoor space than the stand-alone sunset beach villas, as well as being located closer to the main restaurant and sport's complex and kid's club for guest convenience

MAIN FEATURES
Queen sized bed
Over-sized day bed
Direct beach access
Whirlpool bathtub
Built with natural materials
Private outdoor areas
Bathroom amenities
Air conditioner
Ceiling fan
Tea & Coffee Facilities
Safety box
WiFi Access
DVD player
32″ Flat screen TV
Satellite TV & surround sound sysytem
iPod doc
SUNSET JUNIOR SUITES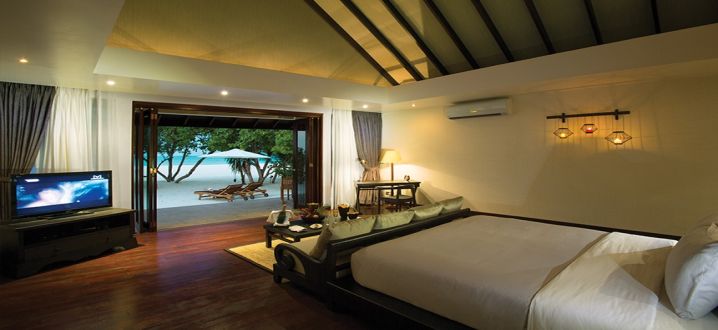 Occupying some of the best beach front locations on the island, these spacious & luxurious suites cover a span of 132 m² just a few feet from the beach line. With outdoor areas and a open air veranda overlooking the beach with comfortable beach loungers & spacious exteriors. Each individual suite comes with direct beach access at the back boasting some of the best sunset views at dusk. The Junior Suites showcase natural wood and stone flooring, open-air bathrooms & private outdoor areas, with direct access to the beach. Bathrooms is fitted with a whirlpool bathtub

EXCLUSIVE SERVICES
Direct Check-In at Villa
Welcome bottle of Sparkling Wine in the suite with canapés
Daily refreshed Exotic Fruit Basket
Additional 2 bottles of choice from Platinum Plus Alcohol Menu
Wine bottles 1 while & 1 red (refilled daily)
MAIN FEATURES
Queen Sized Bed
Over-sized Day Bed
Direct Beach Access Whirlpool Bathtub
Private Outdoor Areas
Bathroom Amenities
Air Conditioner
Ceiling fan
Tea & Coffee Facilities
Safety Box
Wi-Fi Access
DVD Player
40 " Flat Screen TV
Satellite TV & Surround Sound System
iPod Dock
Portable Wine Cooler
SUNSET POOL VILLAS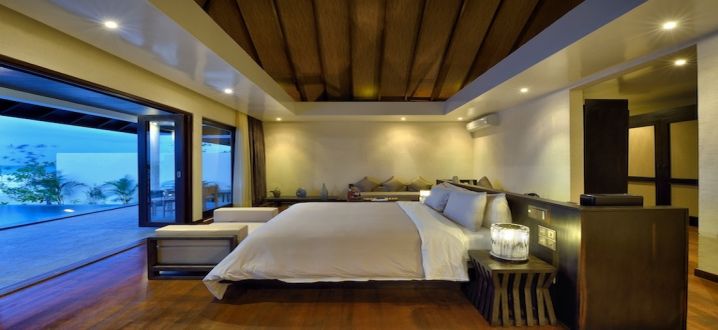 These signature villas are the pride of Atmosphere Kanifushi! Located at the northern-most tip of the island allowing for space and exclusivity, the sunset pool villas offer maximum privacy and truly are a cut above the rest offering the best ultimate luxury island holiday!
With an expansive outdoor private area, including a large veranda, each individual villa has a private pool of 30 m² complete with sun loungers. In addition to the above, the villa provides direct beach access overlooking the vast azure lagoon of Kanifushi Island. The prime location at the nothern-most tip of Kanifushi provides the best sunset view on the island!

EXCLUSIVE SERVICES
Direct Check-In at Villa
Welcome bottle of Champagne in the villa with canapés
Daily refreshed Exotic Fruit Basket
Butler Service (4 Butlers per 10 villas)
Dedicated Buggy Service for villa segment
Early morning Muffin Service with tea/coffee (until 08:00am)
Complimentary Dining at Speciality Restaurant (available on all nights during stay)
Additional 2 bottles of choice from Platinum Plus Alcohol menu
Wine bottles 1 white & 1 red (refilled daily)
MAIN FEATURES
Queen Sized Bed
Over-sized Day Bed
Direct Beach Access Whirlpool Bathtub
Private Outdoor Areas
Bathroom Amenities
Air Conditioner
Ceiling fan
Tea & Coffee Facilities
Safety Box
Wi-Fi Access
DVD Player
42 " Flat Screen TV
Satellite TV & Surround Sound System
iPod Dock + Speakers
Portable Wine Cooler
30m² Private Pool