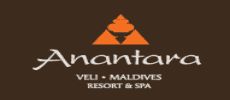 STANDARD
★★★★★
LOCATION
South Male' Atoll
DISTANCE FROM AIRPORT
21km from Ibrahim Nasir International Airport
TRANSFER TYPE
35 mins by Speed Boat
NO. OF ROOMS
67 Rooms
Notice:
Please configure GTranslate from WP-Admin -> Settings -> GTranslate to see it in action.
Experience an island paradise of chic simplicity in a charming tropical setting replete with soft white sand and azure waters at Anantara Veli Resort & Spa. Relax with your loved one, or friends in the over water bungalows as a spectacular selection of sea life swims beneath you. Dive into an array of water sports in the tranquil surrounds of our island resort's crystal clear lagoon. Unwind at the Anantara Garden Spa with a range of treatments to soothe body and mind.
The Maldives island resort of Anantara Veli is perfectly suited to couples or groups of friends looking for a relaxing island hideaway where turquoise waters beckon from your choice of intimate accommodation bungalows, some with direct lagoon access. Unwind on a sun deck overlooking the palm fringed island and pristine coral reefs in the South Malé Atoll, just 35 minutes from Malé International Airport.
The perfect romantic getaway is provided for couples, whether on a honeymoon or another special occasion with a host of dining options of various world cuisines, premier five star Maldives resort facilities such as an infinity edge pool and fitness centre, as well as a multitude of water sports, from diving to surfing, deep sea fishing and sailing. At our stunning Maldives resort, you can unwind any way you choose.
Accommodation
Dining
Spa
Activities
Gallery
Dining


73 DEGREES
An enticingly light and airy coastal style pavilion serving a sumptuous breakfast buffet every morning with a selection of fresh tropical fruits and juices, cereals, homemade breads, grilled meats, vegetables
and omelettes made to order. In the evenings, the restaurant transforms into a romantic oceanfront
dining venue.
Opening hours: Breakfast 7:00 am – 10:30 am, Dinner 6:30 pm – 10:30 pm
Cuisine: Buffet breakfast and varying cuisine themed dinners
Seating capacity: 74
---
DHONI
Located poolside, this is a popular socialising and relaxation area from which to watch the ocean waves roll in while savouring a lunchtime meal, a cocktail or simply chill out before and after spa, gym and wellness experiences. As the day closes, shisha pipes and cocktails flow to a glorious sunset.
Opening hours:
10:00 am – midnight
Cuisine:
Lunch and light snacks
Seating capacity:
25
---
BAAN HURAA
Baan Huraa serves a unique dining experience created by our Thai chefs in a beautiful over water teak restaurant perched over the ocean. Signature dishes include coconut curries from Thailand's southern provinces as well as hot and spicy dishes from the north, bound together by an authenticity of flavour. Given the Thai heritage of Anantara, this is arguably the best Thai restaurant in the Maldives.
Opening hours:
Lunch 12:00 pm – 2:30 pm, Dinner 7:00 pm – 10:30 pm
Cuisine:
Thai
Seating capacity:
62
---
ORIGAMI
Our modern and casual Japanese restaurant serves unique dining journeys from Asia. Guests can choose from a light gourmet menu of hand crafted sushi and sashimi, slow charcoal grilled robatayaki skewers and sizzling teppanyaki. Livening up the experience, our chefs dazzle guests with theatrical culinary shows every week from Tuesday to Sunday.
Opening hours:
Lunch 12:00 pm – 2:30 pm, Dinner 6:30 pm – 11:00 pm
Cuisine:
Japanese
Seating capacity:
42
---
DINING BY DESIGN
Go wherever your tastes may take you to a dream location and a menu limited only by your own desires. Dining by Design is a signature Anantara experience that offers guests the freedom to craft a menu and location of choice around the resort. Kindle romance with a candlelit dinner on powdery white sands, an Indian Ocean sunset by the pool, hidden in a private island hideaway or relaxing at a table carved in the sand. Alternatively set sail aboard a traditional Maldivian sailing dhoni and enjoy a sunset cruise to a menu of choice. Dining by Design is the perfect choice to celebrate a special occasion, be it a proposal, engagement, honeymoon or anniversary.
Spa


SUNDARI AYURVEDIC SPA
Introducing SUNDARI Ayurvedic Spa at Anantara Veli Resort & Spa bringing a holistic approach to incorporate elements of the Ayurvedic lifestyle throughout the resort activities offered, restaurant menus and spa treatments in consultation with the resident Ayurvedic Doctor. Guests staying with Anantara now have the opportunity to discover their Ayurvedic Dosha and achieve an ideal balance of relaxation and wellbeing while enjoying the tropical climates and white Maldivian beaches. Designed for both those who are just beginning to dip their toes in Ayurveda as well as for the more advanced student who wants to deepen their practice and understanding of Ayurveda's true roots and benefits, SUNDÃRI combines adherence to Ayurvedic principles based on an ancient eastern philosophy with the finest quality ingredients from nature, delivering a holistic approach to wellness that results in outer radiance and inner serenity. In addition to Ayurveda, the facility offers inspired Anantara Spa treatments infused with timeless healing and wellness rituals.
Spa facilities:
5 treatment rooms – 2 dedicated to Ayurvedic therapies
Manicure, pedicure and beauty salon
Indoor and outdoor showers
Steam room and sauna
Hot and cold plunge pools in the relaxation garden for use before and after treatments relaxation before or after treatments
Opening Hours: 10:00 am till 10:00 pm
Activities


RESORT ACTIVITIES
Anantara Garden Spa
The highlight of any stay with Anantara, our Veli Maldives resort is no exception. The serene Anantara Spa offers a range of specially composed treatments to soothe body and mind in a truly awe-inspiring setting. For full details please visit our Spa page.
Snorkelling
Explore the turquoise tropical lagoon and reef which is situated around Anantara Veli Maldives. Unencumbered by heavy scuba equipment, snorkelling offers you a safe and easy way to get acquainted with the world below, and see some of the most celebrated marine life on the planet. One of our most popular resort activities.
Beachside Yoga
Gain physical poise and mental peace through ancient exercises drawn from centuries of traditional South Asian wisdom. Whether a beginner or an expert, our professional instructors are able to guide you through lessons either in a group or private session within the surrounds of our Maldives resort.
Boutique
You may be thousands of miles away from it all but our Maldives boutique brings the world to you, with all of life's small necessities as well as exotic goods and handicrafts from across Asia and the Indian Subcontinent.
Cooking School
While staying at Anantara Veli Maldives you will be treated to an array of inspired culinary creations. Why not learn the tricks of the trade with a cooking class from our resident master chefs? This resort activity lets you recreate traditional Maldivian, Thai and fusion dishes to impress your friends back home.
Fitness
Anantara Veli Maldives' gym is equipped with everything you need to keep you looking and feeling good. Rejuvenate your body as you work out alone or with our personal trainer.
Library
Not all Anantara Veli Maldives resort activities need to be energetic. Our library lets you sink into an armchair to enjoy a new novel or catch up on all that is going on back in the 'real world' with our computers and high-speed internet access.
Morning Meditation
Clear your mind and achieve a sense of heightened well-being with gentle stretching and meditation to start your day. Anantara can arrange a meditation session on the beach, you'll be able to draw inspiration from the gorgeous island surrounds as they are woken by the dawn.
Swimming
Slide into the tranquil waters of our stunning infinity edge pool situated right on the edge of the ocean. Gaze out across the expanse of aquamarine as you float, soak or splash your worries away. Or for confident swimmers, the waters of our large lagoon offer an ideal spot for wading, floating or a relaxed swim.
Tennis
Anantara Veli Maldives' floodlit tennis court means that you can continue with a doubles match even after the sun sets. Our fitness centre staff are at hand to provide lessons for beginners or a little bit of a challenge if you're looking for a partner.
Volleyball & Badminton
Feeling waterlogged? Landlubbers can always take part in a pick-up match of volleyball or badminton– just let us know and we'll provide the nets and equipment and turn a strip of beach into your court.
---
AREA EXCURSIONS
Diving
The Maldives is known as one of the finest dive destinations on the planet, and we have a multitude of dive options to suit all abilities.
Surfing
Anantara Veli Maldives offers surfing lessons and excursions for a range of abilities under our 'ticket to ride' system in association with Tropicsurf. Numbers are limited per surf trip so booking in advance is recommended. To see Tropicsurf's brochure please click here.
Island Hopping
Discover the range of island jewels surrounding our pristine lagoon. This Maldives excursion lets you see the many different forms paradise can take. Tour the atoll and explore the daily life of fishermen. Shop the way the locals do. Get up close and personal with marine life.
Island Picnic
Spend an afternoon living out your desert island daydreams with our island picnic excursion. A tiny uninhabited island offshore in Anantara's lagoon is your playground for the day. Frolic in pristine waters, explore stunning reefs and enjoy a specially prepared picnic on white sands.
Malé Excursions
There are plenty of things to do in the bustling Maldivian capital, Malé. The city offers distinctive architecture, local markets, tranquil mosques and the regal presidential palace. Immerse yourself in the local culture at the National Museum and taste some of the country's authentic local delicacies.
Sunset Cruise
Cruise the Indian Ocean in style with our organized dhoni sunset cruise trips. Listen to the melodic rolling of the waves, This has got to be one of the finest Maldives excursions, if you wish, even with champagne in hand as you watch the setting sun dip behind the horizon. A Maldives leisure activity like no other.
Sunset Hand line Fishing
Try your skills at hand line fishing and experience the glittering waters from a local's point of view aboard a traditional sailing dhoni. This natural technique uses no equipment beyond a single fishing line held by hand and dropped to the floor of the ocean reef. A bite is almost guaranteed.
Accommodation
OVER WATER BUNGALOW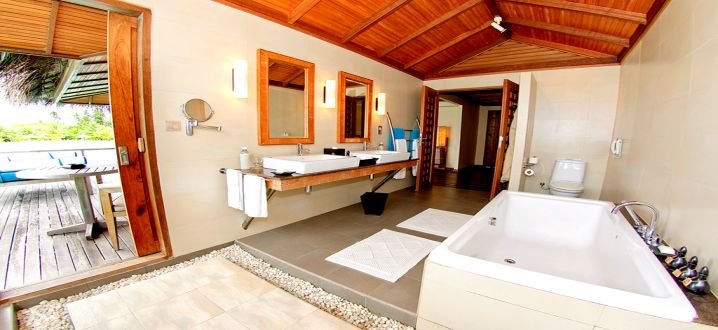 Anantara Veli Maldives' spacious 62 square metre Over Water Bungalows on a pristine stretch of tropical paradise come with hardwood floors and a coconut thatch roof combined with stylish contemporary décor. Indigenous fabrics stretch across your bed, while tropical flowers and jasmine scents float through your bathroom. Experience a serene, romantic beach getaway at our well-appointed Maldives bungalows, exclusively designed for young couples.
The private lodging's sun terrace gives each guest their own space to relax with direct access to the lagoon, and a day bed. Step inside to find a wealth of comfortable accommodation features including flat screen TV and high-speed internet access in each of our Maldives over water bungalows.

Over Water Bungalows feature:
Generous 62sqm bungalow
King size bed
Sun terrace with, day bed and coffee table
Flat screen TV and DVD player
Satellite flatscreen TV and DVD player
High-speed internet access
Mini bar
DELUXE OVER WATER BUNGALOW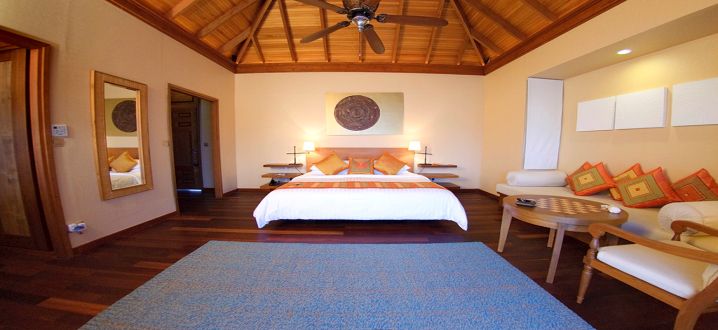 The spacious 92 square metre Deluxe Over Water Bungalows at Anantara Veli Resort & Spa offer all the charms of island life coupled with comfortable accommodation. Enjoy a separate dressing area and exclusive outside double sun deck on your private Maldives overwater bungalow. Recline on your sun loungers that look out over the glorious turquoise waters of the expansive lagoon.
Every Deluxe Over Water Bungalow allows direct access to the lagoon, as well as an interior infused with a soft island design aesthetic. In-room facilities in these luxurious bungalows include flat-screen television, mini bar and high-speed internet access ensuring that you have both all the comforts of home and modern accommodation.

Deluxe Over Water Bungalows feature:
Spacious 92sqm over water bungalow
King size bed
Private double sun terrace with sun loungers, day bed and coffee table
Dressing area
Flat screen TV and DVD player
High-speed internet access
Mini bar
Coffee machine
Wine fridge
Semi open bathroom
OCEAN POOL BUNGALOW

These remarkably luxurious and private bungalows occupy a secluded cliff edge and directly face the Indian Ocean. Each Ocean Pool Bungalow offers a magnificent plunge pool accompanied by 125 square metres of inviting indoor and outdoor space, with beach and lagoon access only a short stroll away.
Designed with hardwood flooring, island inspired decor and a wealth of signature comforts, these charming hideaways are charcterised by intimacy, natural style and breathtaking ocean panoramas. Sleep in a sumptuous king size bed that is dressed in the finest linens. Step into your air conditioned bathroom to soak in a generous bathtub while playing your favourite iPod tracks. Unobstructed views of jewel blue waters and rolling waves are admired inside through floor to ceiling glass doors. Relish the same dramatic view outside, feeling revived by the ocean breeze. Take to your veranda to bask under the sun on a lounger, replenished by a tipple from the mini bar. Or refresh in your personal plunge pool in a tranquil world of your own.

Ocean Pool Bungalows feature:
Spacious 125sqm
Ocean views
Private plunge pool
Sun terrace with sun loungers
Separate bathtub and shower
King size bed
Flat screen TV
CD/DVD player
iPod docking station
Mini bar
Yoga mats
Tea and coffee making facilities
WiFi internet
DELUXE OVER WATER POOL BUNGALOW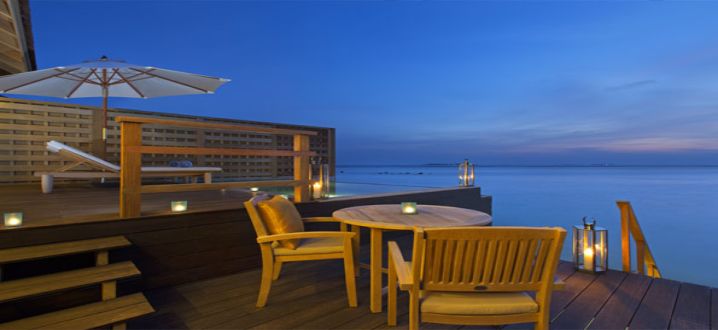 These idyllic romantically styled bungalows are poised directly above a turquoise lagoon. Slip straight from your deck into the azure waters below, or take a dip in your private plunge pool. Treasure the intimacy of an over water sanctuary that offers breathtaking views and a modern luscious design.
Unravelling 125 square metres of sumptuous space, Deluxe Over Water Pool Bungalows blend signature Anantara comforts with destination inspired design and all the comforts you desire. Relax in your spacious bedroom, where hardwood flooring lends a stylish feel. Sleep in a king size bed that is dressed in the finest linens. Sip a beverage from your personal in room bar and listen to your iPod as you laze on a lounger outside, admiring a panorama of jewel coloured waters meeting endless blue sky.

Deluxe Over Water Pool Bungalows feature:
Spacious 125sqm over water bungalow
Private plunge pool
Sun terrace with sun loungers
Separate bathtub and shower
King size bed
Flat screen TV
CD/DVD player
iPod docking station
Mini bar
Yoga mats
Tea and coffee making facilities
WiFi internet