Sapphire turns to clear aquamarine, white sands ensconcing a heart of verdant green. Step onto a hidden paradise in the Maldives, an island of timeless natural beauty.
At Anantara Kihavah Villas, indulge in a state of blissful decadence, with a private pool villa or residence to call your own. Spend lazy days swinging over the water in a hammock, or exploring secluded stretches of powdery sands. Soak in a tub for two and marvel at the fish swimming beneath.
Dining


SEA.FIRE.SALT.SKY
A one-of-a-kind over and underwater dining experience. A mythical escape into the depths of the ocean. Reaching for the sky on the rooftop bar, the Baa Atoll unfolding
before your eyes.
Sea. Experience one of the few underwater wine cellars and restaurants in the world, with degustation menus paired with premium Old and New World wines by our resident Wine Sommelier.
Fire. A sizzling teppanyaki lounge where our swift chefs dazzle while preparing grain fed Japanese beef or the catch of the day according to your preferences.
Salt. Asian inspired, red snapper or tender lamb cooked to perfection on a Himalayan salt block, offering unique depth and complexity of flavours. Our resident Salt Sommelier on hand to pair dishes with the perfect seasoning.
Sky. Light bites, tropical concoctions, cool beers and wines in the afternoon. As the evening unfolds, relax at our mellow rooftop bar with a selection of cocktails and liqueurs.
---
PLATES
Start the day with a refreshing breakfast overlooking the ocean, feet in the sand. Return for a romantic candlelit dinner, a tantalising beach barbecue of Maldivian seafood and bold flavours.
---
MANZARU POOL BAR & RESTAURANT
Spend sunny days at one of the longest pools in the Maldives, with Sunshine Butlers on hand to serve you an array of exotic juices, Mediterranean salads and fresh pastas – as well as to hand you fruit skewers and cold towels. The evening comes alive with the finest Italian fare, a gourmet experience of
regional specialties. Select from the finest olive oils from the Mediterranean.
---
DINING BY DESIGN
As the day slowly drifts away with the setting sun, indulge in the ultimate romantic dream with personalised 'Dining by Design' experiences, where a specially devised menu is prepared by a personal chef and served at a table for two, whether on an isolated sandbank in the Indian Ocean or the deck of a private yacht – anywhere of your choosing.
Spa


ANANTARA SPA
Settle into the serene rhythm of our Maldivian paradise, and then take your senses to an even deeper level of relaxation with a revitalising journey at Anantara Spa. Stroll across the jetty to cocoon yourself in one of six luxurious over water treatment suites. Reward yourself with the lavish attention of professional therapists, who deliver a soothing, intuitive touch with nourishing elixirs made of natural indigenous ingredients.
Choose from an extensive menu of relaxing, therapeutic and rejuvenating treatments, all designed
to balance body, mind and spirit. Then unwind into pampering with a unique perspective of paradise, courtesy of a glass peep hole in the floor under your treatment bed, affording glimpses of peaceful marine creatures swimming leisurely below.
Activities


Beach Sports
String up the nets and break out the suntan lotion for a full range of beach sports and activities. Feel the sand between your toes as you ground the perfect spike in a beach volleyball tournament or knock a winning birdie over the badminton net. For a leisurely afternoon, bowl a set of pétanque or challenge your partner to a table tennis match.
Cooking Class
Whether you're eager to learn the secrets of the traditional Maldivian huni havaadhu curry or to grill the fresh tuna you caught this afternoon, the professional chefs at Plates will be pleased to take you under their wings and reveal a few kitchen tips and secrets. Just let us know what piques your culinary curiosity and our chefs will design a cooking lesson suited to your tastes.
Fitness
With treadmills, free weights, bicycles and other strength-training and cardio equipment, you can keep up your fitness routine, even on holiday. Borrow an iPod filled with adrenaline-pumping workout tunes, or catch up with the news or the latest HBO movies while you burn some serious calories.
Kihavah Kids Club
Open for children from the ages of 3 to 12, the Kihavah Kids Club has a full range of fun and enriching activities to keep young guests occupied. With their very own Kid's Club House, our youngest guests will make new friends and enjoy their holiday just as much as their parents. Under the supervision of the Kids' Coordinator, children can take part in beach games, arts and crafts and an array of other activities to ensure they're always having fun – even when you're spending the afternoon at the spa or taking a diving lesson. Childcare services are also available.
Library and Business Centre
A quiet spot to curl up with your favourite book or magazine. Curious about a strange blue fish you saw on your snorkelling excursion? Check out the local interest section for background on the island's fauna, flora, history and culture. The library also provides computers and high-speed wireless internet connection so you can keep up with business or catch up with friends.
Meeting Facilities
For meetings that surpass all expectations, schedule your next business retreat at Anantara Kihavah Villas. The four large meeting rooms feature a break-out pantry, Wi-Fi internet and a full range of audio visual equipment. The Business Centre staff is always on hand to smooth out the details.
Swimming
Bask on the edge of infinity beside an outdoor pool that seems to meld into the ocean horizon. More than just a place to swim a few laps, the Kihavah pool is a true refuge of relaxation. The Sunshine Butlers are on hand to cater to your every wish, from fresh fruit juices to cold towels, five-minute back massages and sunglasses cleaning. Find your personal soundtrack by borrowing one of the pool's iPods: from jazz to hip hop, each colour is loaded with a different style of music.
Tennis
Fine tune your forehand volley on the resort's tennis courts. Work up a sweat with a morning game of doubles and cool off with a jump in the pool and the rehydration of a freshly-squeezed tropical fruit juice.
Yoga
Draw inspiration from the beauty of your island surroundings with guided sessions in tranquil yoga. Join a group lesson or arrange for a private session to perfect your warrior pose. You can also rediscover your inner harmony with gentle guided meditation and deep breathing exercises.
---
WATER SPORTS
Big Game Fishing
Cast it out and reel it on in – you've probably been fishing before, but never in a setting like this. Take a half-day excursion on our speedboat to reap the bounty of the plentiful Indian Ocean and take part in a local past-time. Our expert guides will show you how to reel in some of the sea's thriving sailfish, wahoo, tuna, mahi mahi and giant trevally. Bring your catch back with you and our chefs will be happy to prepare it as you wish, or teach you how to cook it yourself, for a uniquely do-it-yourself seafood supper.
Canoeing
Grab your most trusted paddling partner and take out one of our canoes for an afternoon spin on the lagoon. Bring a picnic basket along and find a secluded spot in the sand for private lunch, or work on your tan as you glide over the waters and explore the island from afar.
Dive Centre and Marine Lab
A long-time magnet for scuba divers and snorkellers alike, the Maldives are home to a magnificent array of wildlife. A trip below the surface reveals an explosion of colour, from tropical fish to coral gardens. The Maldives are the only habitat where whale sharks, the largest fish in the world, appear all year round. You are likely to encounter these magnificent creatures up close at the protected dive site, just a short boat trip from the resort. Whatever your level of experience, Anantara's Dive Centre will make you feel at home under the waves. Enrol in a PADI certification course to earn a license recognised internationally, opening up a whole new world for your discovery. Or, for a leisurely afternoon of wildlife exploration, sign up for a Bubblemaker intro course. For more experienced divers, Anantara offers access and transport to a number of nearby reefs. Discuss with the dive master to customise your ideal dive excursion.
Orientation Dives
All divers at the Anantara Dive Centre require an orientation dive, unless you have logged a dive within the last three months in the Maldives. The orientation dive consists of a dive on our nearby house reef or another local dive site with an instructor who will get you to demonstrate basic diving skills. After completion, you're ready to move on to more advanced dives or courses, depending on your level and certifications.
PADI Diving Courses
PADI, the Professional Association of Diving Instructors, is the largest and most well-respected diving association in the world. PADI instructors are well-trained and very knowledgeable, so you will always be in safe hands. Anantara's Dive Centre offers a number of PADI courses, from Open Water Diver certification for novices all the way to Rescue Diver for scuba experts. The Dive Centre will do their best to find a programme and instructor that fits your experience and goals. Small class sizes mean safe, comfortable and enjoyable lessons and no one could ask for a better or more beautiful classroom than the great Indian Ocean.
Kayaking
Enjoy a tranquil morning of gliding around the lagoon, or pick up the speed and find a fun new way to get your afternoon workout. Sit-atop kayaks, whether tandem or solo, transparent or solid, are one of the best ways to experience the beauty of our Maldivian paradise at your own pace. Explore secluded beaches and hidden lagoons, or simply drift over the clear blue waters gazing at the marine life teeming below.
Sailing
Sailing has long been an integral part of the sea-faring culture of the Maldives. At Anantara, we invite you to take the once-in-a-lifetime chance to set sail in one of the world's most stunning marine destinations aboard a graceful catamarans or our private yacht. Whether you are a sea-hardened sailing expert, ready to embark on a solo voyage into the horizon, or a novice landlubber, eager to soak up the sun and the sights and leave the steering to the skipper, we can customise an excursion suited to your tastes.
Snorkelling
Play among the manta rays or watch a clownfish darting through his sea anemone. Spot a whale shark lurking in the shallows. Borrow a pair of fins and a snorkel to get up close to the exotic aquatic life of the Maldives without the weight of a scuba tank. The tranquil, crystal clear waters of the island offer unrivalled opportunities for fish viewing.
Windsurfing
Skip along the glassy surface of the ocean, the breeze whipping through your hair, your heart pounding. Windsurfing is the closest you can get to flying, with you feet still planted firmly on the ground – or rather, on the water! With all the power of the wind behind you, and your expert instructors showing you the way, you'll be skimming across the mirror-like surface of the lagoon in no time.
---
WEDDINGS AT ANANTARA KIHAVAH VILLAS
The fantasy of a romantic Maldivian wedding celebration unravels in an array of momentous experiences at Anantara Kihavah Villas. Capture the borderless joy of each passing moment as we enhance a myriad of natural wonders with a passion for perfection in every exquisite detail. Whether you're here to take your vows, honeymoon in paradise or celebrate an anniversary, we vow to make your dreams come true in ways that only Anantara can.
Write the first blissful chapter of your life together inspired by poetic enchantment, with ceremonies held on an exotic beach scene, as you cruise into blissful serenity, or perhaps you'd prefer to immerse yourselves in a kaleidoscope of Indian Ocean beauty. Toast your love, whether new or decades old, with glasses of champagne that reflect hints of a fairytale sunset. Dine on a starlit beach, deserted island or in intimate ocean seclusion, as we bring freshly caught seafood and discerning world flavours to conclude the rapturous celebrations.
Accommodation
BEACH POOL VILLA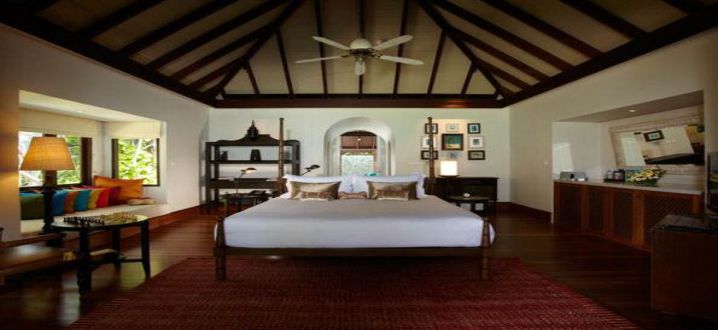 Breakfast in bed at one of our villas in the Maldives is served with a stunning view of the sun rising over endless sparkling waters. Indulge in a sunken bath for two over a shallow pond at the end of a bathroom open to the stars. Soak in the sun on a lounger that hovers over a private infinity pool. The 258 square metre Beach Pool Villas are nestled directly on the sand and are complemented with Thai silks, rich earthy colours and elegant wooded accents. Sail into a good night's sleep aboard an oversized bed dressed in Egyptian cotton with a pillow selected from our luxurious "bedding by design" menu. From Bose sound system and wine chiller, to iPod docking and espresso machine, these Maldives Pool Villas offer every luxury of design and comfort.
OVER WATER POOL VILLA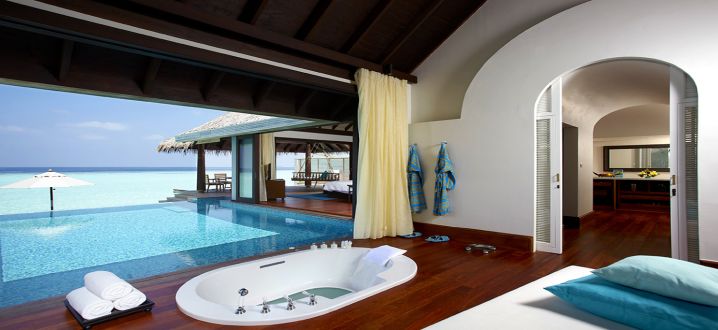 Watch the sun dip below the horizon from your private pool villa in the Maldives, set out over the sparkling turquoise waters of the Indian Ocean. Bright, open rooms filled with colourful island blooms and the sweet fragrance of the tropics. Sleep in the cradle of Egyptian cotton, resting on a personalised pillow. Our Maldives Over Water Pool Villas are built over the water out of groove-lined timber, with high ceilings and hardwood floors. With his and her walk-in wardrobes, wine chillers, private pools and sun decks with views of the unending ocean, these oversized villas create a peerless overwater luxury experience. Spread over 259 square metres you feel at one with the ocean.
FAMILY BEACH POOL VILLA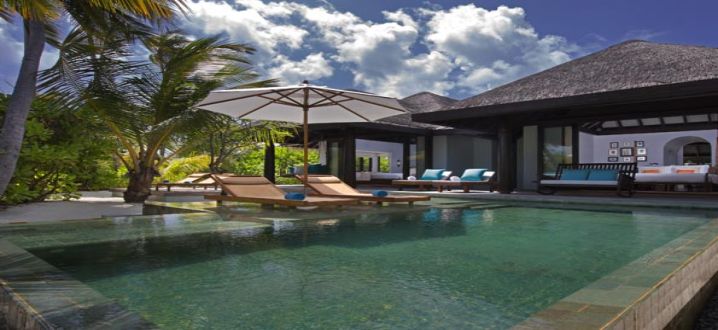 Spacious Family Beach Pool Villas are ideal for a luxury family getaway, with 412 square metres of comfortable accommodation for two adults and up to three young children. The master bedroom with a sumptuous king size bed features a bathroom with indoor and outdoor showers, alongside an open air bathtub that is sunken into a shallow pond. The second bedroom features twin single beds and a daybed, and adjoins a second bathroom with both a semi-indoor and outdoor shower. Both bedrooms open onto the generous sun deck, where families can relax on loungers, share a meal in the open sided dining pavilion, and play in the infinity edge pool that extends out to a white powdery beach.
TWO BEDROOM BEACH POOL RESIDENCE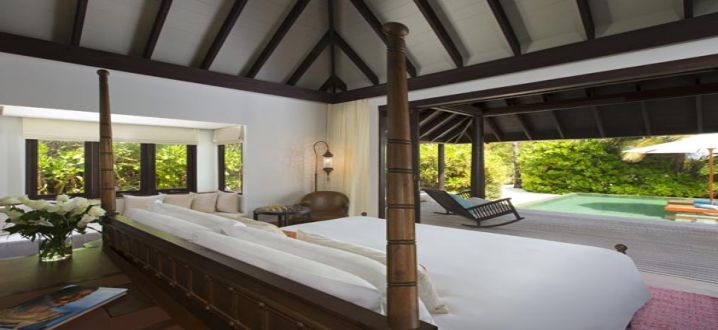 Walk barefoot over cool marble floors out to the palm shaded swinging daybed by the side of your private infinity pool. As one of the best Maldives five star resorts at Anantara Kihavah Villas you can discover new meanings of 'refresh' under the cascade of your indoor and outdoor rain showers, or soak in the sunken tub of the partially open air bathroom. With 785 square metres of space, an oversized king master bedroom, a double queen guest bedroom as well as a separate living room, Two Bedroom Beach Pool Residences are an ideal choice among Maldives beach hotels for families and small groups. A stay in a Kihavah residence also includes the service of a 24 hour butler whose sole aim is to make your stay at Anantara flawlessly unforgettable.
TWO BEDROOM OVER WATER POOL RESIDENCE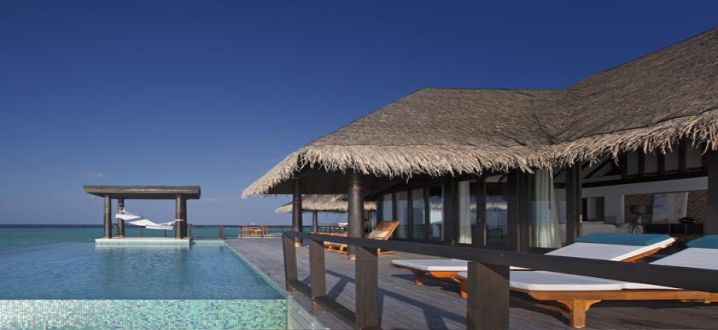 A true Maldivian oasis. Decorated in tranquil blues and greens with polished timber interiors, these Two Bedroom Over Water Pool Residences boast outdoor daybeds, an expansive living room and 861 square metres of space making them an ideal choice for those interested in a luxurious water villa in the Maldives. Enjoy a private sunset dinner in your over water dining pavilion – a shadow sweeping below your feet as a graceful manta ray passes under the sea view glass in the floor. Depend upon your faithful butler, exclusive to each of our premier Maldives overwater bungalows, on hand 24 hours a day to fulfill your heart's desires. When the moon rises, take a midnight dip in your private pool with a bottle from the wine chiller, and revel in the stunning beauty of your own island paradise.
THREE BEDROOM PRESIDENTIAL BEACH RESIDENCE

This one of a kind palatial sanctuary takes the ultimate island lifestyle to a whole new level. Edging 76 metres of powdery sands, 2,736 square metres of decadent space is imaginatively divided. In the master residence a central villa with lounge, dining and kitchen areas, opens onto an expansive veranda, a large pool and Jacuzzi, as well as dining pavilions and a BBQ station. Separate to the central villa, two master bedroom villas each have a sunken tub surrounded by a pond, waterfall and outdoor rain shower in semi-open air bathrooms. The second residence, containing the third master bedroom, features its own pool and dining pavilion, the same opulent bathroom and also a private entrance. At our Maldives beach villas the guests of each residence share a spacious tropical garden complete with a massage pavilion, a beach cabana with a shisha hookah lounge, and a personal butler on hand 24 hours a day.

---
Each pool villa and residence features:
King sized beds with the finest cotton and a pillow menu
Expansive bathroom with outdoor shower, bath and rain shower
His and hers walk-in dressing rooms
Private swimming pool and sundeck
Swinging daybed
Dining pavilion
Complimentary high speed wireless internet access
iPod docking station
Satellite TV with LCD screen and DVD player
Selection of reading materials and board games
In-suite bar, wine chiller, espresso machine and tea making facilities