Luxury wooden interiors with specious accommodation open up to a beautiful sun deck with blue crystal ocean water right in front of you. Adaaran Prestige Water Villas are known for their exquisite interior with very own sun deck and private Jacuzzis to truly enjoy breath taking views of the horizon. With world class facilities Adaaran Prestige Water Villas is truly a must experience in your life time!
Accommodation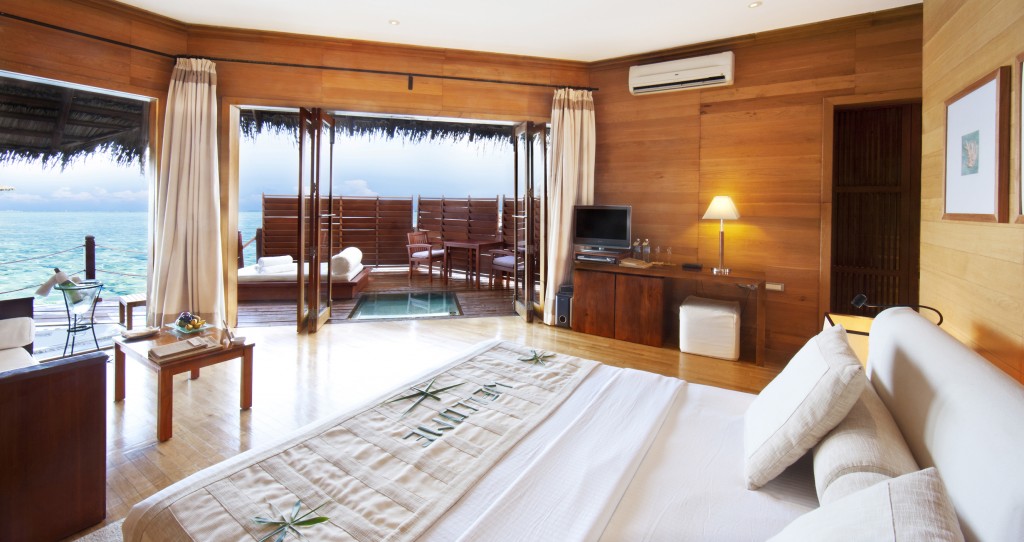 Elegantly appointed with luxurious wooden interiors, Adaaran Prestige Water Villas offer luxurious accommodation in the heart of paradise. Featuring a spacious sun deck which presents an ideal setting to bask in the sun for hours, enjoy glimpses into the life beneath the waves through the glass portal.
Dive into the sea at will and discover something new each time as colourful sea creatures dart past you. Snorkel to your heart's content and explore the seabed at Maldives; home to the clearest waters in the Indian Ocean.
Adaaran Prestige Water Villa Amenities and Facilities:
Air Conditioning
Mini Bar
Satellite Television
Telephone with IDD Facility
Tea/Coffee Maker
In Room Safe
Baby Cots
Wooden Ladder from the Sun Deck for Private 24 Hour Access to Surrounding Ocean
Internet Connection in the Room (LAN)
Dining


Sample an array of sublime tastes and flavours at our unique restaurants serving everything from succulent seafood fresh out of the dhonis to signature European delicacies. Enjoy fantastic meals at any of our lavish restaurants and experience dining in Maldives at its absolute best. Find a perfect accompaniment to your meal in the form of a smooth beverage, also offered by the restaurants.
Let your taste buds enjoy a celebration of mouth watering flavours as they combine to conjure up a culmination of dishes for the food lover offering a truly holistic dining experience at our Signature fine dining restaurant. Feast on scintillating buffet spreads at the Main Restaurant which offers a selection of international cuisines.
---
FINE DINING RESTAURANT
Prepare to feast you taste buds on a scintillating range of culinary delights from around the world at the Fine Dining Restaurant at Adaaran Prestige Water Villas. Enjoy a fantastic dining experience in a warm and alluring setting complete with quaint lighting and rich decor. Choose the dish of your liking from a variety of impressive local and international fare and a fine beverage to go with it.
Try out the signature dishes served at the fine dining restaurant which promises a Maldives dining experience second to none. Sit back and savour every little detail as the dedicated service team attends to your every need.
Spa


Surrounded by the resort's lush landscaping, Chavana Spa at Adaaran Prestige Water Villas offers tranquility, privacy and pampering treatments. The Spa features three double rooms, four single rooms, steam and sauna facilities, relaxation and manicure-pedicure area.
Fresh floral aromas will soothe and calm the senses, whilst our unique blend of traditional Balinese music with contemporary tones playing in the background will surely lull you to sleep or a relaxed state of mind. Chavana Spa's range of signature body treatments, facials and packages are inspired from the freshness of a Balinese garden. Pevonia Botanica facials are also offered, an elite natural skin care brand focusing on prolonged skin health and rejuvenation.
---
SPA TREATMENTS
Treatments at Chavana Spa
Surrender your body and mind to a variety of treatments and begin the process of cleansing and detoxification. Feel the warmth of the aromatherapy oils seep through your skin as our skilled massage therapists sharpen your senses by activating the key pressure points of your body.
Treatments:
Journey of the Senses
Heaven & Earth
Chavana Massage
Warm Stone Massage
Pevonia Botanica Aroma Fusion Facial
Peveonia Botanica Men's Rejuvenating Facial
Traditional Balinese Massage
Asian Foot Massage
Purity Facial
Spa Pedicure
Spa Manicure
---
Maldivian Spa Escape
An exotic ritual to invigorate and bring vitality to your body. Your skin will be polished and smoothed to a glow with an application of refreshing conditioner to moisturise the skin. A truly pampering experience that will remind you of precious moments together.
Name of Treatments:
Citrus Footbath
Choice of Botanical Body Polish
Traditional Balinese Massage
Choice of Foot Massage or Refresher Facial
Activities


Guests residing at Adaaran Prestige Water Villas have the chance to explore vibrant Maldives like never before. Play a game of soccer on the beach or some beach volleyball to get the adrenaline pumping. Those who need a little more motivation have various other things to do in Maldives such as venturing out to sea for a tour around Maldives which will take you to some of the most beautiful islands found in this corner of the world.
Perfect for adventurous travellers, visit a secluded island and explore its untouched beauty. Stroll around the swaying palm trees with your loved one breathing in the fresh air.
For those seeking a thrilling escapade, revel in the myriad of water sports the island offers. Letting you delve into the islands' inviting warm waters, scuba diving is one of the best things to do in Maldives for the curious explorer who is intrigued by the splendour of nature's finest offerings. Feast your eyes on magnificent sting rays and a variety of coral fish as they glide around the water quite effortlessly. Examine the stunning coral formations and keep a lookout for starfish and lionfish that lay hidden away from plain sight.
Go out on a fishing trip and try your luck at harvesting the bounty of the plentiful Indian Ocean. Wind surfing is ideal for those who seek excitement in generous doses. Feel the rush as you power along the surface of the azure waters.
---
Excursions
NIGHT FISHING
Your visit to Adaaran Select Prestige Water Villas is not complete without trying your hand at the local pass time activity- fishing.This is definitely a night to remember full of scenes and memories. Bait your hook, drop your line direct from a 'Dhoni' to the reef edge & hope for a nibble as you watch the spectacular colors of sunset & ocean waves lap the surrounding islands. The fish caught by you could be prepared to your liking for dinner the next day.
---
LOVERS CRUISE
Enjoy the lovers cruise, while your also entitled to a Canapés /A Glass of Champagne (Per Person).
---
TRADITIONAL FISHERMAN'S ISLAND
Visit neighboring Islands and capture the traditional Maldivian life style. Excursion to an inhabited island! You can witness the traditional Maldivian life style, see their Mosque, school, the houses where they live and then end up buying souvenirs from the shops in the island.
---
VISIT MEEDHOO
The Meedhoo island is less than 15mins Dhoni ride from Meedhupparu. Here you will be able to see traditional Maldivian houses with many made of local vegetation and thatch or coral stones.
---
DESERTED ISLAND PICNIC
Travel by dhoni to one of our deserted islands. Spend the morning swimming or snorkeling in the lagoon, playing on the beach exploring or just laying back in the sun and relaxing. Enjoy BBQ lunch cooked in the traditional manner over a fire of coconut husks.
---
SUNSET PHOTO CRUISE
Take spectacular sunset photos with your own camera from a Dhoni while sipping a refreshing cocktail and watch the sun sink into the sea in the horizon. Two hours journey and price includes one cocktail.
---
COCONUT SAFARI
Enjoy a sip of Kurumba & Coconut on a dhoni which will take you around the island of Meedhupparu.