At Holiday Island Resort & Spa , the rush of time slows. The crystalline seas and soft, sandy shores remain as nature made them, beckoning guests to one of the world's last unspoiled paradises. Shape your dream holiday at this secluded Maldives beach hotel, where pristine beauty, personalized service and modern indulgences have formed a retreat of unparalleled allure. Explore the underwater treasures of one of the world's premier dive locations. Sip a cocktail on your private terrace as you watch the sun dip below the horizon. Or simply lounge on the white coral sand and soak up the radiant sun. Escape to this tranquil, wonderfully relaxed choice of Maldives beach resorts, and discover a tangible embodiment of your ideal tropical paradise.
Dining


The brilliant sunshine and inspiring views may uplift the spirit, but it's the rich cuisine of Holiday Island Resort & Spa that nourishes the soul. Perfect the art of eating well at our four Maldives dining venues, each offering a distinctive allure for discerning palates. Feast on elaborately sumptuous buffets at our Main Restaurant, artfully prepared and presented by our expert culinary team. Drink in the island's stunning natural beauty as you sip cocktails at our open air beach bar. Or take a moment to rejuvenate with a light snack at the Coffee Shop, open to guests around the clock. From romantic meals beneath the stars to casual waterfront drinks, our Maldives bars and restaurants will satisfy your every mood and craving.
---
MAIN RESTAURANT
Indulge in the sumptuous, internationally-inspired cuisine of the Main Restaurant, the culinary centrepiece of Holiday Island Resort & Spa . Serving elaborate buffets for breakfast, lunch and dinner, each meal at this Maldives restaurant is a true gourmet feast. Our professionally trained chefs pride themselves on preparing a wide variety of delectable dishes throughout the day, from traditional continental breakfast dishes in the morning to boldly flavoured continental, Asian and Maldivian fare at lunch and dinner. Our full-board, half-board and all-inclusive meal plans are valid exclusively at our Main Restaurant, ensuring guests will enjoy a deliciously well-rounded introduction to the height of Maldives dining.
Breakfast: Breakfast: 0730h to 0930h daily
Lunch: Lunch: 1230h to 1400h daily
Dinner: 1930h to 2100h daily
Valid for full-board, half-board and all-inclusive meal plans
---
COFFEE SHOP
Serving a variety of à la carte meals, ice-cream, juices, coffees, espressos and cappuccinos.
---
MAIN BAR
Open round the clock, and offering 25% happy hour discounts every day from 1830h to 1930h. A live band, DJ, Maldivian cultural shows or karaoke is available every evening.
---
BEACH BAR
Located near the water sports centre, and open daily from 930h to 1230h and from 1400h to 1800h.
Spa


Araamu Spa
Find your inner soul at Araamu Spa, soon to open its doors at Holiday Island Resort & Spa . A signature feature at all Villa Hotels , our Maldives spa retreat will build upon the natural serenity of our island, creating a tranquil, soothing sanctuary where guests can nourish mind, body and soul. Rich fabrics, Asian artwork and locally handcrafted furnishings are framed with lush, local vegetation, highlighted by a landscaped courtyard and placid water features. While these artistically styled designs please the eye, colour, light, music and exotic aromas work together to inspire a sense of calm and relaxation. Regain a sense of inner balance at this Maldives spa resort, offering an indulgent escape to a world of personal well-being.
---
Beautifully landscaped courtyard
Signature rose petal soaking baths
Sauna and Jacuzzis
Ayurvedic Massage
Spacious treatment rooms
Activities


Awaken to a world of possibility at Holiday Island Resort & Spa . Surrounded by a wide, tranquil lagoon and the clear blue waves of the Indian Ocean, this Maldives beach resort is paradise discovered for those who love the water. Explore the shoreline from your catamaran, or slice through the wake as you water ski the day away. Take an excursion to a local island, reel in the big one on a guided fishing tour, or start a friendly game of volleyball on our sandy court. At our Maldives beach hotel, there's no shortage of adventure. Come experience it all.
---
WATER ACTIVITIES
From boating and windsurfing to jet skis and tube rides, Holiday Island Resort & Spa has nearly every sort of water sport imaginable. Embark on a scenic boat ride to catch a glimpse of whale sharks – the largest species of fish in existence. Take advantage of our calm, shallow lagoon to learn how to sail or windsurf. Or, use our Maldives catamaran rentals to explore the beautiful coastline of our secluded island. We're also one of three places in the country where parasailing is available, offering a true sky-high adventure for the intrepid traveller. Dive into a thrilling world of aquatic excitement, and experience one of the best equipped centres for Maldives windsurfing, sailing, canoeing, and more.
Scuba diving and snorkelling
Canoeing
Windsurfing
Catamaran Sailing
Parasailing
Wakeboarding
Jet Skiing
Knee Boarding
Water Skiing
Fun Tubing
Dingy Sailing
Snorkeling Scooter
---
EXCURSIONS
Just beyond the boundaries of Holiday Island Resort & Spa , an entire world lays waiting to be discovered. Explore the surrounding waters and Atolls with our guided Maldives excursions, each offering a fascinating look into local life and nature. Cruise to gorgeous inhabited and uninhabited islands within our archipelago, or delve beneath the waters with a fishing or snorkelling trip. For a different approach to wildlife, embark on a Maldives dolphin safari, and watch as these playful, graceful creatures glide through the gentle waves.
Full-day island hopping excursion
Half-day island hopping excursion
Half-day fishing
Morning fishing
Night fishing
Dolphin and Whale shark safari
Snorkeling
---
SPORTS AND RECREATION
Add a little action to your time at Holiday Island Resort & Spa , and take advantage of our wide array of recreational activities. Unlike other Maldives budget hotels, we offer extensive, modern facilities for your enjoyment, including athletic courts and all necessary sporting equipment. Start up a friendly game of beach volleyball or badminton, or maintain your exercise regime at our gymnasium. Enjoy an after-dinner game of snooker, or practice your backhand on our onsite tennis courts, which are equipped with flood lights for evening matches. Whether looking for fun or fitness, our tranquil resort offers everything needed for a wonderfully active Maldives budget holiday.
Billiards/snooker
Table tennis
Tennis courts
Volleyball
Outdoor badminton
Gymnasium, with steam room and suana
Accommodation
SUPERIOR BEACH BUNGALOW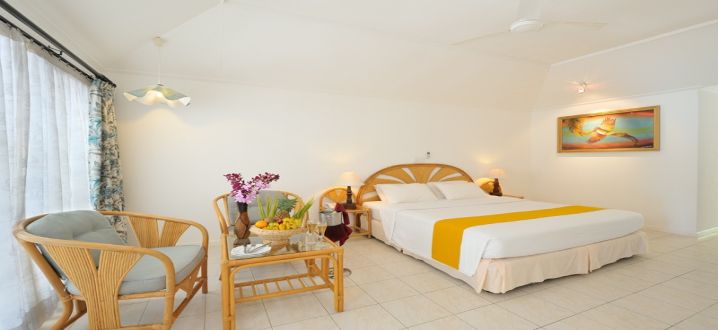 Relax in the comfort of your own private beach bungalow with stunning views of the Indian Ocean. Each bungalow sits directly on the breathtaking beach that surrounds the beautiful Holiday Island.
Equipped with a host of modern amenities and indulgent comforts, our bungalows offer a charming, laid-back setting for an unforgettable Maldives beach holiday.
Experience the gracious amenities and untouched splendour of Holiday Island Resort & Spa, offering an unimaginably beautiful setting for the holiday of your dreams.
Facilities
Individually control air conditioning
Ceiling Fan
IDD Telephone in room & bathroom
Room Safe
Mini Bar
Color TV with satellite channels
Sitting Area
Guest Amenities
Tea and Coffee making facilities
Beach Towels in room
Sun beds available at Beach Front
220V-240V power a 50Hz in all sockets
Attached toilet with Ho t& cold fresh water
Bath Tub
Bidet
Open air shower
Baby cot on request
24Hrs Room Service