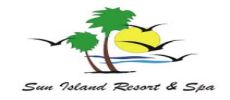 STANDARD
★★★★★
LOCATION
South Ari Atoll
DISTANCE FROM AIRPORT
107km from Ibrahim Nasir International Airport
TRANSFER TYPE
17 mins by Domestic Flight
NO. OF ROOMS
426 Rooms
Notice:
Please configure GTranslate from WP-Admin -> Settings -> GTranslate to see it in action.
Escape to an exotic world of breathtaking possibility, where adventure and relaxation are equally within reach. At Sun Island Resort & Spa – a flowering jewel among Maldives family hotels – every moment is free to shape into your personal version of paradise. Cruise along our stunning sapphire lagoons by jet-ski, canoe, windsurf or catamaran. Explore the spectacular local scenery and unique Maldivian culture with excursions to neighbouring islands. Or, simply let the ocean breeze caress you to sleep as you sway gently in your hammock. From invigorating activities to precious tranquility, our Maldives fun island resort will captivate the heart with extraordinary experiences and unforgettable memories.
Accommodation
Dining
Spa
Activities
Gallery
Dining


Inspire the palate with the rich flavours and innovative cuisine of Sun Island Resort & Spa . Each of our restaurants showcases a different aspect of Maldives dining, from fresh, locally caught seafood to exotic Thai and Oriental influences. Savour the sumptuous buffet meals of our Maaniyaa Restaurant, featuring a decadent mix of local and international favourites. Sip cocktails along the shore from our Beach Bar, offering the ultimate in laid-back luxury. Or, embrace the international appeal of Ristorante Al Pontile, where traditional Italian cuisine meets the beauty of the tropics. No matter which of our restaurants you visit, we promise you an exquisite introduction to the Maldives island dining scene.
---
MAANIYAA (MAIN) RESTAURANT
At Maaniyaa Restaurant, every meal is a cornucopia of gourmet culinary pleasures, each one more enticing than the last. Give in to the temptation of these extravagant Maldives buffets, and see why Sun Island Resort & Spa has long been known for its exceptional cuisine. This spacious, open-air restaurant serves breakfast, lunch and dinner daily, offering a diverse mix of local and international dishes for each. Though this is the only one of our Maldives restaurants accommodated by our meal plans, the vast range of available options will ensure plenty of variety for our guests. Indulge in the delectable flavours of the islands, and savour the cuisine at Maaniyaa.
Breakfast – 0730 – 0930 Hrs
Lunch – 1230 – 1400 Hrs
Dinner – 1930 – 2100 Hrs
---
GURAAMULI ISLAND BBQ
Savour the fresh, wonderfully flavourful cuisine of Guraamuli Grill Terrace, an exceptional Maldives seafood and barbecue restaurant at Sun Island Resort & Spa . With daily catches pulled in from the crystalline water surrounding our resort, Guraamuli offers some of the freshest seafood you'll ever enjoy. For an interactive Maldives barbecue experience, visit this beachfront restaurant after partaking in a fishing excursion, and we'll prepare your catch on the grill as you watch the sun dip below the horizon.
Hours: 1000h – Midnight
---
RISTORANTE AL PONTILE
Embark on a culinary journey to the heart of Rome, and enjoy an evening at Ristorante Al Pontile, the only Maldives Italian restaurant at Sun Island Resort & Spa. Translated as "the jetty," Al Pontile is a tranquil, over-water oasis designed to serve as a feast for the senses. As your eyes marvel at stunning views of our aquamarine lagoon and intricate coral reef, your palate will be inspired by a traditional Italian and Japanese specialties. Discover an innovative fusion of cuisines at our Maldives Japanese restaurant, and taste the tropics as you never have before.
Open Hours: 1000 – 2300 Hrs
---
SOUTHERN STAR RESTAURANT
Enjoy a taste of India at Southern Star Restaurant, one of the most flavourful dining venues at Sun Island Resort & Spa . Featuring an exotic approach to Maldives casual dining, Southern Star offers elaborate daily buffets, complete with international dishes, fresh seafood displays, and a specialty Indian menu. Linger over morning coffee as you listen to the gently rustling palms, or indulge in a global culinary tour as you sample dishes from around the world. Discover an eclectic choice of Maldives Indian restaurants, and savour the unique flavours of Southern Star.
Breakfast – 0730 – 1000 Hrs
Lunch – 1230 – 1400 Hrs
Dinner – 1930 – 2100 Hrs
---
SUN STAR THAI RESTAURANT
Like a floating temple to gourmet cuisine, Sun Star Thai Restaurant stands majestically above the still lagoon and coral reefs of Sun Island Resort & Spa . As a distinctive over-water dining venue, this Maldives Thai restaurant provides the unique opportunity to dine directly along the ocean's edge. Gaze out at the seemingly infinite expanse of turquoise waters as you indulge in traditional Thai dishes like Kaeng Khiao Wan Kai and Yom Yam Krung. Marvel at the graceful wings of the stingray colony below, which congregates every evening near the restaurant. For the ultimate romantic evening, choose a table on the restaurant's wraparound deck, and dine beneath the twinkling stars. Sun Star isn't just another Maldives Asian restaurant – it's an experience you can't find anywhere else in the world.
Open Hours: 1000 – 2300 Hrs
---
BARS AND NIGHTLIFE
As the brilliant sunshine fades into night, Sun Island Resort & Spa invites you to keep the fun going at our collection of Maldives bars and lounges. Enjoy an intimate drink at our cosy lobby bar, featuring sumptuously plush furnishing and rich drapery. Feel the pulsing rhythms of Maldives nightlife at our Mekunu Bar, which transforms into an energetic discotheque on select evenings. From the tropical beauty of our oceanfront beach bar to the low-key ambiance of our Vani Coffee Shop, our resort promises something for every mood, whim, taste and occasion.
Mekunu Bar , our main bar, is open 24 hours a day, and offers a wide variety of exotic cocktails and non-alcoholic beverages. Open and airy, Mekunu Bar also offers beautiful views of the lagoon.
Lobby Bar , offering a warm and comfortable atmosphere for meetings and mingling. Open daily from 1700h to midnight.
Beach Bar , located near the windsurfing school, this shorefront bar is open daily from 0900h to 1700h.
Pool Bar , allowing guests to swim up and enjoy a drink without ever having to leave the pool
Club Greenhouse Bar , featuring a lovely setting in the midst of our expansive green lawn
Vani Coffee Shop & Bar , a casual beachfront outlet offering a variety of snacks, light meals and specialty dishes. Open 24 hours a day.
Spa


Araamu Spa
Relax the body and awaken the senses at Araamu Spa, a sanctuary of undisturbed tranquility within Sun Island Resort & Spa . At our "Araamu" inspired Maldives spa resort, scented oils, gentle music and caring hands bring to life the ancient art of healing, allowing the spirit to achieve a state of blissful transcendence. Fall under the soothing spell of traditional Maldivian healing techniques, enhanced by the natural essence of flowers, marine plants, and herbs. Beautify the body from the outside in with therapeutic massages, facials and skin treatments. Experience the restorative powers of our breathtaking island paradise, and surrender to the stirring enchantment of our Maldives spa resort.
---
SERVICES INCLUDE
Aromatherapy
Jacuzzi
Sauna
Steam Bath
Reflexology
In-house medical clinic
Body scrub & facials
Manicure & Pedicure
Indian Ayurvedic Therapy
Activities


From young children to old souls, Sun Island Resort & Spa captivates the heart of every guest who enters our doors. As befitting our position as the largest of Maldives family resorts, we offer a vast range of onsite activities that appeal to every age and interest. Embark on an adventure as you try out a new water sport or feed schools of sharks and stingrays. Soak up Maldivian culture with an excursion to a neighbouring island. Or, simply bask in the warm sunshine as you lounge by our expansive pool. Embrace all the country has to offer during your Maldives family vacation, and experience the breathtaking possibilities of the most picturesque island in South Ari Atoll.
---
WATER SPORTS
At Sun Island Resort & Spa , water isn't just a source of life – it's a source of adventure. Our water sports center is located on the east side of the island, and offers both rental equipment and lessons by our professional staff. Learn the art of Maldives windsurfing from the safety of our shallow, tranquil lagoon. Feel the rush of adrenaline as you speed through the water on a pair of water skis. Or, let yourself be guided by the wind as you explore the island from a Maldives catamaran rental. Other water activities available at the resort include:
Catamarans
Jet skis
Windsurfing
Diving and Snorkeling
Water-skiing
Canoes
Knee boarding
Speed boats
---
EXCURSIONS
With its onsite activities, relaxing spa and gourmet dining options, Sun Island Resort & Spa is truly a world of its own. But don't forget that just beyond our doors, an entire country lies waiting to be explored. To help you experience our island nation's rich culture and vast resources, we offer an array of excursions, ranging from Maldives island hopping adventures to thrilling dolphin safaris. Explore the area's most beautiful reefs during a special snorkelling excursion, or set sail aboard a Maldives fishing boat for a magnificent sunrise or sunset journey. Our full range of excursions includes:
Island Discovery , a full-day Maldives island hopping tour, which includes a barbecue lunch on an uninhabited island. Held Sundays from 0900h to 1700h
Island Tours , offering a chance to learn about Maldivian culture and customs. Tour includes a visit to the island of Dhangethi, which features a Cultural Activity Centre. Offered Tuesdays from 1430h to 1700h.
Follow the Dolphins , an organized dolphin safari designed to let visitors catch a glimpse of these gentle, graceful creatures. Available every morning and evening.
Reef Explorer , which takes snorkelers to the area's most beautiful reefs, where amazing multi-coloured corals and sea creatures can be found. Held Tuesdays, Thursdays and Saturdays from 0930h to 1200h.
Tholhufushi Robinson Excursion , offering a real-life Robinson Crusoe adventure on a deserted island. Held daily from 0900h to 1700h.
Sunrise Fishing , held before the sun rises in order to attract the "big ones." Your catch will later be barbecued at Guraamuli Grill. Available Mondays from 0530h to 0830h.
Sunset Fishing , offering anglers the chance to cast their line before the splendid setting sun. Your catch will later be barbecued at Guraamuli Grill. Available Saturdays through Thursdays from 1715h to 2000h.
---
SPORTS AND RECREATION
Guests at Sun Island Resort & Spa will have access to a wide range of recreational facilities, all of which feature up-to-date, modern equipment. Take a tennis lesson from one of our experienced instructors, or organize a family game of volleyball or badminton. Explore the island on a rented bicycle, or entertain your children with our collection of electronic games. For fitness enthusiasts, our Maldives fun island hotel also features a fully equipped health centre with aerobic and strength training equipment. Take full advantage of our range of onsite activities, and enjoy an active, fun-filled holiday at our Maldives fun island resort.
Water Sports
Fitness centre
Tennis courts with floodlights
Basketball
Volleyball
Electronic games
Squash
Indoor badminton
Table tennis
Bicycle rentals
---
BEACH AND POOL
While Sun Island Resort & Spa may be known for its abundance of activities, we also appreciate the need to slow things down. Take a break from it all as you lay out along the sapphire waters of our stunning, white-sand shoreline. Enjoy a soak in our tranquil lagoon, whose azure splendour proves our reputation as one of the most beautiful Maldives beach resorts. Or, perfect the art of relaxation as you lounge by our 1,800-square-metre outdoor pool, which is framed by lush tropical greenery and extends directly to the edge of the lagoon. For the ultimate in leisure, we offer an indulgent swim-up pool bar, while our children's pool is ideal for families visiting our Maldives beach hotel.
1,800 square metre pool
Swim-up pool bar
Children's pool area
Beautiful beach and lagoon
---
STINGRAY FEEDING
Enjoy a fascinating peek at the fauna of Sun Island Resort & Spa with our nightly Maldives stingray feeding event. Every evening at 2030h, guests are invited to gather at our service jetty, where information will be given about stingrays and their habitat. After this discussion, guests can feed these beautiful, ethereal creatures that have congregated along the jetty. To enhance this spectacle of nature, baby Maldives sharks swim amongst the stingrays, while elegant herons linger nearby waiting for their catch.
Held every evening at 2130h
Located at the service jetty
Accommodation
Retreat to the casual comfort and elegant atmosphere of Sun Island Resort & Spa , offering 426 beautifully furnished guest rooms and suites. Though ranging in size and amenities, all of our Maldives holiday accommodations offer striking views of the sapphire Indian Ocean, as well as a host of modern conveniences for the contemporary traveller. Indulge in the sumptuous luxury of our expansive, two-bedroom Presidential Suite, featuring a private beachfront terrace and Jacuzzi tub. Or, make the most of our island location with our unique Water Bungalows, set on stilts above a tranquil lagoon with private stairways leading to the water. Experience the pinnacle of gracious living at this Maldives holiday hotel, beautifully positioned within the stunning flower of the Indies.
STANDARD BEACH BUNGALOW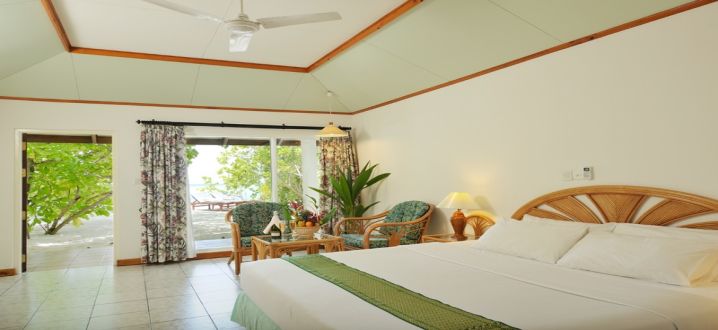 With the beach at your doorstep and the ocean in sight, the Deluxe Rooms at Sun Island Resort & Spa offer a personal gateway to paradise. These Maldives family accommodations provide 21 metres/222 feet of space, and are equipped with modern amenities such as satellite television. Of course, with your own private veranda and dozens of onsite activities, checking your email might not be your first priority. Escape to the fun and relaxation of our Maldives family hotel, where the promise of an unforgettable getaway is always kept.
Facilities
Individually control air conditioning
Ceiling Fan
IDD Telephone in room & bathroom
Room Safe
Mini Bar
TV with satellite channels
Sitting Area
Guest amenities
Hair dryer
Beach Towels in room
220V-240V power a 50Hz in all sockets
Tea and Coffee making facilities
Attached bathroom w/hot&cold fresh water
Sun beds
Baby Cot on request
2 Mineral Water Bottle per Day per Room
SUPERIOR BEACH BUNGALOW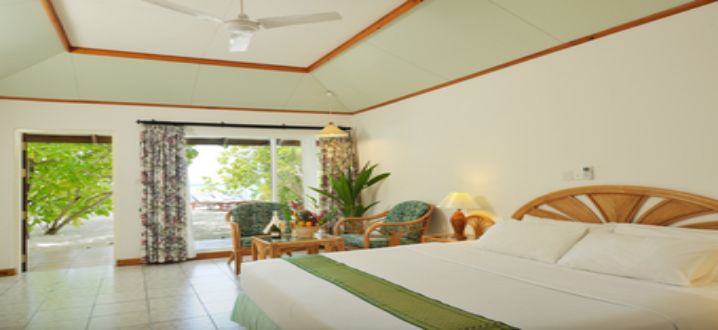 Upgrade to the increased comforts of the Super Deluxe Rooms at Sun Island Resort & Spa . Spanning 21 square metres/222 square feet, our 218 elegantly furnished Maldives deluxe hotel rooms offer the convenience of en-suite bath and shower facilities, creating enhanced privacy for you and your family. You'll also enjoy satellite television and a private veranda set directly along our pristine shoreline. Check yourself into our deluxe Maldives hotel, and experience life as it's meant to be lived.
Facilities
Individually control air conditioning
Ceiling Fan
IDD Telephone in room & bathroom
Room Safe
Mini Bar
TV with satellite channels
Sitting Area
Guest amenities
Hair dryer
Bath Tub
Bidet
Beach Towels in room
220V-240V power a 50Hz in all sockets
Tea and Coffee making facilities
Attached bathroom w/hot&cold fresh water
Sun beds
Baby Cot on request
2 Mineral Water Bottle per Day per Room
WATER BUNGALOWS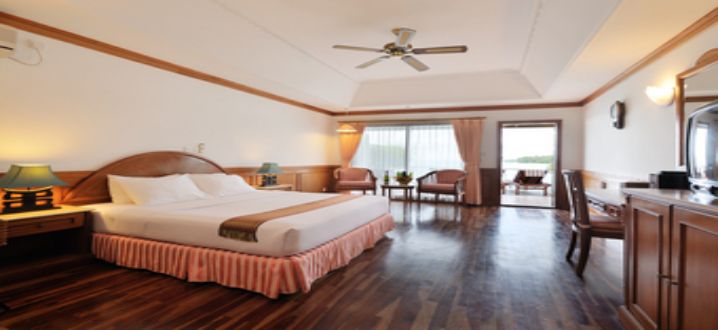 Set on stilts above the tranquil turquoise lagoon, our Maldives water bungalows truly embrace the island atmosphere of Sun Island Resort & Spa . Large and richly furnished, these exclusive accommodations are accessed by a wooden jetty, creating the sense of a secluded hideaway apart from the rest of the resort. Take in the vast horizon from your personal sundeck, offering either sunrise or sunset views. Walk down your private staircase to enjoy a refreshing soak in the warm ocean water, which ebbs and flows just below your floor. Offering a truly unique approach to island living, these Maldives beach bungalows offer one of the world's most remarkable lodging experience.
Facilities
Individually control air conditioning
Ceiling Fan
IDD Telephone in room & bathroom
Room Safe
Mini Bar
TV with satellite channels
Sitting Area
Guest amenities
Hair dryer
Bath Tub
Bidet
Beach Towels in room
Private sun deck
Private Staircase leading to lagoon
220V-240V power a 50Hz in all sockets
Tea and Coffee making facilities
Attached bathroom w/hot&cold fresh water
Sun beds
Baby Cot on request
2 Mineral Water Bottle per Day per Room
PRESIDENTIAL SUITE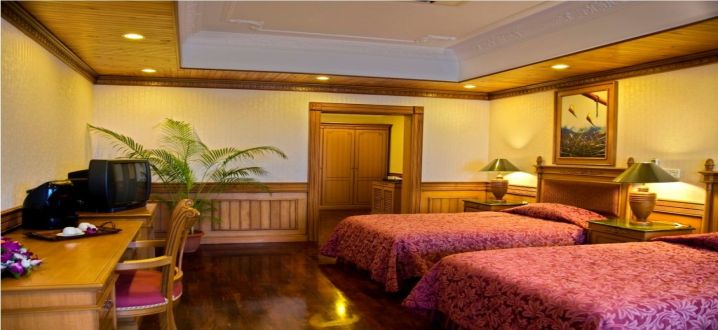 Indulge in the most luxurious lodging option at Sun Island Resort & Spa – the Presidential Suite. These vast, two-bedroom Maldives hotel suites span 246 metres, offering more than twice the size of our regular rooms. Located at the end of the water bungalow jetty, each suite is beautifully equipped with polished parquet floors, corniced ceilings and elegant wooden furnishings, creating a truly regal experience for connoisseurs of fine living. From your private Jacuzzi tub to spectacular views, every detail speaks of an unmatched level of grandeur. Experience the epitome of aristocratic living, and treat yourself to the gracious luxury of these exclusive Maldives suites.
Facilities
Individually control air conditioning
Ceiling Fan
IDD Telephone in room & bathroom
Room Safe
Mini Bar
TV with satellite channels
Sitting Area
Guest amenities
Hair dryer
Bath Tub
Bidet
Beach Towels in room
Private sun deck
Private Staircase leading to lagoon
220V-240V power a 50Hz in all sockets
Tea and Coffee making facilities
Attached bathroom w/hot&cold fresh water
Computer desktop
Cordless phone
DVD/ CD player / iPod Dock
Jacuzzi
Sun beds
Baby Cot on request
2 Mineral Water Bottle per Day per Room