Come experience the Maldives you've always dreamt of at Royal Island Resort & Spa. Amidst the sparkling jewels of the Indian Ocean, our exquisite Maldives luxury hotel shines and dazzles above all. Indulge and immerse yourself in a colourful journey of discovery, where shores lined with luxuriant banyans and lush palms yield to a majestic underwater world that will render you speechless. Enjoy unmatched services and facilities, including the lavish Araamu Spa and a fabulous selection of restaurants and bars . Relax and unwind with a vast selection of resort activities , including a fully equipped gymnasium, tennis, and squash to scuba diving and water skiing. All of this awaits you at our Maldives luxury resort – just let us show you the way.
Dining


Whether your tastes run to traditional Maldives dining specialties, international fare, or haute cuisine, the culinary experts at Royal Island Resort & Spa have created menus that are sure to delight. Select from a variety of contrasting choices. Dine al fresco on a poolside terrace or indoors in the traditional elegance of a distinctly Asian-style restaurant with stunning Indian Ocean views. For a casual drink with friends, an apertif before dinner, or a sociable evening on a moonlit deck, you can also choose among an assortment of stylish Maldives bars. Royal Island & Spa creates a dining ambiance to suit your every mood.
---
MAAKANAA (MAIN) RESTAURANT
Savour a wide range of delicious dishes throughout the day at Maakana Restaurant. With its beachside setting and breathtaking Indian Ocean views, this casual, open-air Maldives restaurant offers an unforgettable feast for the senses. Eating at Maakanaa is more than just a meal, it's an occasion, where unparalleled pleasures for the palate await. Daily buffet breakfast features a variety of options from near and far, with a wide selection of fresh fruits, cereals, pastries and hot daily specials. The cuisine is prepared using only the most exotic of spices, lush tropical fruits and fresh seafood, resulting in a truly inspired Maldives dining experience.
Breakfast – 07:30AM – 10:00AM
Lunch – 12:30PM – 02:00PM
Dinner – 07:30PM – 09:00PM
---
RAABONDHI RESTAURANT
Discover a new world of tastes at Raabondhi Restaurant. Nestled among the natural sand formations and abundant tropical vegetation of Royal Island Resort & Spa , this alluring Maldives seafood restaurant offers dramatic ambiance both indoors and out. Savour a Maldives Mediterranean dining experience featuring the freshest seafood and meat delicacies grilled and roasted outdoors with the hint of the salty air, along with hand picked wines and delicious salads.
Dress code is "smart casual," with no swimwear permitted.
Serving lunch and dinner from 11:00 a.m. to 11:00 p.m.
Happy Hours nightly from 5:30 to 7:30 hrs, with a 20% discount on all beverages except wines & takeaways.
---
POOL BAR
Open Hours: 1000 – 1800 Hrs
---
BOLI BAR
Open 24 Hrs
---
FUN PUB
Open Hours: 2100 – Till last guest leaves
Spa

Araamu Spa
At the heart of our Maldives spa resort is the Araamu Spa. In the local Dhivehi language "Araamu" means "comfort", "pleasure" and every feeling in between. This serene Maldives spa is a holistic retreat, offering a delectable menu of treatments to calm the senses, relax the body, and invigorate the spirit. Four outdoor wooden pavilions and two deluxe pavilions with sunken Jacuzzi and steam bath ensure the ultimate in privacy and solitude. There are five indoor treatment rooms specially designed for Indian Ayurvedic treatments, with steam, sauna and whirlpool. Surrounded by tropical foliage and natural water features and ponds, the Araamu Spa is a serene sanctuary offering a sense of complete peace and harmony.
---
SERVICES INCLUDE
Aromatherapy
Jacuzzi
Sauna
Spa
Steam Bath
Reflexology
In-house medical clinic
Body scrub & facials
Manicure & Pedicure
Indian Ayurvedic Therapy
Activities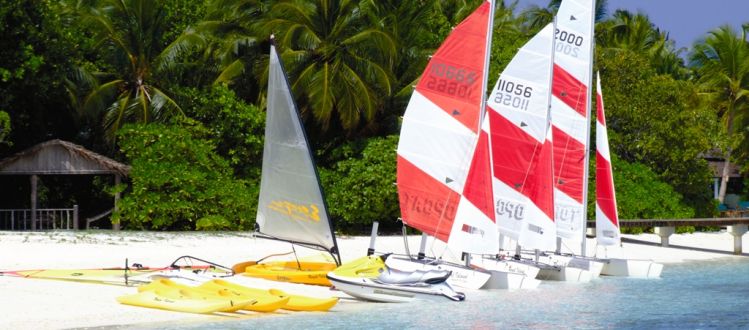 Escape to Royal Island Resort & Spa for stunning views and limitless recreation. Relax at the sparkling swimming pool at our luxurious Maldives beach resort. Grab your racket and play a few sets on one of our lighted tennis courts. Surf cast for lunch on our private beach and lagoon or pamper yourself at the plush Araamu Spa . Soar high above the shoreline on an exhilarating parasailing adventure. Or just drop into an oceanfront chaise lounge and snooze away the day. No matter how you'd like to relax, our Maldives luxury beach resort is the perfect place.
---
WATER ACTIVITIES
The pleasant climate and excellent facilities combine to make Royal Island Resort & Spa one of Asia's top holiday destinations for adventure and extreme sports. Whether you decide to take off behind a fast boat for some wild water-skiing or wakeboarding, surf the waves, kite board or windsurf the warm waters, our Maldives water sports centre has everything you need for a fun-filled holiday. For anglers, Maldivian waters are famous for big game fishing and it is recommend that fishing enthusiasts pre-book their fishing boats, particularly during the high season from November to May. Modern, well-equipped deep-sea fishing boats can be hired to take guests beyond the coral reef to deep blue waters, three miles away from the island. From Maldives water skiing excursions to snorkeling adventures, banana boat rides, and sailing charters, there are plenty of ways to get your feet wet.
Sailing – 
the calm waters of the surrounding lagoon make for excellent sailing conditions and guests can chose from a variety of lasers and hobie cats
Cruises – 
charter a catamaran or dinghy and sail off into the azure sea for daytime cruises or evening sunset cruises
Private lessons – 
full time professional instructors are on hand for quick lessons in the sporting activity of your choice, including windsurfing, kite surfing, snorkeling, and water skiing
Adventure for Teenagers – 
children and teenagers can expend their boundless energy and adventurous spirit with recreational activities such as windsurfing and water-skiing. Parents can spend 
time with their children without creating too big a dent in the wallet
---
EXCURSIONS
Not every treat is on the island. Royal Island Resort & Spa offers its guests a variety of activities off the island as well. Take a trip out into the blue yonder and experience the underwater wonderland surrounding our luxury Maldives hotel. Cast for barracuda, wahoo, and sailfish on an adventurous deep sea fishing tour. Enjoy a picnic lunch on a deserted island or sip cocktails at sunset on a Dhoani. Snorkel one of the nearby majestic reefs and get up close and personal with a colourful array of marine life. Or let us take you to a local island, where you can meet the friendly locals and explore their way of life. Delight in all the thrilling marvels that make our luxury Maldives resort a truly unique and memorable destination.
Morning Fishing , as the dawn breaks, fish come up to feed. Throw in a line, sit back and watch the dark sky turn to breathtaking shades of indigo, orange and blue and soon there'll be a huge catch to take back for lunch.
Night Fishing , it's an opportunity to watch and be a part of the sunset from the Dhoanis as reef fish began their nocturnal feeding frenzy. Be alert as fish tend to eat and run, cheating the eager fisherman of his catch.
Big Game Fishing , be ambitious and net a big fish. Trawling is the best method to get barracuda, wahoo, sailfish, and it is absolutely adventurous.
Sunset Cocktail , a subdued, calm alternative to fishing. Get on a Dhoani and enjoy a cocktail while watching the sun go down in a kaleidoscope of colors.
Snorkeling , the lagoons of Baa Atoll are home to some of the more unique marine life such as lionfish, angle fish and large manta rays. In order to preserve this underwater wonderland, guests are reminded not to step on corals, or break or take away any part of the reef.
Island Hopping , visit one local island, one uninhabited island, and one resort. Have a barbecue and go snorkelling on a private island and create lifetime memories.
Hello Neighbors , let us take you to a local island and a nearby resort for you to compare the differences. Meet the friendly people of these tiny islands and explore their way of life.
---
SPORTS AND RECREATION
As befits a five-star Maldives luxury hotel, Royal Island Resort & Spa offers a full selection of high quality sports and leisure facilities. From floodlit tennis to squash and indoor badminton, from wake boarding to sailing to parasailing, from land to water and everything in between, it's all available at our Maldives luxury resort spa whenever you wish.
Volleyball
Billiards / Snooker
Lighted tennis courts
Indoor badminton
Squash
Table tennis
Gymnasium
---
BEACH AND POOL
Escape to a pristine Maldives beach hotel offering breathtaking beaches, tropical splendour, and gentle Indian Ocean beaches – Royal Island Resort & Spa. Spend lazy days under the warm sun and relax amid the rolling ocean surf only a few sandy steps from our Maldives beach resort. For the adventurous, nearby water sports vendors provide a host of services and rental equipment, from banana boat rides and water skiing to parasailing and snorkeling. If relaxation poolside is more your taste, drop into a chaise by the pool and order up a frozen tropical drink.
Accommodation
Our pleasure is your service at Royal Island Resort & Spa , where each guest is royalty. An aristocrat would feel perfectly at home in our elegant Maldives luxury villas. Rich, coloured textiles, exquisite marble, intricately carved wooden furniture, and subtle lighting provide alluring ambience and stately splendour. Here, complete privacy and solitude are taken for granted. The beach and crystal clear waters of the lagoon are just a few steps away from your private verandah. Each Maldives luxury rental offers a truly unique retreat, where warm water breezes and dramatic views offer a stirring sense of escape at every turn.
BEACH VILLA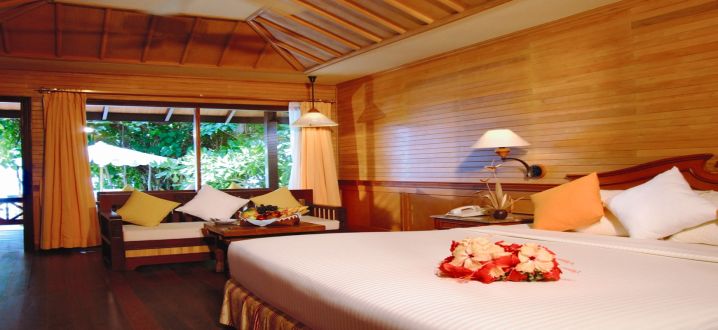 Escape to the tropical paradise of Royal Island Resort & Spa, where are our classically designed Maldives luxury beach villas set the stage for an idyllic and unforgettable holiday. Relax and enjoy all of the amenities you would expect from a five-star resort. From the minute you step into your luxurious room you will fell like royalty. Each Maldives beach villa is carefully constructed from Merbau wood, which is very unique in this part of the world. Rich upholstery and vibrant decor lend a touch of tropical elegance, and your private verandah offers majestic views of the Indian Ocean.
Facilities
Individually control air conditioning
IDD Telephone in room & bathroom
Room Safe
Mini Bar
TV with satellite channels
Guest amenities
Beach Towels in room
Tea and Coffee making facilities
220V-240V power a 50Hz in all sockets
Attached bathroom w/hot&cold fresh water
DVD/CD player
Bath Tub, Bidet
Sun beds with cushion
Hair dryer
PRESIDENTIAL SUITE

For the ultimate experience at Royal Island Resort & Spa , we recommend our spectacular Presidential Suites. We have just two – one on the sunrise tip of the island and the other on the sunset tip. A private beach, with its sparkling lagoon and uninterrupted views to the horizon, is matched only by the design and décor of our Maldives luxury accommodation. Your own butler will ensure that you feel as if you are visiting your own private island. From the dining room for eight to the king sized bedrooms, and the regally decorated lounge to the spacious verandah, swimming pool, and Jacuzzi beyond, nothing has been compromised. These are the Maldives luxury hotel suites for the seriously indulgent.
Facilities
Individually control air conditioning
IDD Telephone in room & bathroom
Room Safe
Mini Bar
TV with satellite channels
Guest amenities
Beach Towels in room
Sun beds available in private sun deck
Tea and Coffee making facilities
220V-240V power a 50Hz in all sockets
Attached bathroom w/hot&cold fresh water
Laptop
Cordless phone
DVD/CD player
Internet via TV
Jacuzzi
Bath Tub, Bidet
Visitors Toilet
Sun beds with cushion
Day bed at Terrace
Hair dryer
Kitchenette with dining
Private Bar
Private pool