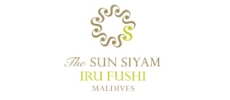 STANDARD
★★★★★
LOCATION
Noonu Atoll
DISTANCE FROM AIRPORT
91km from Ibrahim Nasir International Airport
TRANSFER TYPE
45 mins by Seaplane
NO. OF ROOMS
221 Rooms
Notice:
Please configure GTranslate from WP-Admin -> Settings -> GTranslate to see it in action.
The Sun Siyam Iru Fushi unfolds over 52 acres of natural perfection, a world away from the everyday, yet just a 45-minute awe-inspiring seaplane ride from the capital, Malé. Warm crystal-clear waters wait to embrace you. Soft sands call you to kick off your shoes.
Iru Fushi is located in the northernmost reaches of the Maldivian archipelago, at the heart of Noonu Atoll. Noonu is a community of islands, each with its own distinct allure – a hidden cove here, a lush grove of palm trees there, a lagoon seemingly made just for you. Still others are dotted with villages where traditional ways of life are still proudly preserved, waiting to enchant.
We know that you will be eager to start your holiday from the moment you arrive at Malé, which is why we make the journey as smooth as the waters of our lagoon. While waiting for your seaplane, enjoy a refreshing welcome drink at our private seaplane lounge. Then, once your breathtakingly scenic flight comes to an end and you glide gently toward our arrival jetty, you will see your island host waiting with a smile to take you to your own private haven in our little piece of paradise.
Accommodation
Dining
Spa
Activities
Gallery
Dining


IRU RESTAURANT
A brand new day, fresh flavours awaiting – served with tropical flair. As evening approaches tantalizing aromas carry on the breeze from live cooking stations, a degustation adventure around the world.
Start the day at Iru Restaurant with a casual buffet breakfast from 07.00 – 10.30. The elegant spread ranges from organic fruits and smoothies to hearty English breakfasts, Asian comfort food and freshly baked pastries.
Dinner is served between 18.30 – 22.00. Look forward to a different cuisine every night of the week, from Maldivian seafood specialities to homemade pastas and pizzas, each tailored to your preferences by our obliging chefs.
---
FLAVOURS
A stunning overwater restaurant boasting panoramic views across the Indian Ocean.
Innovative French cuisine created from delectable ingredients. Pair a romantic meal under the moonlit sky with fine wines from The Cellar.
---
ISLANDER'S GRILL
Enchanting surroundings with contemporary flair. Freshly caught fish from the colourful atolls. Prepared with precision and bold flavours. Knowledgeable service with all the warmth the Maldives has to offer.
Serving sumptuous seafood with a charming Maldivian infusion, our casual beachfront setting artfully pairs local favourites such as Maldivian lobster and yellowfin tuna with the finest Old and New World wines. Relax with the gentle sounds of the sea, a crisp Sauvignon and toes buried in the soft white sand.
Lunch is served between 12.00 – 15.00, dinner from 19.00 – 22.00, with special events beginning slightly later at 19.30.
---
THE TRIO
Laid-back oceanside dining with a mix of local ingredients and enticing Italian flavours.
Featuring various seating levels over the lagoon, enjoy expertly crafted cocktails complemented by a mouth-watering selection of classic and contemporary gastronomic creations.
---
THE WINE CELLAR
An inspirational setting, the island's hidden gem. Sophisticated soirees guided by The Sun Siyam's resident sommelier, a journey of discovery to be savoured.
A space for intimate dinners surrounded by hundreds of bottles of rare vintages and champagnes, ocean views beyond. Each course is accompanied by the wine sommelier's carefully chosen recommendation, each bite and sip bound to delight.
---
BAMBOO
Light fare to be enjoyed perched over the ocean, baby reef sharks gliding below. Exotic flavours of Thailand – spicy, sweet, tangy – to be explored and enjoyed.
Choose from an array of authentic Thai dishes – noodles, soups, and flavouring curry; served on the deck between 12.00-3.00pm for lunch and 7.00-10.00pm for dinner.
---
BUBBLE LOUNGE
Revelling in chic and sophisticated surrounds, an exclusive and intimate overwater celebration. Perusing the champagne list on an iPad, wondering where the evening will take you.
Featuring the finest selection of champagne and sparkling wines, including sought-after brands and limited edition vintages. Available by the glass or bottle. Pair with sumptuous canapés. The perfect start, or end, to any evening.
---
WATERS EDGE
Relaxing in the shade of the palms with a chilled glass of sauvignon blanc, the silhouette of fronds lining the Waters Edge. Lazing in the sand by the glistening lagoon, signature cocktail in hand and the rhythmic layers of jazz in the background.
Wander over to Waters Edge for a relaxing drink and live entertainment. Showcasing an innovative drink list of tropical cocktails, speciality wines and beers, and refreshing smoothies and juices, enjoy all-day service from 8.00-1.00am.
---
REFLECTIONS
The setting sun glistens on the pool's still surface, the surrounding foliage swaying ever so slightly in the breeze. Views of the incomparable Indian Ocean to be admired from the water, in the gardens, the al fresco dining pavilion or sundeck.
An intimate adults-only retreat centred around the bar's infinity pool, enjoy a sophisticated ambience offering a menu of gourmet light bites and two-for-one happy hour at sunset accompanied by soothing chill-out beats.
Bar service from 08.00-22.30, with snacks served from 12.00-18:00. Please note that only guests aged 16 and above are allowed.
---
FLUID
Family fun in the meandering pool, exploring its hidden enclaves and waterfalls. Popping out for a quick snack or a refreshing drink before diving right back in again.
A family poolside snack bar deep in the heart of the island surrounded by lush foliage. Enjoy all-day delights such as oven-baked pizzas, gourmet sandwiches, light salads, mocktails and smoothies in a relaxed sunny setting.
Poolside bar service from 08.00-19.00, with snacks served from 12.00-18:00.
---
LA CREMERIA
The unmistakable taste of decadent homemade ice-cream. Peruse our unique and innovative menu of gelatos and sorbets, as well as sweet treats such as speciality coffees, freshly squeezed orange juice and refreshing milkshakes.
Opening hours: 10.00 to 22.00
---
DESTINATION DINING
Following the candlelit path down to the beach, anticipation building. A moment of wonder as you first glimpse the magical setting – an oceanfront tent surrounded by a scattering of rose petals, a circle of oversized cushions around a blazing bonfire – your own private paradise, just waiting.
A celebration – of love, of friendship, of meaningful milestones in life. Experience the rarest of luxuries, your own intimate revelry in the incomparable Maldives, with a multi-course gourmet feast from land or sea, chilled champagne – and the warm smiles of our chefs on hand, dedicated to perfecting this moment.
---
TEPPANYAKI
Oculto como un secreto bien guardado, entre frondosas palmeras y bambú tropical, se encuentra Teppanyaki, un delicioso restaurante japonés donde se cocina en planchas de hierro. Cada delicioso plato se prepara a la perfección en su presencia y se complementa de forma experta con sake de buena calidad.
Horario: de 12:00 a 15:00 h y de 19:00 a 22:00 h
---
TASTE OF INDIA AT FLUID
Retreat poolside for a traditional Indian dinner. Senses come alive with the exotic scents of spices and that fill the air. Taste the essence of the India with flavourpacked curries, delightful dhals and homemade infused naan breads.
Opening Hours:19.30 to 22.00
---
THE SPA CAFÉ
Creating beautiful memories through unforgettable taste, with a cooking philosophy based on a healthy lifestyle.
Opening Hours : Food service from 12.00 to 21.00 and Beverage Service from 10.00 to 22.00
Spa


THE SPA BY THALGO
A pebbled path winds amidst wild tropical blooms and endless shades of green. Splashes of light filter through the palms, dancing on the rippling water of a gentle stream. Luring you, a faint aroma of sandalwood and jasmine, heady with the scent of the earth. Rounding a curve, a sala appears – a haven of tranquillity, yours to revel in.
With the entire island a sanctuary of natural beauty, there is no need to hide away. Instead The Spa by Thalgo at The Sun Siyam Iru Fushi is an open immersion – in organic earth and vibrant sea – the elements from which Ayurveda draws its centuries-old healing power.
At The Spa by Thalgo France we have perfected this ancient holistic tradition, blending its timeless wisdom with contemporary practices found both East and West. Our resident Ayurvedic Doctor guides our guests on their own personalised journeys to wellness both during their stay and beyond. Meanwhile, expert practitioners – in traditional massage, authentic Maldivian-inspired rituals and world-renowned wellness practices – combine finely honed knowledge with a naturally healing touch.
All this in a setting that mirrors the natural splendour of the island.
Activities

RECREATION
Drumbeats reverberate across the starlit sky. The rhythm at once invigorating yet soothing. Dancers move in perfect synchronisation, their bare feet skipping across the white sand. A hand extends, takes your own, and you join – tentatively at first, but later with carefree abandon – in a dance celebrated by generations.
On land or at sea, Iru Fushi and the surrounding Noonu Atoll is a playground for travellers of all ages, interests and desires.
Step out from the luxurious haven of your villa and make your way to the beachfront infinity-edged lap pool – just for adults – or bring the whole family to the free-form main pool nestled in the island's heart.
Get your heart pumping – night or day – in our contemporary fitness centre, where the equipment may be familiar, but the surroundings unparalleled. A number of regular classes are on offer throughout the day, as well as private sessions with a personal trainer.
Tennis and badminton courts also dot the island, while table tennis, pool tables and board games await at the island's recreation centre. Our own karaoke lounge also provides the perfect place for you to let go – in front of a private audience of family or friends.
---
WATER SPORTS
Gliding through the waters like a manta, fins propelling you easily towards the reef's edge. Turning your head this way and that as a glimmer of orange rushes past, corals beneath swaying below in harmony, alive and rich with life.
Surrounded by endless inviting blue, Iru Fushi offers a wealth of ways to enjoy the sea – including some you may have never imagined.
Snorkelling, whether in the house reef or further off on the horizon, provides an exhilarating window into the colourful biodiversity of the Maldives. With calm crystal-clear waters, visibility is guaranteed year-round.
Our fleet of speedboats, catamarans and our own signature dhoni also put some of the atoll's other island gems within reach. Glide along the water's surface in luxurious style, sitting back to enjoy the view with a glass of champagne, or in the skipper's seat after learning to harness the Maldivian winds.
Those in search of hands-on adventure can take advantage of personal instruction in windsurfing or kiteboarding, the smooth waters of our lagoon providing the perfect arena. A variety of motorised water sports also await, providing fun for the whole family – from banana boating to waterskiing or jet ski escapades.
---
DIVE CENTRE
The silence is profound. Nothing but the calm, rhythmic sound of your own breathing, each exhale leaving a trail of rising bubbles. A moving meditation as you glide through the warm embrace of the waters. Ahead, the walls of the reef tower like a fortress, protecting all the dazzling life and colour darting within.
Waters calm yet riotous with a kaleidoscope of marine life. Fringed by a pristine coral reef built steadily over time and carefully undisturbed, Iru Fushi is a living paradise offering bountiful discoveries in one of the world's richest diving destinations. Beyond, the reefs of Noonu Atoll offer ever more natural wonders, inviting you to take the plunge.
Whether you've dived all over the world or are being fitted for your first mask, our PADI-certified dive centre and multilingual master divers offer a full array of courses, and group or private excursions to a number of sites around the atoll, each with its own unique discoveries. Day or night, open water or sheltered reef, choose your own diving adventure.
---
KOAMAS KIDZ PARADISE
Laughter spills through the tropical garden, punctuated by the occasional splash from the pool. Here everyone feels free – to play, to discover, to create, to imagine. You smile, knowing that the island is a paradise not only for you, but also for your children. And they can't wait to tell you how they've spent their day.
Sand painting, gecko hunting, mask making – at The Sun Siyam Iru Fushi, kids can expect more than just another day at the beach. The staff at Koamas Kidz Paradise are dedicated to creating endless days of fun, informative and safe activities for kids from three to twelve years old in their own corner of our haven island.
With the area's own dedicated swimming pool kids can splash the day away, safe in the heartfelt care of our expertly trained Kidz Paradise staff. Parents, on the other hand, will have to go play elsewhere on the island, or beyond. But not to worry – at the end of the day, you can get together and see who had the most fun.
---
EXCURSIONS
Your eyes gaze over the gracefully curved bow, transfixed by the last rays of sunlight dancing on the tranquil waters. Sea melds with sky, seemingly endless, broken only by the ripples of the dhoni slicing gently through the open sea. Suddenly, you see them. An entire group, gathering off at starboard, their fins seeming to wave. The dance of dolphins at sunset – another memory to treasure, to recount over and over.
The beauty of the Maldives does not end at our shores – Iru Fushi is the perfect gateway to all the natural splendour and cultural enchantment Noonu Atoll has to afford. We invite you to dive in, to float along, to discover and embrace all the beauty of these islands we call home.
The Sun Siyam is delighted to offer a regular programme of excursions and daily discoveries which you can enjoy in solo reflection, as a romantic encounter, or as an adventure for the whole family to enjoy.
Clink glasses on board our dhoni sunset cruise. Spend the day learning the ways of the traditional line-and-pole fishermen, stopping for lunch in their home village to get a taste of authentic Maldivian life. Join one of the island's naturists for a free-guided walk through our 52 acres of island landscape, learning about the indigenous plants, flowers and little creatures that share our island home.
Accommodation
BEACH VILLA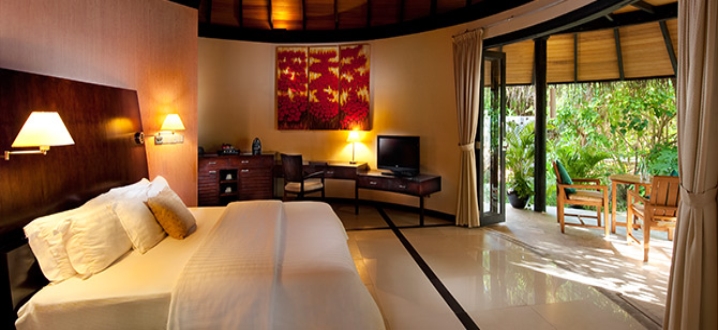 Inspired by nature, enveloping. Shaded havens open onto pristine stretches of powdery beach, the lagoon and its delights waiting patiently. Strolling at sunrise along the water's edge, the sky blushing deep rose. Laying in the shallows to bask in pure sunlight, waves gently caressing, schools of fish teasing. Feeling that life was always meant to be like this – savouring each moment.
Cool open spaces, touches of the contemporary with clean lines. Black and white framing natural hues, a splash of colour and flashing glimpses of the brilliant lagoon. The Sun Siyam's rounded thatched villas are soothingly simple sanctuaries discreetly equipped with modern luxuries including flat-screen TVs, Bose sound systems, Wi-Fi and Nespresso machines.
Slide open the bedroom doors to reveal a private covered terrace, the plush daybed inviting, sea breeze cooling, water just beyond the palm fronds. Beyond the walk-in wardrobe at the back of the villa, discover your very own al fresco bathing area, with double vanity, indoor and outdoor rain shower, signature spa tub overlooking the sundeck, canopied daybed and a natural background of foliage.
DELUXE BEACH VILLA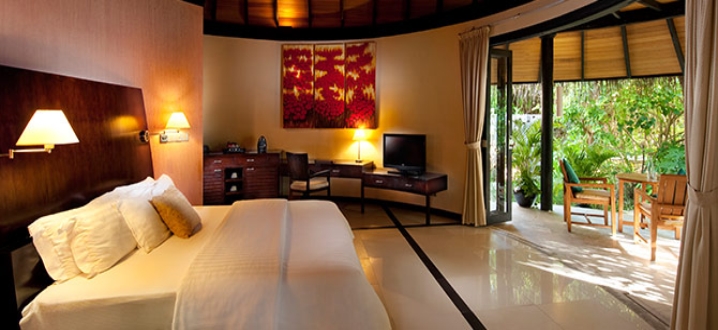 Beyond the terrace a sandy thatched sala awaits, a backdrop of lapping waves, the occasional encounter with a foraging Maldivian water-hen, and the bliss of island peace.
SUNRISE DELUXE BEACH VILLA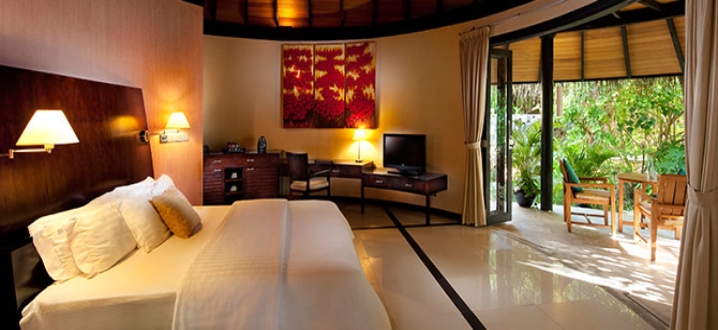 Wake up before the rest of the island to take in the soul-lifting sunrise from your private sala, before retreating to your villa now bathed in soft dappling sunlight.
DELUXE BEACH VILLA WITH POOL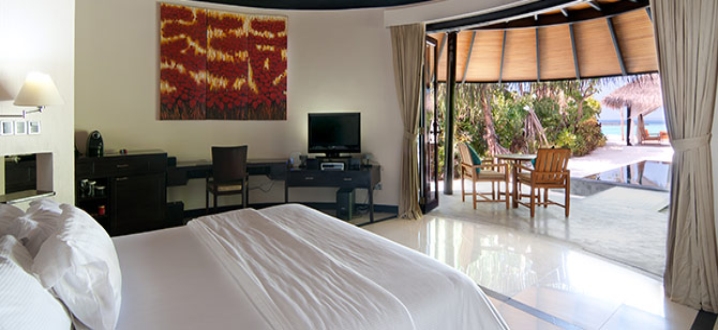 Stillness pervades. A moment of pure indulgence beneath the shade of your beachside sala. Chilled droplets of water make their slow descent down the outside of your glass. Overhanging strands of thatch flicker on the surface of your private pool. The inviting ocean stretches out across the horizon – urging you to repeat this morning's adventure, exploring once again its colourful depths.
With perfect views over the captivating Indian Ocean, our Deluxe Beach Villa with Pool offers expansive indoor and outdoor spaces to enjoy. Relax within the airy sanctuary of your open-plan bedroom, or take a refreshing dip in the large outdoor pool. The shady sala on the beach offers the perfect spot to enjoy a refreshing cocktail or private dining experience.
Towards the back of the villa you'll find an inviting indoor/outdoor bathroom and deck, with two rain showers, spa bath and canopy with daybed.
POOL BEACH VILLA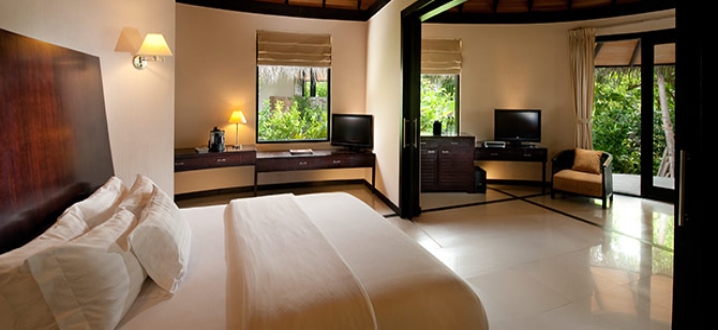 Wandering along palm-fringed sandy paths, children running ahead as they pick up the trail of a Hoopoe or hermit crab, hoping for an up-close encounter. Taking a solitary dip in the privacy of your pool, the rays warm as you raise your face to the sun. Laughter-filled evenings dining on the beach or in your sala, an array of exciting cuisines to discover. Enjoying the simple pleasures of island life.
Ideal for a family with small children, the Pool Beach Suite can be divided into bedroom and separate living area, with the private pool accessible only through the bedroom. An outdoor covered terrace with plush daybed overlooks your private sala, perfect for taking in the island's beauty and only steps away from the beach. The outdoor bathroom with double vanity, indoor and outdoor rain shower and spa tub also features a canopied daybed raised just above the pool's edge, magically romantic and peaceful in the evening candlelight.
WATER VILLAS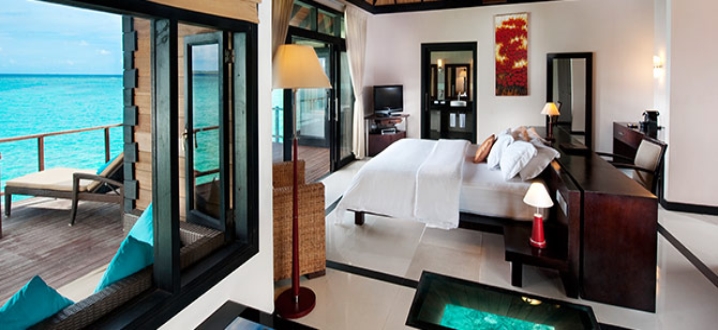 Lapping waves, gentle, beckoning. Opening your eyes to the brilliance of the cerulean lagoon, a smile, up and out – pausing just long enough to delight in the school of clownfish below – before emerging onto your private deck, wood underfoot just warming from the morning's rays. Ocean awakening, breeze refreshing. Every day an invitation to lose yourself in nature's magnificence.
An experience quintessentially Maldives, The Sun Siyam's Water Villas spread like palm fronds across the island's lagoon, overwater havens that in each moment showcase the allure of ocean life.
Airy, open-plan living and a natural palette blend perfectly into ocean views from the king-sized bed, lounging area and expansive sun deck. Spacious bathrooms offer a double vanity, open-air overwater shower, and spa tub designed for long soaks with mesmerising panoramas that are yours alone. Spend lazy days snacking on Maldivian sweets and lounging on your private sundeck, in between cooling exploratory dips into the clear lagoon directly below.
HORIZON WATER VILLA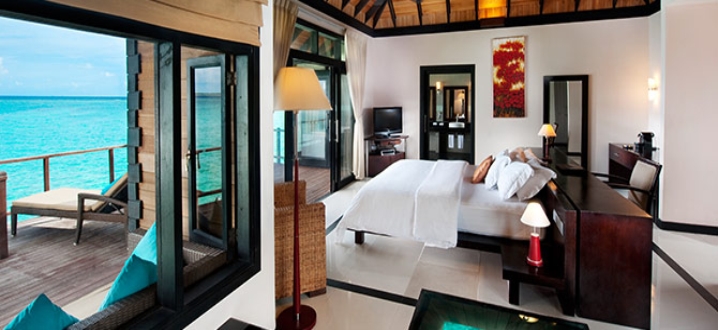 Take in uninterrupted ocean views – the lagoon deepening from brilliant turquoise to endless sapphire – from your luxurious overwater Jacuzzi out on the deck.
SUNSET HORIZON WATER VILLA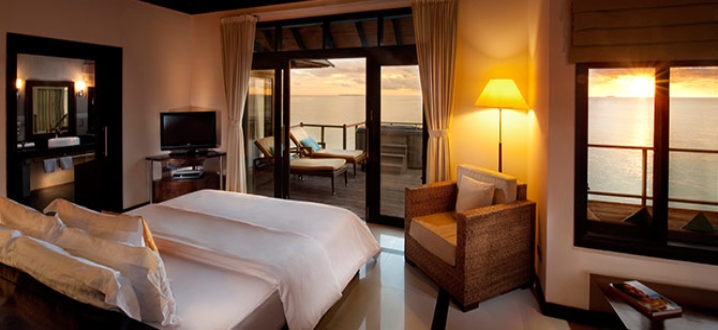 The setting sun plays on the surface of the ocean, dappling, dancing, the sky an electric palette of violets and ochre. Soon stars start to twinkle in the otherwise still night, you warm in your bubbling Jacuzzi overlooking the waters, champagne flute in hand.
INFINITY WATER VILLA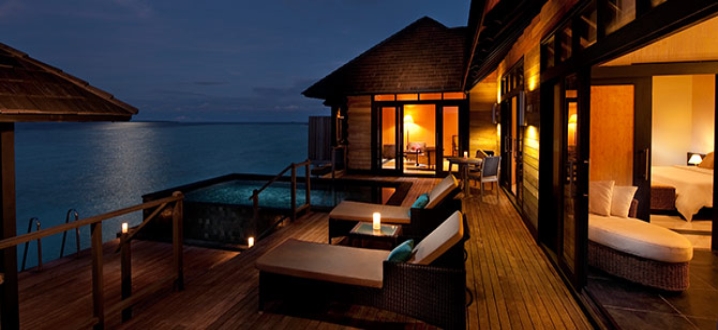 A few steps from island to overwater, doors opening to reveal a panorama of ocean. Little skips across the sundeck, followed by squeals of delight as the children climb into the clear, calm lagoon, discovering new wonders throughout the day. Basking in tropical rays in your lava-stone infinity pool, and then the cool of inside. Space to be alone, spaces to be shared. Your world to enjoy.
With only five Infinity Water Suites at the resort, indulge in spacious accommodation with a master bedroom and separate living areas. Bathe al fresco with a standalone spa tub facing the ocean and an overwater shower as well as indoor rain shower. Sliding doors from the bedroom, living room and bathroom open onto a multi-tiered sundeck and private infinity pool reaching out over the lagoon and beyond. In one corner a shaded sala invites quiet moments, while a small dining area allows you to enjoy the intimacy of In-Villa Dining.
HIDDEN RETREAT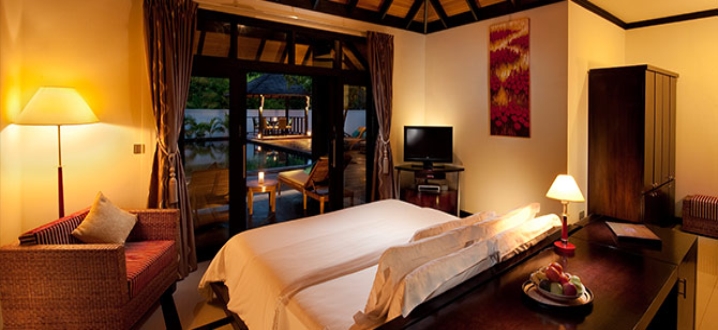 Tranquillity fills the air. A sprawling retreat obscured by a lush, manicured jungle. The luxury of absolute privacy. Taking a refreshing dip in the pool. Your wandering eye catching dazzling hues of emerald at every turn. Beckoning others to join you as you revel in pure seclusion, bliss to be shared. Discovering a wealth of new flavours poolside, a sumptuous dinner lit by the setting sun, warm oranges aglow. Seeing the evening in with exotic cocktails in hand, carefree laughter as you welcome midnight, a blanket of twinkling stars over your verdant haven.
A calm and peaceful hideaway surrounded by a stunning landscaped courtyard, the Hidden Retreat offers the ultimate holiday escape. Delight in expansive tropical greenery, obscuring your haven's two spacious bedrooms, both of which boast their own en-suite bathroom, complete with refreshing rain shower and luxurious spa bath. Enjoy the feeling of ample space with majestic high-vaulted ceilings. Venture outdoors for more sprawling living space, a swimming pool in the middle of your own private jungle.
AQUA RETREAT

Splashes of red on canvas. The soothing blue of the ocean surrounding. Clinking glasses and relaxed conversation fill the air, punctuating the clear night. Moving the party outside, a dip of toes in the pool twinkling hypnotically with lights, mirroring the sky above. Dinner is served by candlelight, aromas tantalising on the breeze, fresh seafood grilled just to perfection. Each sensation to be savoured, a wish that time would stand still.
A one-of-a-kind palatial hideaway fanning out symmetrically over the emerald lagoon, the Aqua Retreat features two master bedrooms, each with its own entertainment system and minibar, ensuite bathroom perched above the water, and private outdoor lounging area. Entering the central living area, high-vaulted ceilings invite a cool breeze, leading out to a covered dining area on the deck comfortably accommodating a party of six. Take in the magic awakening of sunrise from the cantilevered infinity pool with Jacuzzi enclaves, a sweeping curved edge designed to maximize ocean panoramas.
CELEBRITY RETREAT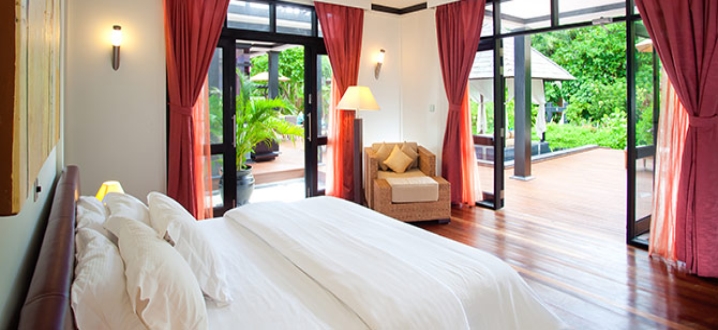 Anticipation as you carefully tread across the stepping stones of the Zen pond, the sound of water trickling. Hand-carved doors slowly pushed open to reveal a sprawling wonder – days of exploration and bliss await. Run across your private lawn to dive into the ocean just steps away, surreally clear and then sky blue. Emerge to discover a pair of majestic Grey Herons silhouetted against the skyline. Experiences that take your breath away – both above and below the water's surface.
A sweeping oceanfront playground hidden amidst lush foliage, the two-storey Celebrity Retreat houses three bedrooms catering to parties of up to ten. Both downstairs bedrooms boast an outdoor bathroom set in its own courtyard, the master bedroom with the added surprise of a private swimming pool and sala. As with all rooms in the residence, the third upstairs bedroom has its own terrace with sunloungers. Ample living space is spread over two levels, with a lounging area leading out onto the main deck and large swimming pool complete with overwater sala, while upstairs another living area with wrap-around balcony opens onto a billiards room to one side. Enjoy the outdoors with lazy afternoons spent in palm-fringed daybeds, or indulge in a soothing massage in the comfort of your own spa pavilion set in the manicured gardens.