Boasting elegant beach bungalows and beautiful over water villas, Diamonds Athuruga Beach & Water Villas is a luxury paradise located at just a 20 minutes scenic flight away from Malé International Airport. The wellness centre offers a variety of treatments and Ayurvedic massages and a well equipped diving centre provides enthusiasts with the very best underwater experiences. Athuruga is the ideal resort to discover the Maldives from a centre of excellence, where attention to detail will make your journey unforgettable. Let yourself be charmed by one of the most unique, enchanting well known coral reefs in the Maldives and discover its secrets thanks to the marine biologists on the island. At Diamonds Athuruga, thanks to the uniqueness of our all inclusive formula, allows our guests to enjoy every second of their holiday in total relaxation.
Dining


RESTAURANTS
MAIN RESTAURANT
Located on the island, the main restaurant serves an American-style breakfast buffet and lunch and dinner buffets featuring dishes from all around the world. Our guests can enjoy Italian, Asian, Eastern and Maldivian dishes, freshly made pizza, and fresh fish every day and on some evenings a special themed dinner. Private romantic dinners with lobster and prawns can also be arranged for an extra charge.
Breakfast service from 8:00 to 10:30
Lunch service from 13:00 to 14:30
Dinner service from 20:00 to 21:30
From next winter our guests will have the possibility to enjoy our new restaurants at Diamonds Athuruga. The premium restaurants will offer different kind of dishes, from fusion to seafood, from traditional Maldivian cuisine to sushi, teppanyaki and the unique dishes prepared by our guest chef in temporary restaurants from the well known "Jeunes Restaurateurs d'Europe".
RESTAURANT OVER THE WATER
Located on a beautiful deck over the water, this exclusive restaurant serves a rich à la carte breakfast, lunch and dinner menu featuring a wide range of Italian, European, Asian and Maldivian specialities. Themed evenings serving freshly prepared barbequed fish are arranged on certain days. Private and romantic seafood and lobster dinners can be arranged for an charge.
Breakfast service 8:00-10:30
Lunch service 13:00 – 14:30
Dinner service 20:00-21:30
Dinner at the restaurant is included for guests staying in the Water Villas. Guests staying in the Beach Bungalows may dine here at an additional cost.

BAR
MAIN BAR
With a large outdoor terrace, the bar serves snacks and a wide selection of cocktails, spirits, beers, wines, fruit juices and soft drinks. Champagne and premium alcoholic drinks are available at an additional cost.
WATER BAR
Located on a spectacular terrace over the water, the bar features a comfortable outdoor lounge serving international cocktails, selected spirits, beer, wine, fruit juices and soft drinks. Champagne and spirits are also available at an additional cost. The bar is open from 18.00 to 22.30.
Spa


Serena Spa is an oasis of peace and tranquillity set in a natural environment, perfect for those wishing to relax, refresh and rejuvenate mind, body and spirit.
Serena Spa is an oasis of peace and tranquillity set in a natural environment, perfect for those wishing to relax, refresh and rejuvenate mind, body and spirit. Let yourself be pampered during your stay by the welcoming smiles and expert hands of our therapists who use a combination of herbs, oils, spices and flowers.
The Serena Spa experience is the incarnation of an extensive study of the Asian traditions and culture of health and wellbeing. Serena Spa is a sanctuary designed to detach you from the stress of daily life through regenerating therapies.
Our treatments are inspired by the rich heritage of Ayurveda, the ancient Indian science of life, by European concepts such as aromatherapy and by traditional home remedies used throughout Southeast Asia.
Massages and treatments combined with a stay deep in the heart of nature will make your stay a journey of regeneration.
Activities


WATER SPORTS
Sailing (hobie cat and laser)
Windsurfing
Canoeing
Snorkelling equipment and lifejackets
Snorkelling and guided coral reef trips
Snorkelling off the boat
Boat hire
Snorkelling at sunset
Deep sea fishing

ACTIVITIES
Beach Volleyball
Table Tennis
Nintendo Wii
Pilates
Yoga
Aqua Aerobics

DIVING CENTER
Athuruga is a small green island encircled by a ring of white sand in the Ari atoll. The IDive Diving Centre's qualified instructors are at your disposal to help you fully enjoy the charm of your surroundings. The instructors will accompany you on your boat excursions to discover the coral reef. Each day you will visit a different site aboard the Dhoni, a typical Maldivian vessel adapted for divers.
Accommodation
BEACH BUNGALOWS

Facing the unspoilt waters and with direct access to the beach, the 47 Beach Bungalows are equipped with verandas with private terraces featuring armchairs, tables and sun loungers. All of the rooms feature an outdoor shower.

Room features include:
Double bed
Independent air conditioning
Fan
Direct telephone line (direct international number)
Tea and coffee making facilities
Docking station for iPod
Minibar replenished daily
Digital safe
Beach towels replaced daily
Cleaning service twice a day, including evening service
Bidet
Hairdryer
WATER VILLAS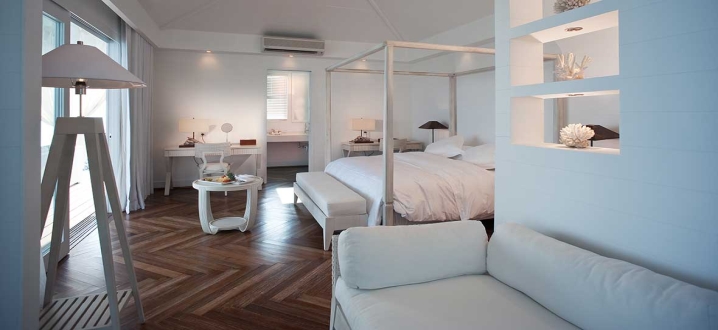 21 Water Villas enjoy a large private terrace with direct access to the ocean. All of the rooms enjoy a large living area, tastefully decorated with elegant furniture, a four poster bed, a comfortable sofa and corner bar, contemporary Italian lighting and beautiful parquet floors.

Room features include:
Double four-poster bed
Expatriate Sofa bed
Independent air conditioning
Fan
IDD (International Direct Dialling) Telephone
Minibar replenished daily
Tea and coffee making facilities
Apple i-Mac with a large variety of music and films
Wi-Fi
Digital safe
Walk-in wardrobe
Large open-air shower with dual jets and private access to the outside terrace
Double washbasin
Mirror
Bathrobe
Personalised courtesy toiletries set
Bidet
Hairdryer
Beach towels changed daily
Cleaning service twice a day, including evening service
02 BEDROOM WATER VILLAS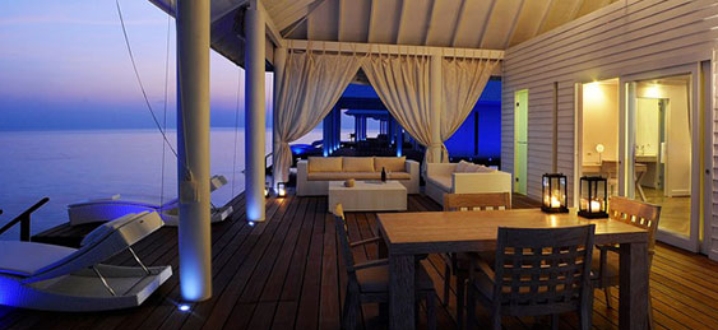 Located in an exclusive position at the end of the pier, the "Two bedroom Villas" feature 2 double rooms which overlook a large secluded terrace with Jacuzzis and direct access to the ocean. The rooms enjoy a large living area, tastefully decorated with elegant furniture, a four poster bed, a comfortable sofa and corner bar, contemporary Italian lighting and beautiful parquet floors.

Room features include:
Double four-poster bed
Expatriate Sofa bed
Independant air conditioning
Fan
IDD (International Direct Dialling) Telephone
Minibar replenished daily
Tea and coffee making facilities
Apple i-Mac with a large variety of music and films
Wi-Fi
Digital safe
Walk-in wardrobe
Large open-air shower with dual jets and private access to the outside terrace
Double washbasin
Mirror
Bathrobe
Personalised courtesy toiletries set
Bidet
Hairdryer
Beach towels changed daily
Cleaning service twice a day, including evening service