From its personalised service and sophisticated cuisine to its distinctive design, authentic culture and calming spa, our Maldives luxury resort works hard to tailor the experience to your needs. We can orchestrate customised cruises to neighbouring islands and beaches; plan private dinners at secluded locations; arrange yoga, diving or snorkelling; and create adventures for families travelling together.
Dining


UFAA
Unique among restaurants in the Maldives, our talented, New Zealand-born Executive Chef Shane Avant draws inspiration from the Malabar Coast's rich gourmet heritage and local seafood. He also creates modern interpretations of Southeast Asian and Mediterranean cuisine. The kitchen's tandoor oven allows for fat-free, flavour-rich grilling of meats, vegetables and fish.
With our COMO Shambhala Cuisine, we present health-conscious alternatives at every meal. And three times a week Ufaa offers a set Indian, Thai and Seafood Barbecue dinner menu.

FARU BAR
Faru Bar is an easy, foot-in-the-sand Maldives' resort bar where our artful bartenders put together refreshing cocktails and mocktails. Fine wines, classic cigars and light snacks also feature, alongside some easy beats at sunset.

PRIVATE DINING
SANDBANK DINNER
Enjoy an unforgettable evening under a canopy of stars with only the sounds of the ocean and gentle sea breezes to distract you. We set up an intimate dining table on Cocoa Island's eastern sandbank, where your personal butler serves you a five-course meal from our carefully selected dinner menu and a bottle of chilled Champagne.
TENTED DINNER
This tented dinner experience is full of atmosphere, with flickering lanterns creating a soft light under the canvas and the silky Cocoa Island sand at your feet. The sound of the ocean is your soundtrack as your dedicated waiter serves you a bottle of chilled champagne and your delicious meal, chosen from our daily à la carte dinner menus.
CANDLELIT DINNER
This romantic candlelit dinner on the beach is the perfect way to celebrate your honeymoon or special anniversary. Close to the water's edge, surrounded by pretty lanterns, this magical experience is a highlight of any stay on Cocoa Island. Choose your meal selection from our daily à la carte dinner menu.
DINNER ON THE DECK
This private candlelit dinner in your own dhoni or villa includes an intimate set-up on your outside deck, lit-up with candles and lanterns. Choose from the in-room dining menu or our daily à la carte dinner menu.
SANDBANK SUNRISE BREAKFAST
During this unique experience you will witness the first rays of morning sunlight on Cocoa Island over a gourmet breakfast selection served with a bottle of chilled vintage Champagne. Sit back, relax and enjoy the white sand and turquoise waters on your very own sandbank.

COMO SHAMBHALA CUISINE
COMO Shambhala Cuisine incorporates organic ingredients rich in living enzymes, vitamins and sea minerals.
At Cocoa Island by COMO, our chefs also make ample use of the tandoor, a type of Indian oven that allows for the fat-free cooking of meats, vegetables and fish whist introducing a wonderful charcoal flavour.

ROOM SERVICE
Cocoa Island by COMO's room service menu is wide and varied, as one would expect from one of the best Maldives luxury resorts. Available from 7am until 11pm daily, it includes healthy salads, open-face sandwiches and pastas.
For a refreshing pick-me-up in the sun, we offer lassis as well as chilled coconut milk and a variety of freshly prepared juice blends.
Spa


COMO Shambhala Retreat
Discover the calming spirit of our Maldives spa resort at COMO Shambhala Retreat where we offer holistic, Asian-inspired treatments. We have an open-air pavilion for yoga, four treatment rooms (including one for couples), plus separate male and female steam rooms and a large hydrotherapy pool. We also offer a series of 'Wellness Paths.' these well-priced groups of treatments addresssing specific needs such as purification and stress.
Activities


Morning and sunset yoga classes are complimentary, as well as aquatherapy session, guided snorkeling and fish feeding. Paid activities include snorkelling and fishing trips, as well as sunset curises offering a chance to watch dolphins at play, who are often active in close proximity to the resort.
Accommodation
DHONI SUITES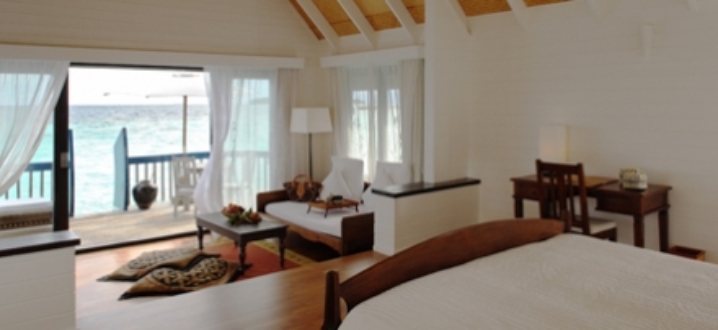 Among Maldives beach resorts, our eight split-level suites stand out for the generous indoor seating area with a Balinese day-bed, large bathroom and private terrace allowing for easy access to the lagoon's warm waters. Light floods in, the 'dhoni'-style boat design—the suite doesn't float but is rather fixed to the lagoon—making you feel as if it's just you and the sea.

Amenities
Private sundeck with loungers and dining table
Bathtub and separate shower stall
Air conditioning and antique colonial ceiling fan
Mini bar and snacks
Coffee/tea making facilities (Nespresso machine)
42" LCD/plasma satellite TV
DVD player
In room safe
International direct dial telephone
WiFi Internet access
iPod docks
DHONI LOFT SUITES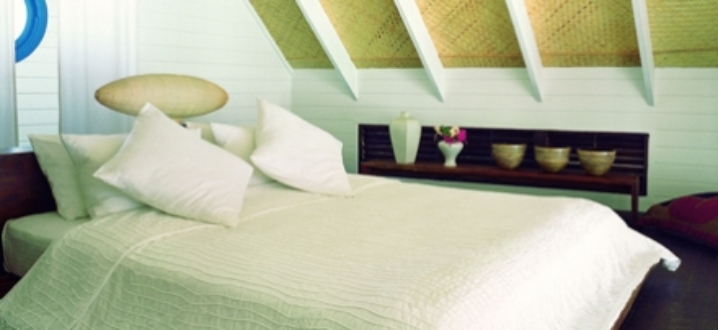 The best resorts in the Maldives can't match our Dhoni Loft Suites' quirky design. These nine rooms work very well for families because of an expansive downstairs living area (which doubles up as a sleeping area for children) and then the master bedroom on a mezzanine level, just beneath the rafters. Again the terrace has steps straight into the lagoon.

Amenities
Private sundeck with loungers and dining table
Bathtub and separate shower stall with second mezzanine-level ensuite facility
Air conditioning and antique colonial ceiling fan
Mini bar and snacks
Coffee/tea making facilities (Nespresso machine)
42" LCD/plasma satellite TV
DVD player
In room safe
International direct dial telephone
WiFi Internet access
iPod docks
LOFT VILLAS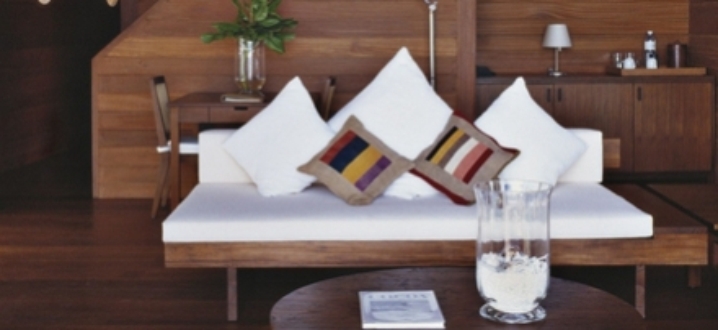 With private sundecks and full-length windows overlooking the Indian Ocean, these Maldives villas bring the outside in. A dramatically elevated loft sequesters a king-sized bed while downstairs on the main level a large and airy sitting area doubles up as a sleeping area for kids.

Amenities
Private sundeck with loungers and dining table
Bathtub and separate shower stall
Air conditioning and antique colonial ceiling fan
Mini bar and snacks
Coffee/tea making facilities (Nespresso machine)
42" LCD/plasma satellite TV
DVD player
In room safe
International direct dial telephone
WiFi Internet access
iPod docks
ONE BEDROOM VILLAS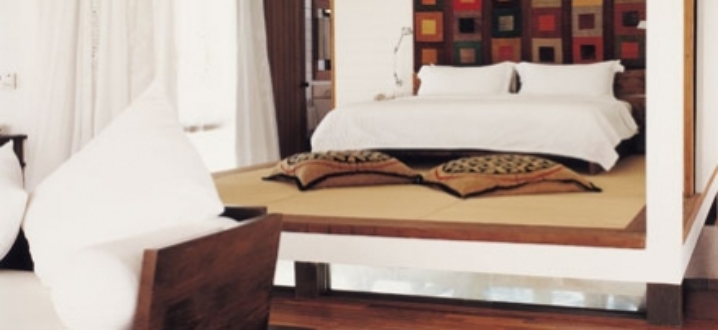 The largest of Cocoa Island by COMO's Maldives over water villas, these four light-filled bungalows, all of which sit on their own secluded jetty, feature three private al fresco areas: an outdoor shower, a balcony with a daybed, and off the sitting area, which converts into a kid-friendly sleeping area, there's a sun terrace fitted with a table and pair of loungers.

Amenities
Private sundeck with loungers and dining table
Bathtub and separate shower stall
Air conditioning and antique colonial ceiling fan
Mini bar and snacks
Coffee/tea making facilities (Nespresso machine)
42" LCD/plasma satellite TV
DVD player
In room safe
International direct dial telephone
WiFi Internet access
iPod docks
COMO VILLAS

Of the 33 suites and villas at our Maldives beach resort, Cocoa Island by COMO's two COMO Villas—Sunset and Sunrise—offer the most unique guest experience.
Approached by a private jetty, each villa is arranged with two wings, each with a bedroom (one king, one twin), ensuite bathroom, outdoor shower and private terrace. These wings are connected by living and dining areas with balconies on either side, which allows for step-off-the-deck access to the lagoon.

Butler Service
Stay in a COMO Villa and you will experience our personalised butlers. Their role is to ease you through your arrival, organise castaway picnics with the children and arrange meals, becoming your chief activities planners during your stay.

Amenities
Private sundeck with loungers and dining table
Bathtub and separate shower stall
Air conditioning and antique colonial ceiling fan
Mini bar and snacks
Coffee/tea making facilities (Nespresso machine)
42" LCD/plasma satellite TV
DVD player
In room safe
International direct dial telephone
WiFi Internet access
iPod docks