Imagine paradise. Tropical island sands. Swaying palms. Endless turquoise waters. Open your eyes and see Naladhu. Maldivian for "beautiful island," Anantara's sister island of Naladhu offers a mosaic of timeless moments on the clear waters of the Indian Ocean.
Every Naladhu Maldives experience is one to treasure. Every space is yours to own, for your time on our island, at this exclusive Maldives hotel. We offer expansive villas and houses each with a private pool fronting the azure Indian Ocean, unsurpassed comfort, the idyllic Maldives luxury resort experience, and a graceful elegance that never goes out of style.
Come with us and create your own timeless moments.
Dining


THE LIVING ROOM
Come together to enjoy fine wines, conversation, and sea breezes – and excellent cuisine choices
Overlooking the lagoon, The Living Room is a laid back chic design without pretention. Its centrepiece is a glass-walled wine cellar, stocked with some of the most esteemed (and a few of the most rare) vintages from both the Old and New Worlds. The menu crafted by our chef uses only the freshest finds from the local markets. Our staff will help you pair the wine with the meal or the meal with the wine, in an effort to ensure that every dining experience is one as timeless as Naladhu.
---
IN-RESIDENCE DINING
Indulge in our In-Residence Dining options. The chefs of the Living Room can cater to your every whim, allowing you to enjoy your ideal culinary sequence in the privacy of your villa or house, at just about any time of the day or night.
Satisfy tastes ranging from the classic to the eccentric. Our chefs also offer a variety of set dinners for every craving, including Thai, Indian, Maldivian and Western. Dine in privacy on your terrace, under the stars or the sun. Enjoy a barbecue on your deck, complete with a chef and waiter. Or, for the true romantic, surprise your loved one and organise a champagne breakfast. Have a favourite that isn't listed in our menu? Your House Master will see to it that we provide it – or at least our own creative interpretation.
---
INTIMATE DINING OFFERS
Grilled Maldivian yellowfin on a nearby island. Chianti with roasted rack of lamb aboard a dhoni sailing across an emerald-blue lagoon. Let our chefs bring some of their favourite menus – complete with candles, tablecloths, silver and all those other little touches of perfection – to the destination of your choice around the island.
The following destinations are just a suggestion of the many settings available for your very own intimate affair:
Picnic or candlelit dinner on the white beaches of Naladhu
Lagoon sunset on the Living Room pool deck
Private Island hideaway at nearby Gulhi Fushi
Private beach cabana dining
Coconut Grove by firelight
Wave breakers private dining deck
Dinner aboard our luxury motor yacht, Naladhu Raanee
Spa


Lime and ginger salt scrubs. The healing pressure of a Thai massage. Deep breathing and yoga stretches. Unwind with your choice of luxury Maldives spa therapies designed to pamper and restore. Our team of spa professionals – trained in Ayurvedic, Thai, Balinese, Western and other holistic healing traditions – draws from the best of Naladhu's island surroundings to bring you treatments and therapies that exquisitely complement your Maldives holiday experience.
For the ultimate in spa luxury, Naladhu's own team of spa professionals have devised a series of day retreats for you to enjoy in the privacy of your own Beach or Ocean House for an especially personalised spa experience. Alternatively, you can book a time and your personal therapist will custom-design a treatment package for you based on your desired goals. You may want float-away relaxation or to emerge feeling recharged and invigorated. Perhaps you just want to enjoy your holiday with a soothing massage by your own private pool. Whatever your heart and body desires, our Maldives spa resort treatment collection caters to all.
Spa Journeys
For an extra touch of luxury coupled with adventure, Naladhu invites you to embark on a spa journey to the Anantara Spas on our nearby sister islands, Anantara Dhigu and Anantara Veli.
With a Naladhu Spa journey, you will be transported across the lagoon to the spa of your choice for a variety of invigorating and restorative treatments – and transported to a different state of mind.
Activities


AROUND NALADHU
Day Trip to Male'
While most guests to the Maldives skip past Male, Naladhu gives you the key to unlock this fascinating city, one of the world's most unique Capitals. Let us take you by luxury speed boat and whisk you away for a day of shopping in the bustling markets of Male. You'll find its pleasantly walkable streets, filled with exotic foods and wares from around the Subcontinent, a memorable setting for an afternoon adventure of cultural discovery.
---
ON NALADHU
Cooking Course
Go behind the scenes with the colourful personalities in our kitchen and learn some – but not all – of their culinary secrets. Compose some of your favourite Naladhu dishes, then, feast on your very own creations. We invite you to explore and hone your creativity as we tantalise your taste buds.
Deep Sea Fishing
See what roams in deeper waters. Join us for a morning or afternoon on one of our deep-sea fishing excursions for sailfish, marlin and wahoo. Our fishing dhoni is outfitted with advanced equipment for the expedition, which is able to handle the weight of the bigger game you'll be catching. As always, your House Master can arrange your outing however you please.
Fitness Centre
Keep up your fitness regimen at our island's gym. Work up a sweat with treadmill, stationary bikes, weight machines, free weights and other fitness equipment. First-timers can explore weight or cardio training with one-on-one personal training sessions with our island's trainer. Even long-time fitness enthusiasts will benefit from our trainer's expertise – after even a short weekend holiday, elevate your exercise regimen to another level.
Pilates, Yoga and Meditation
Find physical and mental balance through yoga or meditation. Our instructor can raise your state of mind through individual guided yoga or meditation sessions or organised group classes.
Sailing
Feel the warm ocean breeze tickling your hair. Canvas sails rustle above. A fleet of launches, catamarans and sailing yachts are available for charter all around South Male Atoll. Sail in the calm waters of the Indian Ocean, or simply unwind on deck, while experienced local skippers do all the work. For the ultimate in sailing style, relax on a luxurious dhoni, the traditional Maldivian sailboat. Cruise at your whim and picnic on a completely deserted island.
Sunset Fishing
Sail across the ocean on our elegant dhoni, the Riyaa. Let us provide you with all the equipment for a Private Sunset Fishing expedition. When you start craving dinner, we'll be back just in time for the chef to grill up your catch however you'd like.
Tasting Course
Mystified by which cheese goes with which wine or what makes one caviar better than another? Naladhu's tasting classes are the perfect way to indulge your taste buds while turning you into a more well-rounded host and guest when you return home.
---
MOTOR YACHT
Sunset Cruise
Indulge in the perfect end to yet another day in paradise aboard the Naladhu Raanee. Drift across the Indian Ocean on a vessel packed with sophisticated charms at the most romantic time of day. Watch the sun set as you sip champagne and savour delectable canapés. Relax on the foredeck or large sun pad and relish the tropical breeze, endless ocean and the company of someone special for a Maldives Cruise that is not to be missed.
Half and Full Day Journeys
Step aboard the Naladhu Raanee for a private journey beyond the horizon that is filled with luxury and adventure. Explore deserted islands, swim in secret lagoons, and snorkel or scuba dive hidden reefs. Delve into Chef's special picnic basket, either on a deserted island or in the comfort of the air conditioned cabin. Lie back on the sun kissed deck and bask under glorious blue sky, refreshed by the ocean breeze.
Overnight Journey
Share an unforgettable voyage of Indian Ocean discovery on board the Naladhu Raanee. Lap up barefoot luxury on pristine, uninhabited islands. Delve beneath the ocean's shimmering surface to find a kaleidoscopic wonderland. Delight in a wine dinner under a star studded sky. Retire to your romantically decorated stateroom with the soothing sounds of gentle waves as your night time lullaby. Wake up to watch a mesmerising sunrise and enjoy a champagne breakfast in bed, on the deck or on a secluded sandbank. Spend the day as you please, relishing every moment of your paradise escapade.
Airport Transfers
Your journey to the greatest paradise on earth is off to a luxurious start as you step aboard the Naladhu Raanee for a swift transfer from Male International Airport. Packed with sophisticated charms and sailing elegance, the 15.6 metre Sea Ray 480 Sedan Bridge offers adventure cushioned by indulgence. Unwind into a 21 kilometre ride in the majestic Indian Ocean, gliding across jewel coloured waters and weaving between tropical, uninhabited islands.
---
WATER SPORTS
Diving
Look below the surface for some of the best views in the Maldives. Our PADI Dive Centre offers a full range of SCUBA certification courses. With classes ranging from SCUBA discovery to advanced open-water, wreck diving and even rescue dives, Naladhu residents are sure to find an adventure suited to their abilities. Every day, the centre offers up to four dives at a variety of locations – in fact, within a half-hour radius of our island, there are no less than 20 world-class dives to enjoy.
All dives are guided and divided into small groups for maximum comfort and enjoyment underwater. Just bring yourself, as the Dive Centre has everything else you require – towels, equipment, suits and onboard refreshments. Care to take a picnic lunch on your trip? Choose your desert island, and your House Master can arrange the rest.
Snorkelling
Slip on your flippers and experience the famous underwater world of the Maldives. We offer a variety of snorkelling excursions to neighbouring reefs, manta ray "cleaning stations" and, of course, our own nearby reef, teeming with underwater beauty. Embark on an adventure via catamaran, dhoni or Naladhu luxury speed boat to locations near and far – and discover that the journey can be as beautiful as the destination.
Waterskiing
Carve through the waves with the trade winds in your hair and the warm sun at your back. With the mirror-like lagoon at our doorstep, there's probably no easier place to enjoy water skiing. The folks at the Water Sports Centre have a wide range of skis for all skill levels and ages.
Windsurfing
Experience the thrill of catching the wind in your sails and gliding across the lagoon. For beginners, a basic lesson provided by our team at the Water Sports Centre will enable you to enjoy the wind and waves in a new and challenging way. For seasoned pros, the Centre has a selection of boards and sails, and our instructors will be happy to help you figure out which one is best for you.
Kayaking
Ease into water sports adventures with Naladhu's complimentary kayaks. Paddle through the beautiful and calm lagoon. Kayaks are available on a first-come, first-served basis, but they're usually available, so feel free to stroll on over and take to the waters.
Kitesurfing and Surfing
Fly like a leaping dolphin over the water when you try kite surfing at Naladhu.
Surfers from all over the world are discovering that these sparkling islands offer ideal surfing conditions – with a view of the sets from Naladhu itself. The best months to surf are from April to October, with the average height of waves being 1-2.5 metres.
Accommodation
OCEAN POOL VILLA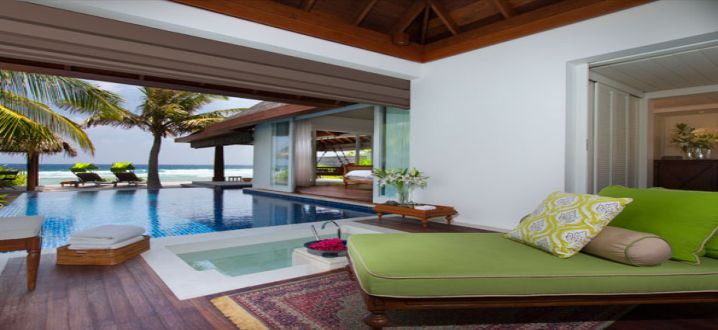 Hideaway in an ocean facing sanctuary that offers incredible privacy, a generous 300 square metres of charming space, and a House Master on hand 24 hours a day to take care of every need. Watch the waves roll in as you bask under the sun on loungers that are set on a spacious hardwood deck extending out over the Indian Ocean. A white sandy beach and turquoise lagoon are just steps away, made even more tempting by your very own beach cabana. Relax in your villa's beautiful interior, characterised by elegant hardwood furnishings, classic design and natural tones. Refresh under the waterfall shower after a session in your personal steam room. Dip into your private 35 square metre pool that features ocean inspired aqua tiles, and indulge in a soak in the separate sunken tub. Discover a host of modern comforts and signature luxuries, including WiFi, Bose home surround theatre system, LCD satellite TV, in-room iPod and CD player, private wine cellar, gourmet mini bar, espresso machine and private library.
OCEAN HOUSE WITH POOL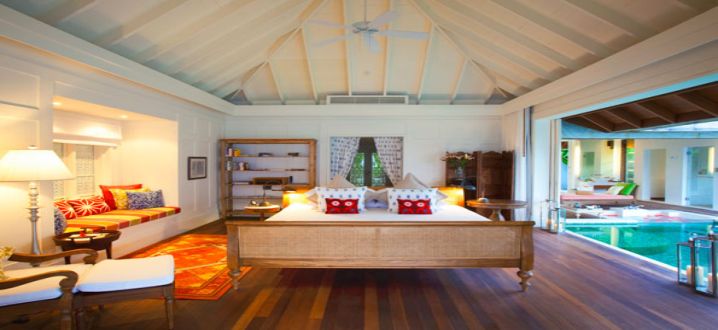 Providing totally unobstructed views of the jewel-blue waters and rolling waves of the Indian Ocean, Maldives luxury hotels offering an Ocean House with Pool is the ultimate choice for privacy. With a hardwood deck stretching out over the ocean, you will be lulled into total serenity by the waves breaking. Each Ocean House with Pool has the additional pleasure of a private cabana located on the beach, which is yours for lounging during day or dining in the evening. As with the Beach House with Pool, each Ocean House with Pool is a symphony of style with elegant hardwood furnishings, cool tones and contemporary ambience. The decadently appointed al-fresco bathing pavilion with a waterfall shower and private steam room is shaded by bougainvillea and frangipani and gives way to the 35sqm infinity-edge pool in the hotel. Naladhu Maldives gives you every modern convenience at your fingertips including WiFi, Bose home surround theatre system, LCD satellite TV, in-room iPod and CD player, private wine cellar, gourmet mini bar, espresso machine and private library.
BEACH HOUSE WITH POOL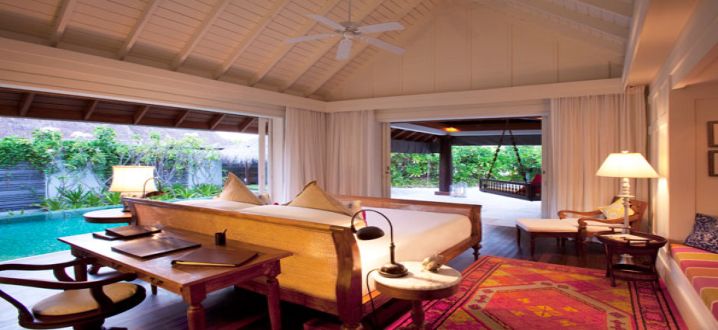 Capture your own stretch of pristine white beach and revel in 300 square meters of exquisite space and comfort. With identical facilities in both Ocean Houses with Pool and the Beach Houses with Pool, your only decision is which of the perfect settings you prefer.
Our Beach House resort in Maldives comes with a Pool, which opens into a rear garden that leads to a tranquil beach on the lagoon side of the island and is surrounded by lush tropical vegetation to provide a cocoon of privacy. A small step on to the beach reveals the vista of the azure lagoon you have imagined in your dreams. Each of the Maldives Beach Houses is a symphony of style with elegant hardwood furnishings, cool tones and contemporary ambience. The decadently appointed al-fresco bathing pavilion with a waterfall shower and private steam room is shaded by bougainvillea and frangipani and gives way to the private 35sqm infinity-edge pool. Every modern convenience is at your fingertips including WiFi, Bose home surround theatre system, LCD satellite TV, in-room iPod and CD player, private wine cellar, gourmet mini bar, espresso machine and private library.
TWO BEDROOM POOL RESIDENCE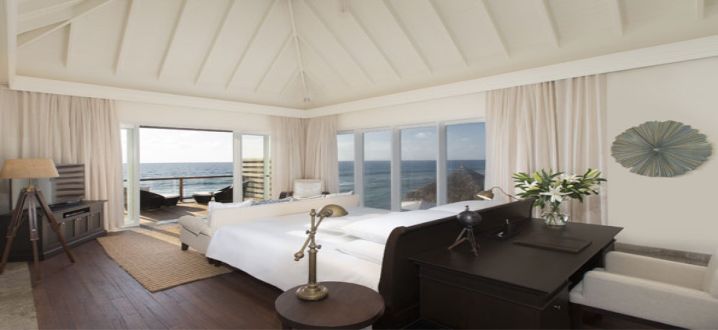 An impressive carved gate marks the entrance to this magnificent residence, revealing an incredible 600 square metres of ocean facing luxury, wrapping around a spectacular al fresco dining terrace leading to a 95 square metre pool, edged by a sun deck with a charming dining pavilion and sala at each end. Inviting sophisticated relaxation and entertaining, a full butler's kitchen and well stocked pantry nestle behind an elegant indoor dining and living room, seamlessly transitioning to the outdoor decks and pool. Upstairs, the master suite boasts a dressing room, generous king bedroom, lounge space and daybed balcony overlooking the azure ocean, while the adjoining stately bathroom with a rain shower and indulgent bath reveals a poetic lagoon view. Downstairs the twin bedroom is ideal for children and leads to a dressing room and spacious bathroom featuring a bathtub as well as indoor and outdoor showers, culminating in a truly exceptional residence, in every respect.