STANDARD
★★★★★
LOCATION
Noonu Atoll
DISTANCE FROM AIRPORT
187 km from Ibrahim Nasir International Airport
TRANSFER TYPE
Sea Plane
Notice:
Please configure GTranslate from WP-Admin -> Settings -> GTranslate to see it in action.
Velaa Private Island is the realisation of a dream to create a 'beyond luxury' exclusive boutique hideaway. This unique destination was developed to embody the very best of this unique archipelago, bathed by azure skies in the aquamarine waters of the Indian Ocean.
Located in the gorgeous Noonu Atoll, 187 kilometres north of Male, Velaa Private Island is an exceptional luxury retreat where our guests are treated like royalty.
Velaa Private Island has been designed and curated with privacy and comfort as the guiding principles while allowing the Indian Ocean to take centre stage. At one with nature, each of the private retreats is built using local materials, combining contemporary flourishes with interiors designed for sensory exploration.
Accommodation
Dining
Spa
Activities
Gallery
Dining


ATHIRI
A unique experience awaits all our guests at the Athiri beach-front restaurant. Take delight in the surrounding beauty and selections available from our Á la carte menu, no matter the time of day.
A buffet breakfast with fresh fruits and a choice of cooked breakfasts for different moods is the perfect way to start the day. All day cuisine is available at your leisure, including Athiri's signature pizzas fresh from the wood-fired oven! Or visit us and gaze across the beautiful beach as the sun sets while savouring the delectable Athiri specialties we have prepared especially for you.
AVI
Against the backdrop of spectacular ocean views, Avi is the perfect place to unwind and sip on delicious cocktails while relaxing poolside. Complete with its own mixologist and live DJ, Avi is a casual pool bar by day and a vibrant cocktail bar by night, where we take special care of our guests.
Relax as the evening gives way to a blanket of stars, twinkling in harmony with the rhythmic beat. Feel the energy envelop you, forget your worries and have fun. Whether dancing or dreaming of the heavens, Avi Bar is the perfect way to end a day in Paradise.
TAVARU
The tastes and flavours of Chinese, Korean and Japanese cuisine will induce your senses at the boutique Tavaru restaurant.
Specialising in East Asian cuisine, the deft hands of our talented chefs will create inspirational and exciting dishes from the finest local and international ingredients to tantalise your palate. An extraordinary gastronomic journey showcasing unique flavours and unrepeatable textures awaits you at Tavaru.
WINE CELLAR
A thorough delight for wine enthusiasts, the ivory-white Tavaru Tower hosts Velaa's extensive wine cellar. More than five hundred bins, the largest on Maldives, span the spectrum from boutique wineries to grand marques.
Offering guests a rare opportunity to discover gems such as the 1956 Domaine de la Romanée Conti "Romanée Conti", rare vintage Salon Champagne, and a centuries old fortified 1870 Blandy's "Verdelho Solera", this exquisite list has unearthed treasures from across the globe.
ARAGU
With a twist on Modern European Cuisine, Aragu is taking its gourmet experience to a new level; combining passion for culinary art with awareness and sustainability. Favouring carefully chosen, organic produce from around the world to underline authenticity, Gaushan de Silva has created an innovative twist on the evergreens of the Old Continent.
Our chef's classical culinary techniques coupled with contemporary ideas and thoughtfully selected ingredients promises a refreshing yet lavish experience.
CRU
Overlooking the azure waters of the Indian Ocean, the CRU Champagne Lounge exudes an unrivalled elegance where our guests can savour some of the world's finest and rarest champagnes under the guidance of our expert sommeliers.
Spa


"BREATHE IN THE BEAUTY OF VELAA"
We invite you to immerse yourself in deep relaxation and rediscover your inner peace and spiritual well-being. Offering the ultimate personalised experiences, our Spa can create a unique programme for the duration of your stay. Embracing a holistic approach to wellness, the Spa also offers a selection of Asian-inspired therapies including Ayurveda, Yoga and Meditation to enhance and promote health and longevity.
Experience innovative Spa facilities whilst enjoying freshly prepared juices or a bottle of champagne, and embrace the turquoise ocean with its endless tranquillity.
Our Spa boutique showcases various lifestyle products, allowing you to continue your spa experience in the comfort of your home. Discover paradise within a paradise, where a world of renewal awaits your arrival.
Activities


WATER SPORTS
Fulfil your adrenaline fuelled fantasies and realise your dreams with our variety of high tech toys. Sail along the Velaa Private Island reef on our Weta trimaran or Topcat K1 catamaran.
Experience the thrill of speeding across the water on our jet-ski, or feel like James bond exploring the house reef with the Sea Bob. Cruise and surf Velaa at your own pace aboard a stand-up paddleboard. Feel the sensation of flying with parasailing or kite surfing.
DIVING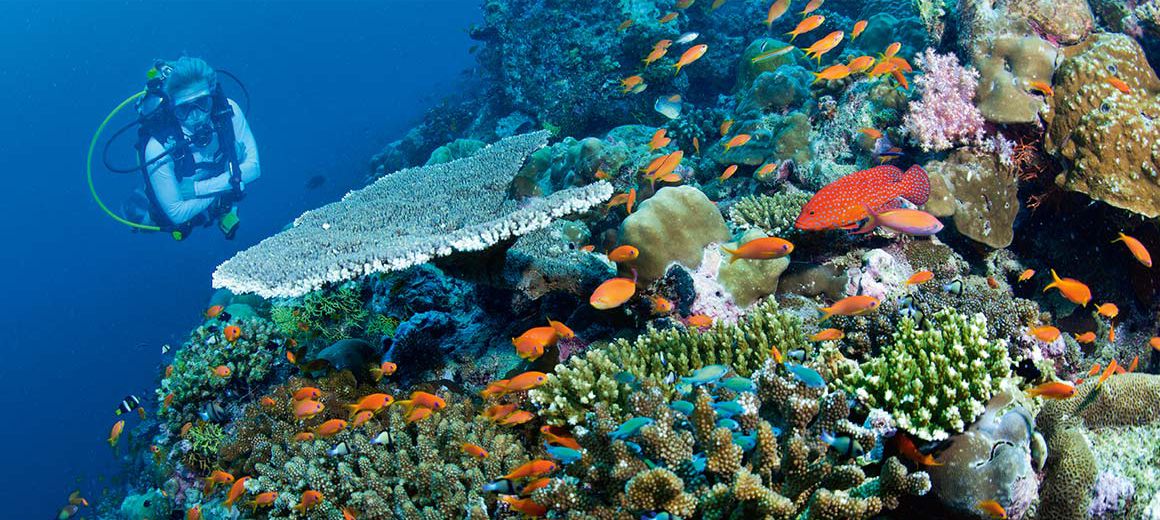 Far from the heavy traffic, CO2 pollution, noise disturbance and stress associated with our daily grind, the marine world is another dimension that Mother Earth has bestowed upon us. Immerse yourself in absolute tranquillity and discover the secrets of this big blue abyss. Experience a weightlessness of both body and mind amid the diversity of colours, inquisitive species and awe-inspiring giants.
Grey reef sharks, nurse sharks, the seasonal manta ray, black spotted stingray and the graceful eagle ray can be seen among the amazing Maldivian pelagic life at unexplored dive sites that are only fifteen minutes from the Velaa Private Island shore.
SPORTS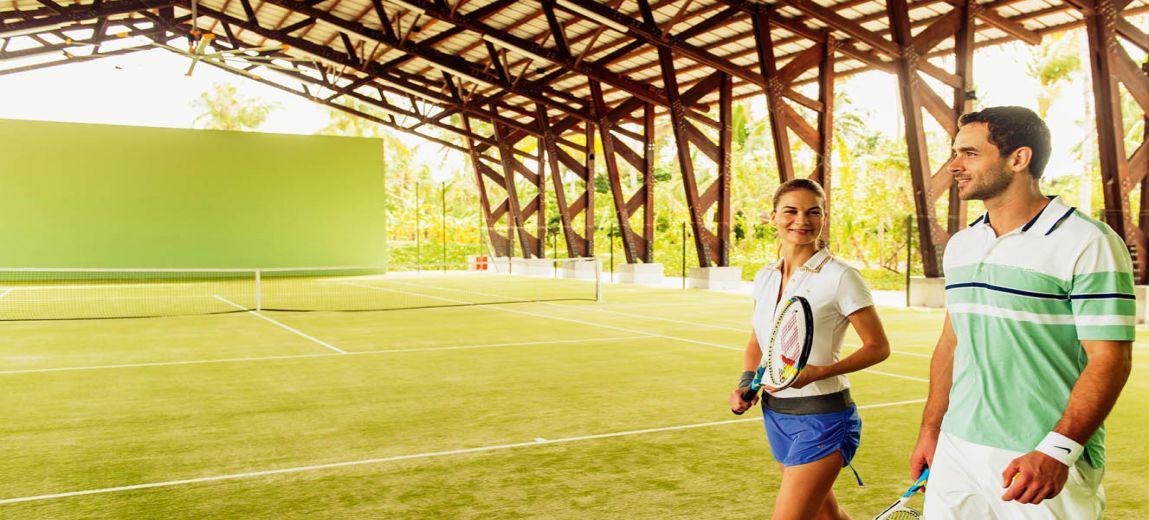 Totally protected from the elements, our covered tennis arena allows you play at any time of day. The recreation arena offers other activities including squash, Beach volleyball and a 6 metre climbing wall.
YOGA & FITNESS
"THE SECRET OF HEALTH FOR BOTH MIND AND BODY IS NOT TO MOURN FOR THE PAST, WORRY ABOUT THE FUTURE, OR ANTICIPATE TROUBLE, BUT TO LIVE IN THE PRESENT MOMENT WISELY AND EARNESTLY."
Radiate outer peace through inner harmony with our tailored wellness moments including yoga, meditation and personal training. Promote inner calm and mental focus through stretching, breathing and balancing as you soothe the body and calm the mind through a collection of breathing techniques, postures and exercises.
Yoga and Meditation sessions are held on the raised-tree meditation platform with views of the golf course and lush island gardens, or alternatively experienced while overlooking the azure ocean on our beach side meditation platform.
Re-energise and invigorate, improving the tone and strength of your body as you achieve your personal goals with a variety of fitness options that can be explored in Velaa Private Island's gym. The gym features the latest 'TechnoGym' fitness equipment and includes a Kinesis and Power Plate machine.
CRUISES
Creating perfect moments and ever-lasting memories begins with a meaningful location. Regardless of whether your destination is an exotic deserted island, a pristine coral reef, or an atoll filled with a variety of fish, the Velaa marine fleet has a large range of vessel for any occasion.
A romantic get-away deserves a sensual glide across the ocean on our luxury traditional Batheli. Fishing enthusiasts will appreciate a day aboard our powerful fishing boat, which is not only equipped with the latest fishing equipment, but is also furnished for comfort with all modern amenities. For those who prefer to spend their time lazing in luxury, the prestige Velaa yacht can accommodate more than just the wind in your hair.
SHOPPING
An inspiring and imaginative place, filled with an exclusive selection of items, welcomes you in. Indulge yourself and express your individual style with the very best men's and women's fashion labels, custom designed & limited edition jewellery collections, lavish accessories, playful children's assortment, and a full range of unique gifts.
Whether on a quest for the ideal present for your loved one, or for vital necessities to accompany your stay, we will help you find the perfect item to satisfy your desires. The luxurious setting and exceptional customer service will elevate your shopping experience to new heights.
Accommodation
BEACH POOL VILLA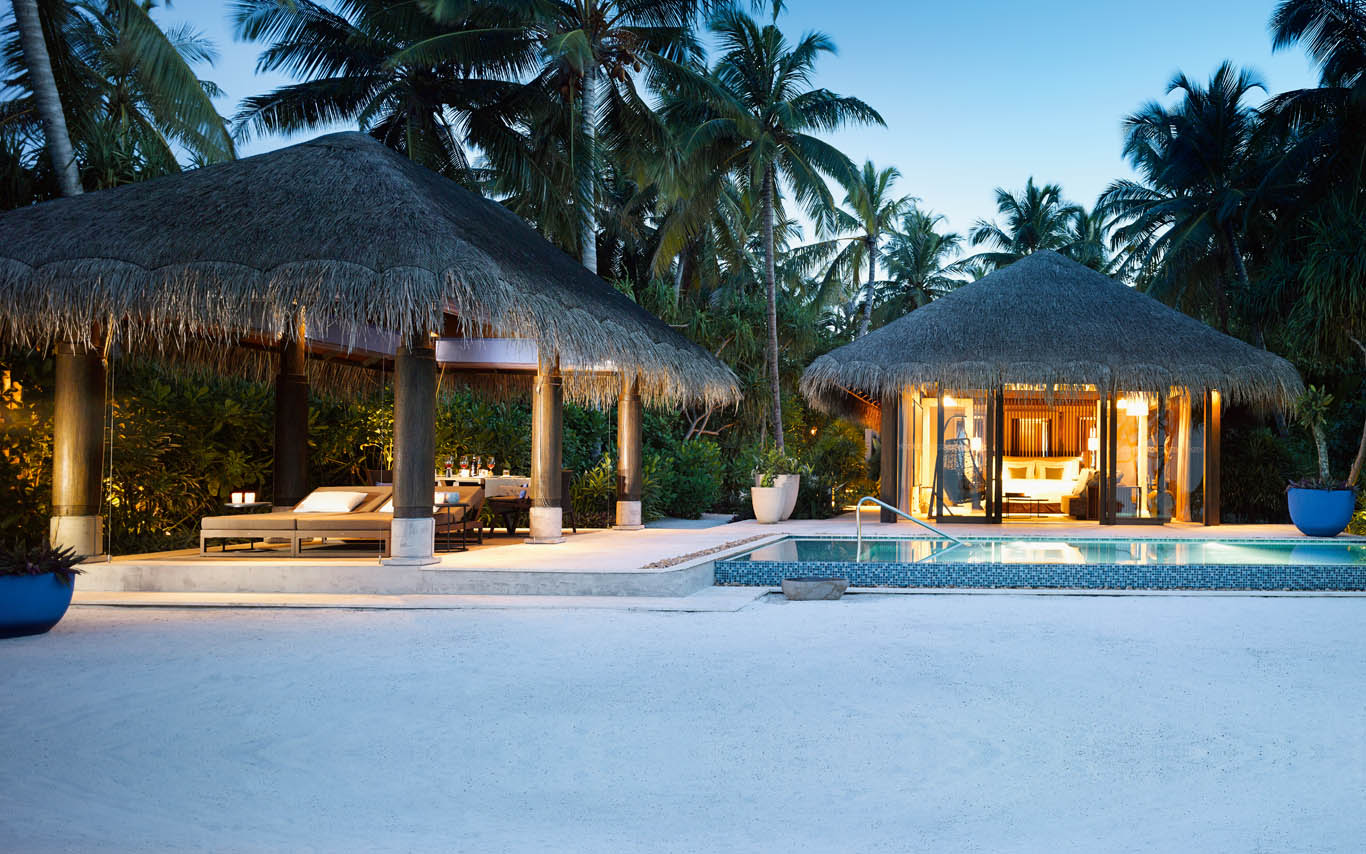 These detached one-bedroom beach front villas are sumptuously furnished. Mahogany louvered panels and intricate lofty ceilings impart a colonial feel, while teak furniture and suspended bamboo lights bring nature indoors. Wall to wall glass doors frame the terrace and private pool. By day the villas are filled with light, yet remain secluded by clusters of palms.
An indoor bathroom with Romeo and Juliet basins opens onto a large outdoor bathroom connected by a garden atrium where a gazebo covered daybed overlooks the oversized tub. Day beds, swinging chairs and an alfresco dining area face the Indian Ocean.
DELUXE BEACH POOL VILLA

Natural materials and colours bring the outside in, while a suspended chair adds an element of playful refinement. These private one-bedroom beachfront pool villas feature a large separate living room, outdoor terrace and private pool and indoor bathroom.
The Zen-like outdoor bathroom features a huge bath and deck, and a reclining daybed under a pillared podium connected by a garden atrium. The alfresco dining area by the pool is the place to be at sunset.
BEACH POOL HOUSE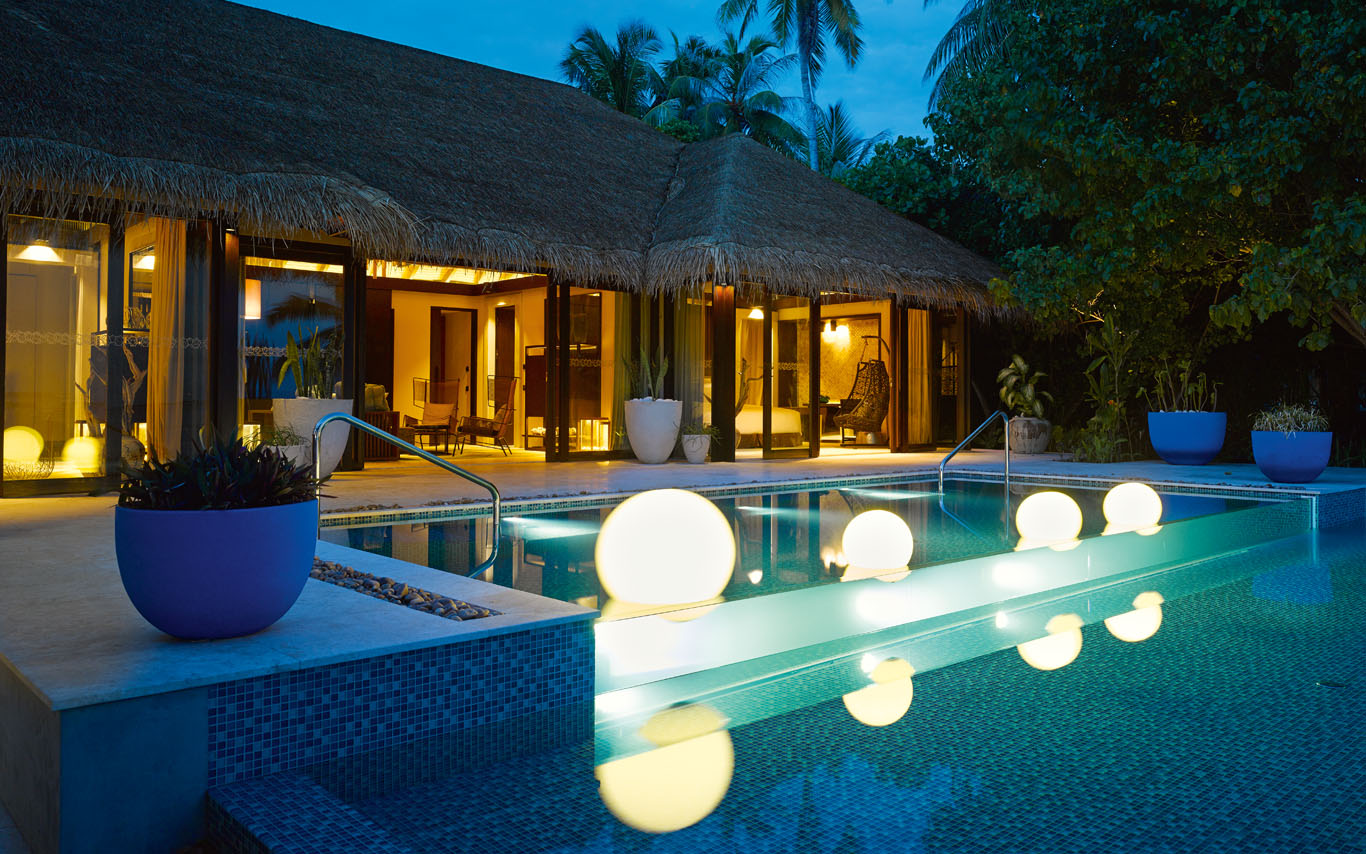 In lush foliage flanked by gently swaying palms, the two-bedroom beachfront houses are ideal for families. The large living area works as a retreat in the day and a social hub in the evening. It leads to the kitchen area, complete with bar and high stools, which is practical for both catering and socialising over snacks and meals.
Bedrooms blend light and privacy using louvered wood, natural materials and lights suspended from high vaulted ceilings. Rattan swinging chairs add a sense of fun to the elegant décor. Outside, there is a spacious terrace with a large private pool, carefully positioned day beds and a standalone outdoor dining platform which offers panoramic views of the lagoon.
VELAA PRIVATE RESIDENCE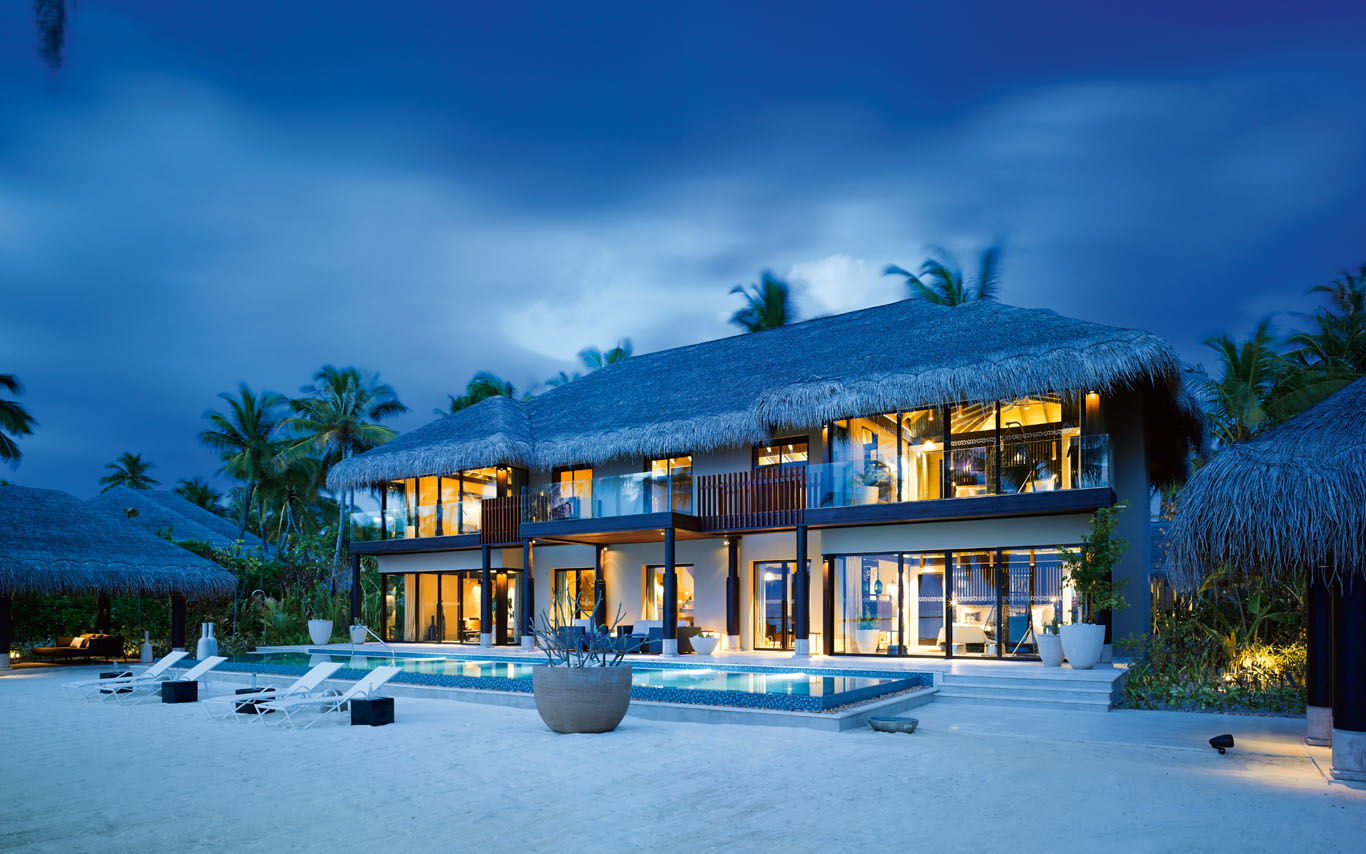 Imagine the definitive ultimate beach residence. With four bedrooms accommodating up to 10 guests, a rarity in the Maldives, the Velaa Private Residences offer elegant contemporary design and 1,350 square metres of private interior and exterior space, inclusive of two terraces, a pool and a courtyard.
Secluded on a pristine private beach, the carefully curated interiors deliver comfort, style and elegance in equal measures. These two-storey detached residences are laid out with privacy in mind. Each of the four bedrooms face the ocean across a stretch of icing sugar sand; the first floor bedrooms have generous balconies, while the ground floor rooms open onto the pool. Indoor and outdoor bathrooms are connected by a garden atrium.
SUNRISE WATER POOL VILLA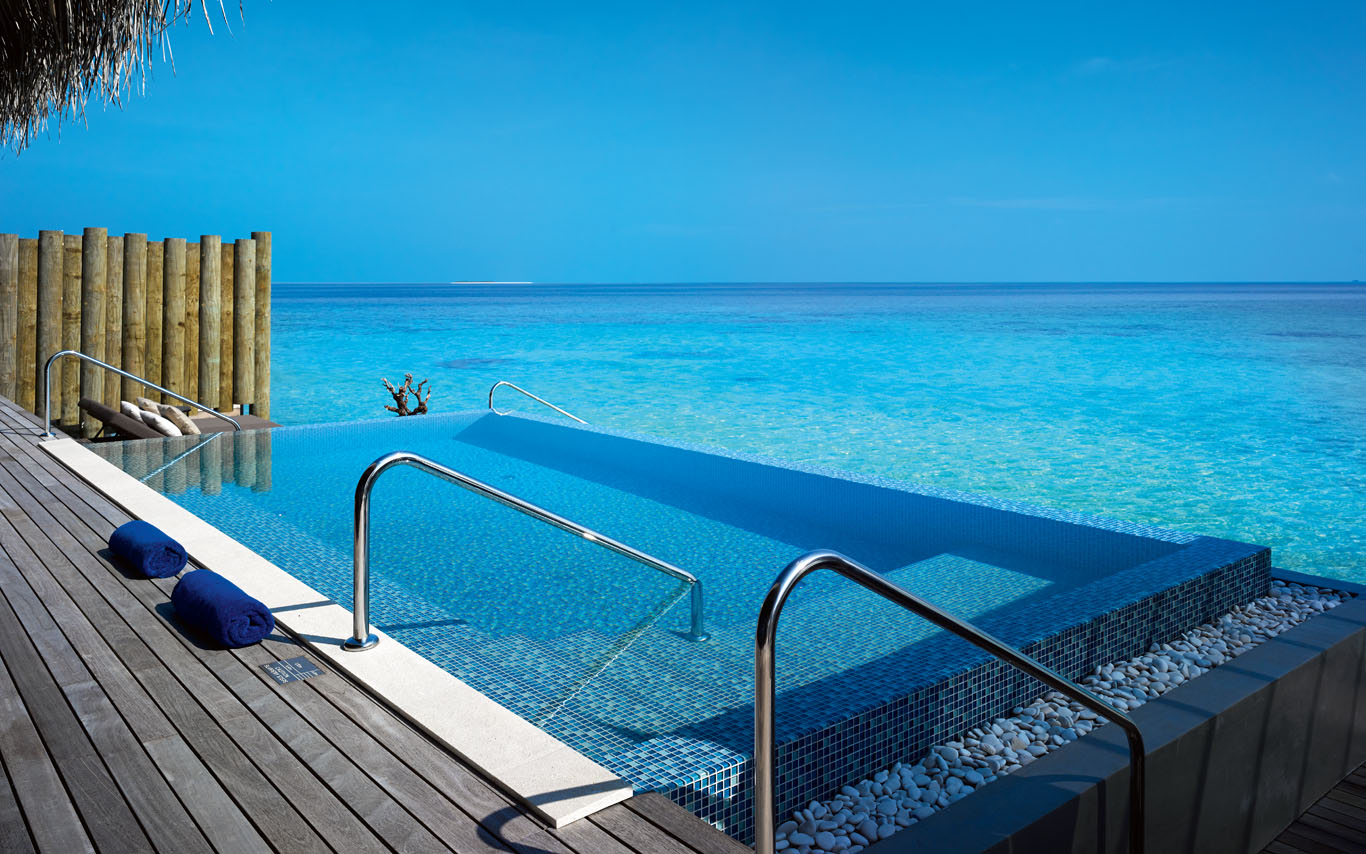 Along an extended jetty, the villas on this crescent have uninterrupted views of the ocean and private pools.
Overhanging thatch offers shade over the dining area, while the bedroom and bathroom open onto the terrace, pool and sun deck, with steps leading alluringly into the ocean. Inside, the comfortable living room is designed around a viewing window set into the floor, while the bed faces the ocean.
SUNSET DELUXE WATER POOL VILLA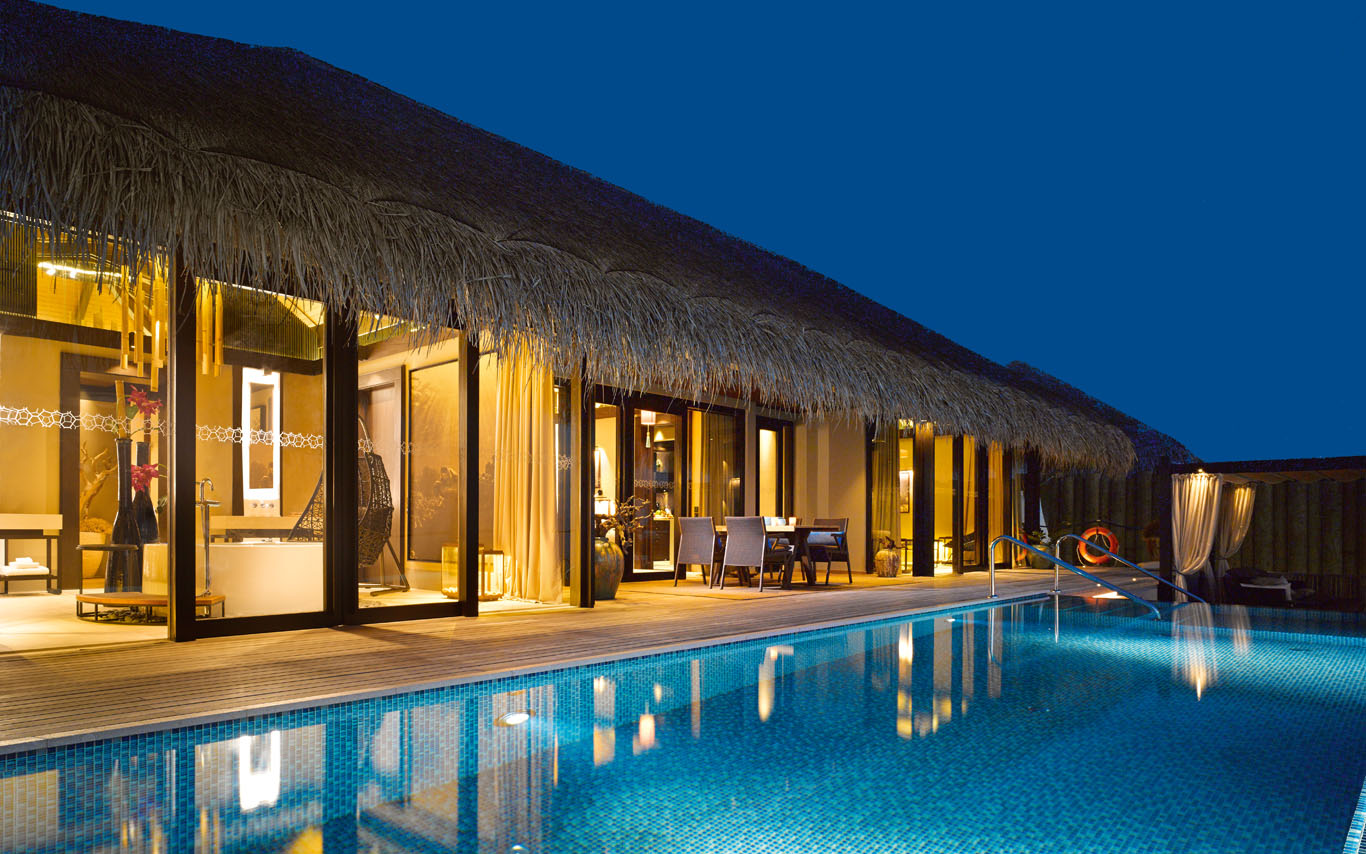 With uninterrupted ocean views and private pools facing the sunset, these villas are dreamlike in design. Separated by canvas sails, they ensure the utmost privacy. Thatched roofing shades the outdoor dining area, while the bedroom and bathroom open onto the terrace.
The pool and sun deck have steps leading into the ocean, while under the gazebo a vast daybed scattered with cushions catches the final moments of the sunset. Inside, the large comfortable living room has its own bar area complete with a private wine fridge and is designed around a viewing window set into the floor. Huge bathrooms with circular baths and a swinging chair reflect the water surrounding the villa.
OCEAN POOL HOUSE

Prestigiously located on the tip of the island, in an exclusive private domain, this two-bedroom overwater residence fringed with traditional thatch offers an elegant living space with carefully curated elements. Louvered shutters let the breeze flow through, while a deep sofa is covered in scatter cushions, ideal for settling down with a good book.
The dining area provides a central space while the ocean is the backdrop from every aspect – from the two spacious bathrooms featuring circular baths, to the elegant bedrooms. Swim in your own pool and relax on the sun deck, or step directly into the lagoon. Kick back under one of two gazebos – one with a sunken hot tub and the other with daybeds.
ROMANTIC POOL RESIDENCE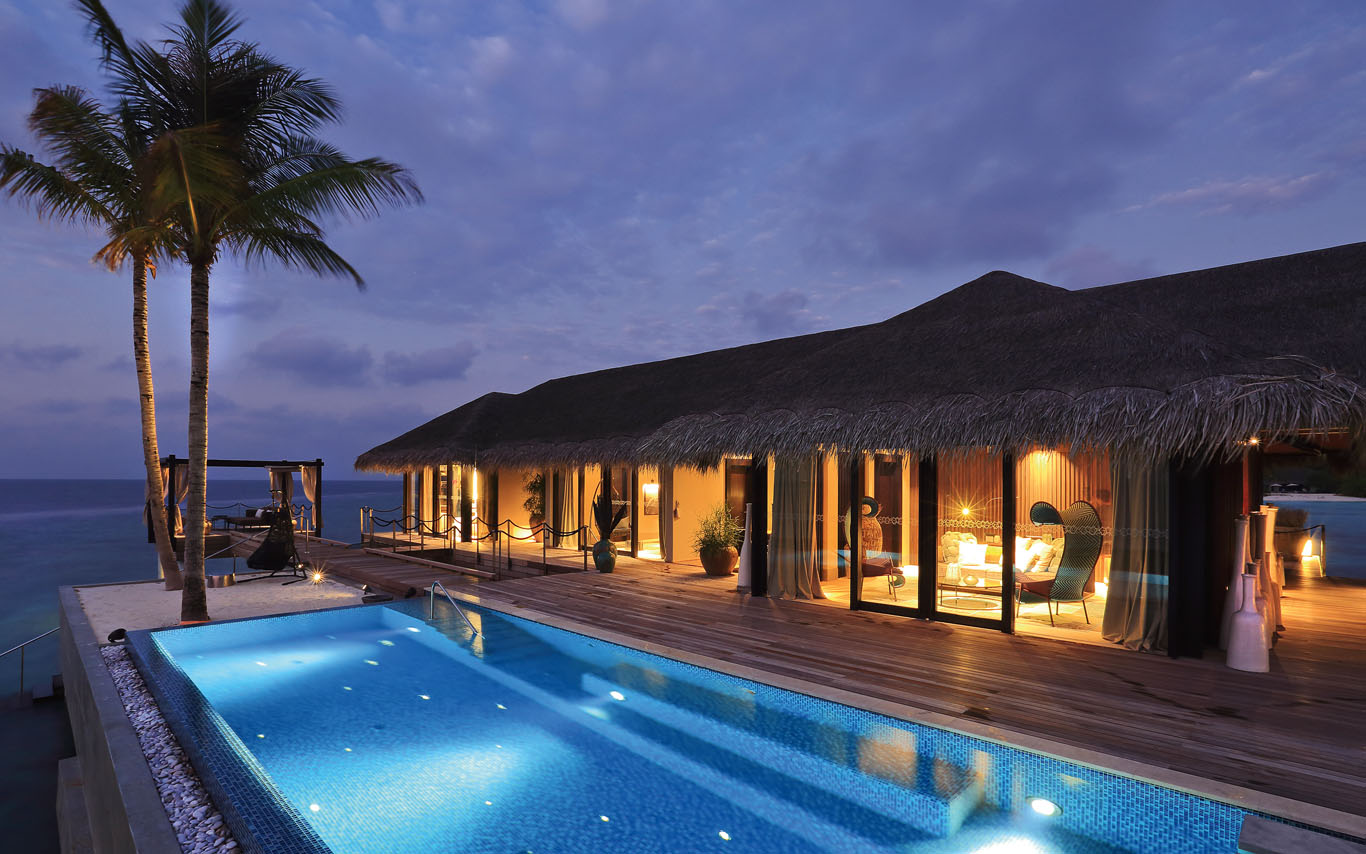 Accessible only by boat, this ultra-private one-bedroom villa suspended above the lagoon with uninterrupted views of the ocean offers the utmost privacy and romance, making it perfect for honeymooners or those who are looking for ultra-luxury, including a private chef and butler.
All rooms open onto the terraces, where the Jacuzzi, pool, sundeck and sunken bath offer varying aspects towards the horizon. Dine inside or over the water in a dining gazebo on its own jetty at sunset, or enjoy sundowners on the sumptuous daybeds. The interiors are designed with natural materials and neutral colours with occasional ikat accents or animal prints. With a personal gym and spa treatment rooms inside the residence, there's little reason to leave.