Be cast away into paradise on earth, the Maldives, with Banyan Tree Vabbinfaru. Experience a sense of enchantment and romance as you spend the day trailing between sun, sand, sea and sala.
Surrounded by turquoise waters, the island of Vabbinfaru has only 48 villas sprinkled across the lush green garden of coconut trees and indigenous blooms. Enjoy the best of the Maldives on land and in the water as Banyan Tree Vabbinfaru offers up a melding of both worlds.
Experience the famed Banyan Tree signature hospitality to bring you closer to paradise.
Dining

ILAAFATHI
Enjoy Maldivian and international treats, sumptuous buffet breakfasts and superb set dinners at this beachfront eatery.
---
NAIBOLI
Appetising snacks and cocktails are served all day long at this open-air bar.
---
IN-VILLA DINING
Have a romantic candlelit barbecue dinner in the intimacy of your villa or by the beach, served by your very own private chef and waiter.
---
DESTINATION DINING
Be swept off your feet by a stunning sandbank dining
experience. Arrive by speedboat and be ushered to a table of gourmet delights
and champagne, with only the moon and torches lighting your feast.
Spa


Banyan Tree Spa Vabbinfaru promises to be an exclusive hideaway in the Maldives. Enjoy the gentle breezes of the Indian Ocean and rejuvenate your senses with a range of spa treatments developed based on traditional Asian healing philosophies. At Banyan Tree Spa Vabbinfaru, therapists extend a warm welcome with their intuitive touch and a dedicated service attitude.
Banyan Tree Spa Academies are established in Bintan in Indonesia, Phuket in Thailand and Lijiang in China to standardise the training of all spa therapists. Formal training programmes ensure all Banyan Tree Spa therapists are well-equipped with a consistent level of excellent service skills.
Activities



CULINARY DEMONSTARATIONS
Overlooking the sea and shaded by palm trees, cooking classes deliver the magic of the Maldives at Banyan Tree Vabbinfaru. Sous chefs from our resort conduct on-request culinary demonstrations that allow guests to watch and learn, and enjoy the final product of Maldivian curries, salads, and other local treats. Enquire with your resort host for more information.
---
BANYAN TREE MALDIVES MARINE LAB
The Banyan Tree Maldives Marine Lab on the island is the first of its kind to be funded and built by a private resort. Guests can join specially trained in-house divers to monitor programmes such as reef and species inventory checks, and even sponsor their own coral gardens. The laboratory is equipped with instruments for research in coral biology and ecology, and green sea turtle conservation.
---
STAR GAZING
On starry nights, approach our friendly staff at Naiboli Bar for the use of the high-powered telescope for star gazing.
---
WATER SPORTS
Enjoying water sports with our fun-loving, award-winning recreation team is a must while on Vabbinfaru. Sports equipment include canoes, wake boards, water skis, banana boats, windsurf boards, and catamaran.
With the wind in your sails, take a guided catamaran excursion for an exhilarating sandbank tour or a sunset sail, or even take on the challenge yourself after a private lesson with our instructors.
Speedboat excursions allow you to explore even further from the island, with a selection of two- to three-hour tours – imagine the thrill of a private snorkelling safari, or a seasonal trip to the area where manta rays congregate.
Aside from water sports, guests also have the advantage of beginner snorkelling lessons or daily guided snorkelling excursions (minimum four snorkelers). Snorkelling gear including fins, masks, snorkels and life jackets are provided complimentary for guests to make the most of their visit to the island.
A seasonal dolphin cruise is conducted with a minimum number of six guests.
Night fishing is also scheduled for Sunday and Wednesday evenings with a minimum number of six guests.
---
BANYAN VELAA
An unforgettable adventure and stylish escapade awaits as you set sail on the handsome 98ft Banyan Velaa.
Built in 2005, this classic flagged double-mast Turkish Gulet was designed for superior sailing and comfort. Onboard the Banyan Velaa are six elegant mahogany cabins that can accommodate up to two guests each.
Amenities in each cabin include a private standing bathroom, dressing table and air-conditioning.
Marine enthusiasts will be thrilled with adventure cruises to the pristine dive spots of the North and South Malé Atolls in the Indian Ocean. Come discover the Maldives archipelago, a wonderland of marine beauty and a paradise for nautical lovers.
Meticulously handcrafted in the scenic Turkish coastal towns of Bodrum and Mamaris by master boat builders, this majestic yacht is a breathtaking work of art that commands the sea. This seafaring masterpiece, is a fine example of expert boat building techniques that Turkey has been renowned for since 300BC. Only 15 to 20 such boats are produced every year.
The Turkish Gulet was favoured by fishermen and sponge divers to transport their catch. Today, it is equipped with the latest technology and luxurious fittings to bring the joys of ocean cruising to those seeking a nautical adventure.
---
BANYAN TREE CATAMARAN 'KAHAN'BU'
Bask under the tropical sun on-board your very own private sailboat as you meander through the aqua blue waters of the North Malé Atoll, Maldives.
Snorkel around some of the most beautiful reefs in the Maldives, Dine on uninhabited islands and discover the true Maldivian spirit of a holiday retreat.
Banyan Kahan'bu offers specially tailored itineraries that takes you to secluded and picturesque snorkelling sites around the North Malé Atoll. With its shallow draft, Banyan Kahan'bu can moor directly adjacent to the amazing reefs below, making snorkelling an exhilarating experience.
Spending time on-board the sailboat will be a delight for guests. Enjoy the light sea breeze as you explore the salons and the netted hammock strung between the two pontoons in the front of the sailboat.
Attentive associates are on-board to make sure you have an enjoyable and memorable cruise.
---
BIRD'S EYE VIEW BY SEAPLANE
Fly above lagoons and coral reefs to enjoy the stunning view of Maldives from the air. Please contact our resort hosts if you wish to book a 15-minute photo flight, on a private seaplane hire.
---
SUNSET CRUISE
Sip champagne while gliding through the lagoon on a traditional Maldivian dhoni as the sky explodes with the colours of the sunset.
---
MALE' EXCURSIONS
Visit one of the smallest capitals in the world – Malé – and experience its diversity. We will arrange your private guided trip to Malé, which includes a stop at the fish and fruit market, the Presidential Palace, the Friday Mosque, the Modern Muslim Centre as well as the Sultan Park. Take the opportunity to shop for Maldivian handicrafts.
Accommodation
OCEANVIEW POOL VILLA

The stunning Oceanview Pool Villa is an intimate enclave of tropical living. Overlooking the sparkling Indian Ocean, each villa is nestled within a green canopy of tranquility and privacy. The beach peeps through the leaves enticing you to soak up a golden tan. Sip a cool cocktail by your sun loungers and enjoy the soothing sounds of the sea right at your doorstep.
The 110 sqm Oceanview Pool Villa features a nautilus shell-inspired ceiling and framed glass doors that create a cocoon of relaxation and spaciousness. The villa also includes a signature teakwood four-poster bed, extended wooden deck with sala, as well as a private garden area with a pool, jet pool and outdoor shower.


Amenities:
Outdoor pool in a private garden
Outdoor jet pool in a private garden
Outdoor and Indoor showers
King-size bed
Recessed Sitting area
Air-conditioning
32″ Flat Screen TV
CD Player
DVD Player
IDD Telephone
Private safe
Hair dryer
Bathrobes
Mini-bar
Coffee / Tea Maker
Wireless Internet Access
BEACHFRONT POOL VILLA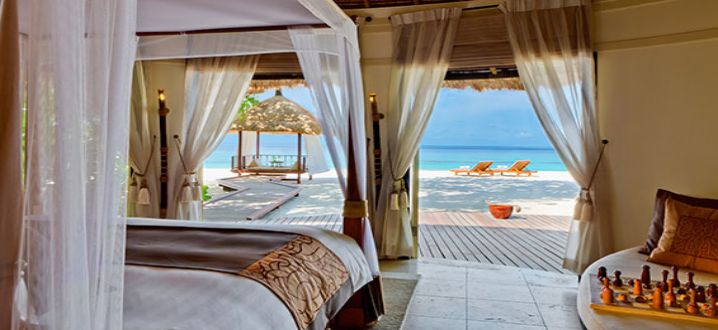 Located right on the pristine white sand beach, the Beachfront Pool Villa offers intimate access to the beautiful turquoise waters of the Indian Ocean. Step out into the sunshine, watch your footprints disappear into the sand with each gentle wave and dive into the cool inviting waters.
The 110 sqm Beachfront Pool Villa features a king-size bed and a private garden with a pool, jet pool and outdoor shower.


Amenities:
Outdoor pool in a private garden
Outdoor jet pool in a private garden
Outdoor and Indoor showers
King-size bed
Recessed Sitting area
Air-conditioning
32″ Flat Screen TV
CD Player
DVD Player
IDD Telephone
Private safe
Hair dryer
Bathrobes
Mini-bar
Coffee / Tea Maker
Wireless Internet Access
VABBINFARU POOL VILLA

Enjoy space and privacy at the Vabbinfaru Pool Villa. Bordered by lush tropical greens, this exclusive beach hideaway is the epitome of romance and intimacy. Mellow out on your beachside terrace, enjoy a leisurely read by the outdoor living pavilion and watch as the sun dips behind the waters at dusk.
The 120 sqm Vabbinfaru Pool Villa features a king-size bed, an outdoor living pavilion as well as a beachside terrace and a private garden with a pool, jet pool and outdoor shower.

Amenities:
Outdoor pool in a private garden
Outdoor jet pool in a private garden
Outdoor and Indoor showers
Outdoor living pavillion
King-size bed
Recessed Sitting area
Air-conditioning
32″ Flat Screen TV
CD Player
DVD Player
IDD Telephone
Private safe
Hair dryer
Bathrobes
Mini-bar
Coffee / Tea Maker
Wireless Internet Access