STANDARD
★★★★
LOCATION
North Male' Atoll
DISTANCE FROM AIRPORT
07km from Ibrahim Nasir International Airport
TRANSFER TYPE
20 mins by Speed Boat
NO. OF ROOMS
225 Rooms
Notice:
Please configure GTranslate from WP-Admin -> Settings -> GTranslate to see it in action.
The island of Bandos is a perfect setting for that romantic getaway or those two weeks of bliss away from work. The sense of calm and serenity the island emanates is truly otherworldly. The gentle lull of the sea, the whistling breeze, and the rustling of the palm fronds on the beach will help transcend you from the hurly-burly rigours of daily life. This aural feast, complimented by an all colourful visual one, where the turquoise of the lagoon, the lush green vegetation, the pearl white beaches, azure blue sky and generous offerings of golden sunshine inspires in us the question, did heaven and earth meet?
Accommodation
Dining
Spa
Activities
Gallery
Dining


KOON THAI RESTAURANT
The elegantly designed Koon Thai Restaurant overlooks the lagoon, and offers guests a range of Thai cuisine. This restaurant provides you with the choice of dining either indoors or outdoors where you can savour the view and gentle breeze. Carefully prepared by passionate chefs, each culinary delight at Koon aims to awaken your taste buds while offering palatable and authentic Thai flavours. The dishes can be accompanied with a selection of fine wines from some of the world's reputed wine regions.
---
GALLERY RESTAURANT
The Gallery, consisting of three spacious pods, is open for breakfast, lunch and dinner, and is the main restaurant at Bandos. It usually has elaborate buffet setups during mealtimes and although open to all guests, the Gallery specializes in catering to those who have pre-booked their meals. Guests who have pre-booked their meal arrangements are also welcome to patronize our other restaurants and are eligible for discounts at Sundowner Restaurant, the Koon Thai Restaurant and Sea Breeze Cafe (Coffee Shop).
---
SEA BREEZE CAFE
Aptly named, the Sea Breeze Cafe is situated at the edge of the water where customers can lounge on the large outdoor over-water deck and enjoy the breathtaking view of the lagoon while relaxing in the gentle breeze.
Open round the clock, the restaurant offers a wide variety of dining options from a la carte offerings such as spaghetti or even authentic Indian curries to alternative fast-food fixes such as pizza and hamburgers.
---
SAND BAR
As a classic island-beach bar, the Sand Bar's modern facilities blend well with the tropical atmosphere. The island ambience of the bar is ideal for customers to enjoy one of our many tropical cocktails or any other beverage that suits their fancy.
The Sand Bar is designed with fun in mind and we assure you that our guests would have a wonderful time either with our top-notch karaoke facilities, live band or discotheque evenings.
---
SUNDOWNERS BAR
Situated near our world class diving facility, the Sundowners Bar is so named because it is the best place to watch breathtaking Maldivian sunsets. The enormous sundeck allows you to watch the beautiful stars in the night or the blueness of the sky in the day and makes you unwind and relax. Soft music fills the air in the evening while you watch glorious sunsets.The bar is open daily from 0730hrs until midnight.
---
POOL BAR
Stop by our swim up pool bar while on your refreshing swim in our main pool. In the midst of the beautiful surroundings of palm trees and blossoms with their lush fragrance, a chilled drink is all you need to bring out the sunny spirit within you. Relax under the shade and feel the bubbles of its Jacuzzi stools with your loved ones. Offering a wide variety of juice drinks to soft ice creams and milkshakes, the pool bar makes sure you are well cared for and looked after- providing for all your pool side requirements. There is no need to carry all those fully stuffed bags and towels to our pool, just simply enjoy yourself.
Spa


ORCHID SPA
Rejuvenate your body and mind while enjoying a perfect holiday in Bandos,through a splendid spa treatment at Orchid Spa. The private villas and cabanas at our spa offer intimacy and privacy.
The Eastern architecture is just a glimpse into the time-honoured Asian therapies. From facial treatments that revitalize the skin, to ancient Balinese therapies, Orchid Spa provides a healing experience for all. An exclusive spa package for couples offers a romantic spa journey while children relish the Junior Spa treatments for young guests. Our experienced and skilled therapists ensure a healing, soothing and charming spa experience.
Facials:
Cleansing and Nourishing Facial
Hydrating and Calming Facial
Radiant Skin Facial
Face Massage
Massages
Orchid Spa Signature Massage
Aromatherapy Massage
Pregnancy Massage
Sports Massage
Traditional Thai Massage
Swedish Massage
Hot Stone Therapy
Lomi Lomi Massage Therapy
Back Massage
Foot Massage
Packages
Orchid Romance
Sun Sensation
Spa Delight
Radiant Beauty
Asian Blend
Romantic Rendezvous

Services
ORCHID SALOON

Manicure with hand Ritual
Pedicure with foot Ritual
Manicure
Pedicure
Nail Art & Design
Crème bath
Cut and blow dry(women)
Cut and blow dry (men)
Cut and blow dry (men)
Shampoo and ironing or curling
Hair and Make-up
Change nail polish Colour
Activities


EXCURSIONS
To make your holidays enjoyable at Bandos Island Resort and Spa, and to help you discover the magic of Maldives, We have designed an exciting range of excursions.
Some of these include Island Hopping; Male' Tour;night fishing with Kuda Bandos Barbeque;and the Sunset Dolphin Cruise. All our excursions are carefully selected for specific days of the week, tailored to guest travel patterns and other external factors.
---
KOKKO CLUB
At Bandos we think of making your holiday as hassle free as possible, and for those families travelling with young children the Child Care Centre and Kokko Club will prove to be a blessing. Now you can enjoy your holiday comfortable in the knowledge that your children are in the capable care of our professional child minders and baby sitters.
The Kokko Club (Kids Club) open from 0800hrs to 1700hrs, Monday to Sunday offers a wide variety of activities for kids and teens. The club accepts children aged 3 – 12 years old free of charge , children aged 1-2 years old with-out adult supervision will be charge for babysitting services. We create and maintain a safe, healthy and exciting environment where they can enjoy, explore, learn, socialize with other kids and have fun. We strive to stay up to date with the ever changing needs of our young guests, most whom we are fortunate enough to see every year from their infancy.
The facilities are free of charge and the associates of Kokko Club provides baby-sitting services chargable on a hourly basis for all ages. The Kokko Club is equipped with a nursery full of toys and a large playground outside so that even your children would be guaranteed an enjoyable holiday experience.
---
PARADISE CLUB
For those guests who seek a more professional path to keeping fit or even relaxing, the sports complex at Bandos, Paradise Club is the answer to keeping fit both physically and mentally. Our gymnasium, equipped with state of the art equipment and our qualified friendly instructors, are open to all our guests free of charge. Come on in and enjoy beach volleyball or tennis in our flood-lit courts.
For those wishing to take it a bit easier, One can also lounge about in our TV room where we feature major news, sports and entertainment channels. Also featured are table tennis and board games.
---
WATER SPORTS
In a country that is more water than land, the possibilities for fun-filled activities in the water are almost inexhaustible. Whether it is the turquoise of the lagoon, or the azure blue of the rich coral reefs, or even the darker blue of the ocean, the waters surrounding Bandos will certainly yield some recreational value for our guests.
The water sports centre at Bandos is associates ed with professionals who are highly skilled in their craft and are fluent in English, Japanese and German. Some of our most preferred activities include snorkelling, windsurfing, catamaran sailing, water skiing, parasailing, banana boat riding, wakeboard, knee board, fun tubes and canoeing. What's important to note here is that this is not an exhaustive list and the possibilities are most certainly unlimited. The Water Sports Centre here at Bandos also offers top notch catamaran and windsurfing facilities, while boasting of quality equipment such as Hifly, North-Sails and Topcats.
We can also organise snorkelling trips to our house reef where, surrounded by the beauty of brightly-coloured coral formations and other underwater flora, you will have the opportunity to mingle with multi-coloured tropical fish.
---
LIVE MUSIC & KAROAKE
Try out your voice on our Karoake Nights at the Sand Bar. We offer a selection of well known songs from A-Z artists. View the lyrics on our big screen, while you hide in your chair and sing out your heart with that beautiful voice within! It's not a pressure filled atmosphere; it's a free, independent and friendly one where you'll never feel alone, even without a partner!
Do not miss the chance to check out our best bands perform live on our stage when they show off their stunning musical talents. Performances of Jazz, Blues, Pop and Rock twice a week at our Sand Bar where all the entertainment takes place. Other programs include Maldivian Cultural Night with traditional drums and dances, Disco Night, Crab Racing Event, Dive Show and Movie Nights.
Accommodation
Bandos offers you a wide choice of accommodations, however, comfort, luxury and convenience are the hallmarks of all our 225 rooms. From the ultra-exclusive and luxurious Water Villas, to the Jacuzzi Beach Villas with their beach-hut inspired design and en suite Jacuzzi, or the Garden Villas designed to cater for those who wish to remain in close proximity to nature, the accommodation options here at Bandos very clearly reflect the diverse tastes and requirements of our clientele. In a similar vein, the simple elegance of the deluxe and standard rooms are for those who simply seek to experience the Bandos way of life.
STANDARD ROOMS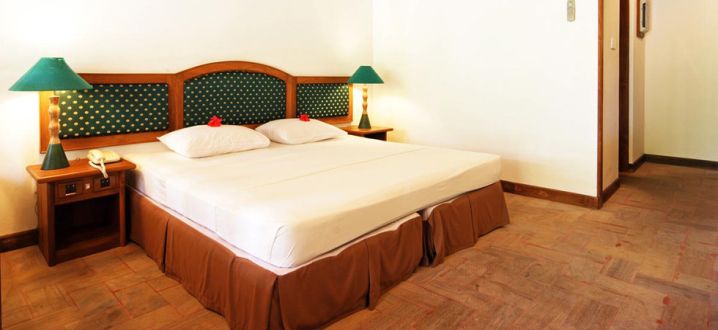 The Standard Rooms here at Bandos, with their simplistic elegance, quite strongly reflect all that is good about Bandos; the unyielding attitude towards settling for anything less than the highest quality and unrivalled customer satisfaction.
ROOM DETAILS:
Location: North-west side of the island
View: Beachfront (Some rooms may have limited sea view due to vegetation)
Decor: hatch ceiling with wooden furniture provides local island style ambiance
Size: 37.85 Square metres
Beds: Double or Twin Beds
Extra beds: 0
Bathroom: Fully equipped wet room style, shower, hair dryer, hot & cold water
Maximum: 3 Adults or 2 Adults and 1 Child
Other Features: Air Conditioning, Mini Bar, IDD Telephone, Satellite TV, Tea/Coffee Making Facilities, Electronic Safe
DELUXE ROOMS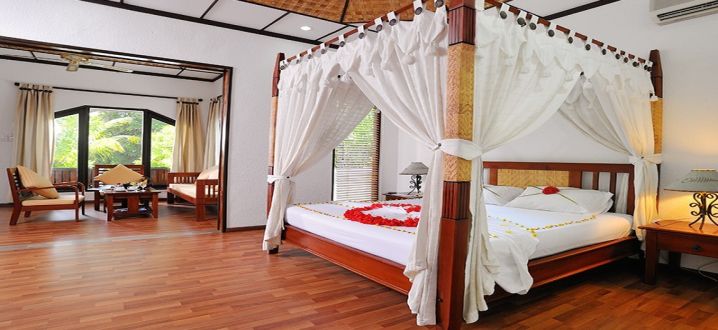 The Deluxe Rooms at Bandos are spacious and inviting, while offering a wide range of amenities. The rooms are designed in such a manner that both the living and bedroom areas are topped off by unique thatched high ceilings.
ROOM DETAILS:
Location: North-East side of the island
View: Beachfront (Some rooms may have limited sea view due to vegetation)
Decor: Modern distinctively separated living and bedroom – preferred by families
Size: 53.87 Square metres
Beds: King Size Bed
Extra beds: 2 Extra Beds or 1 Extra Bed and 1 Crib
Bathroom: Fully equipped wet room style, shower, hair dryer and bath tub
Maximum: 3 Adults or 2 Adults and 2 Children and 1 Infant
Other Features: Air Conditioning, Mini Bar, IDD Telephone , Satellite TV, Tea/Coffee Making Facilities, Electronic Safe
GARDEN VILLAS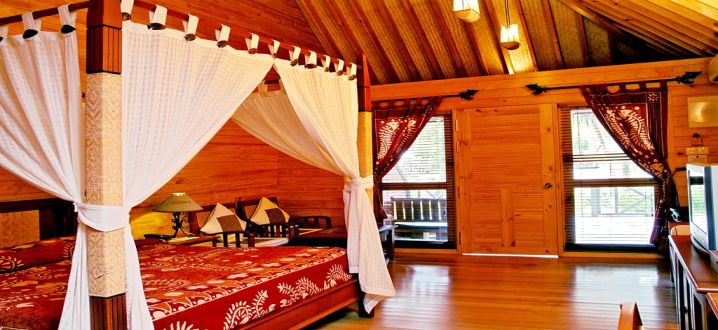 The Garden Villas with their neatly trimmed hedges and flower gardens are designed for those who want to while away their vacation in the elegance of a carefully tended garden environment. Located in the middle of the island, near the new swimming pool facilities, these wooden chalets are elegantly furnished and come with their own private patio.
JACUZZI BEACH VILLAS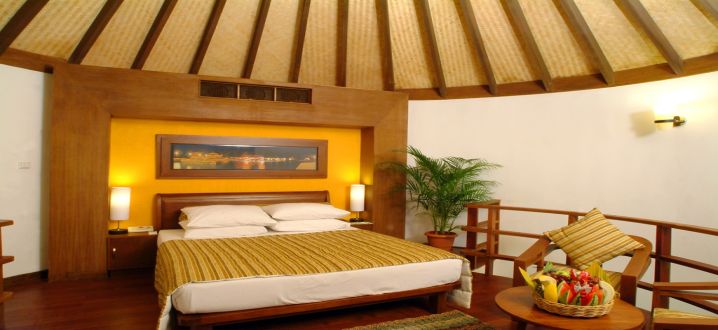 Set on a strip of white sandy beach overlooking a crystal-clear lagoon blessed with abundant sunshine and tropical flora of unspeakable beauty, the Jacuzzi Beach Villas at Bandos will singularly make your stay on Bandos a most memorable occasion.
Fashioned as a duplex, the living and bedroom facilities boast of all the requisite amenities necessary for your comfort and satisfaction. The balcony provides a pleasant view of the beach front, while the gentle rumble of the surf is constantly soothing. In the seclusion of your Beach Villa, surrounded by lush tropical vegetation, is the open-air Jacuzzi with its thatched roof shade designed for your relaxation and enjoyment.
ROOM DETAILS:
Location: South-side of the island
View: Beach
Decor: Wood furnishing and basket weave styled duplex, with separate living room and Jacuzzi on the ground floor with the bedroom on the second floor
Size: 109.7 Square metres
Beds: King Size Bed
Extra beds: 1 Single Bed or a Crib on Ground Floor (On request)
Bathroom: Open air bathroom with Jacuzzi, shower and bidet
Maximum: 3 Adults or 2 Adults and 1 Child
Other Features: Air Conditioning, Mini Bar, IDD Telephone , Satellite TV, Tea/Coffee Making Facilities, Electronic Safe
JACUZZI POOL VILLAS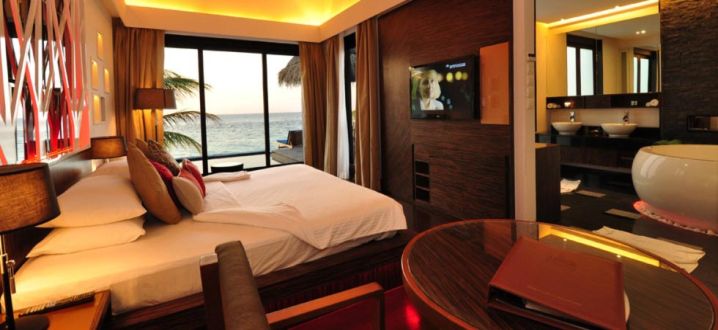 A luxurious modern villa with a private infinity swimming pool and Cabana style sun deck. Located at the edge of the Island with a beautiful sea view, where comfort is not over looked by luxury.
ROOM DETAILS:
Location: North-East side of the island
View: Ocean View
Decor: Thatch ceiling with modern wooden furniture
Size: 89.38 Square metres
Beds: King Size Bed
Extra beds: no extra bed or crib
Bathroom: Modern bathroom with Jacuzzi and hot/cold water shower.
Maximum: 2 Adults
Other Features: Air Conditioning, Mini Bar, IDD Telephone, Satellite TV, Tea/Coffee Making Facilities, Electronic Safe, Private Cabana/Sun Deck, Private Infinity Pool.
WATER VILLAS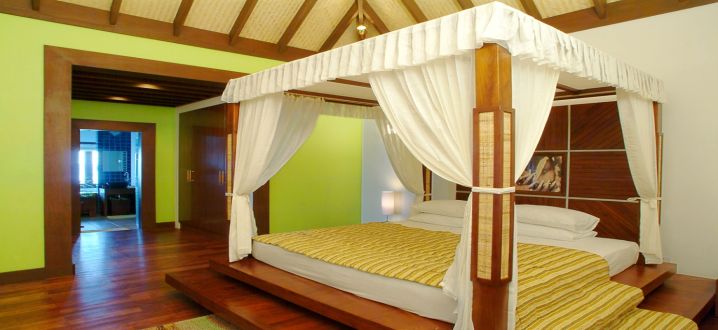 The Water Villa, our elite package, features unique decor and breathtaking views of the ocean and beach, giving you the feeling that your villa is floating on the ocean. It offers luxury and tranquillity with full privacy and services exclusive to the villa.
The living quarters come fully furnished with modern amenities, while the defining feature of the bedroom is the ornate four-poster bed whose elegance is certainly worthy of royalty. The ultra-luxurious and roomy Jacuzzi, set amongst lush tropical indoor plants and imported river pebbles, affords one an uninterrupted view of the ocean and the unending horizon.
At Bandos Water Villas, one can simply while away many a moment on such simple pleasures as enjoying the sunset, a romantic soak with a loved one or, as they say in these isles, mastering the art of doing nothing.
ROOM DETAILS:
Location: South-west side of the island, over water
View: Ocean, lagoon, beach and the beautiful sunset
Decor: Modern interior with luxurious touch
Size: 116.6 Square metres
Beds: Four-poster King Bed
Extra beds: 2 Beds and 1 Crib (On request)
Bathroom: Modern bathroom with Jacuzzi, shower, bidet and an open air fresh water shower on the sun deck
Maximum: 3 Adults or 2 Adults and 1 Infant
Other Features: Air Conditioning, Mini Bar, IDD Telephone, Satellite Plasma TV, Tea/Coffee Making Facilities, Electronic Safe, Breathtaking Views from all Rooms, Spacious Private Sun Deck (with full privacy and an alternative access to the ocean)